As a curly-haired beauty editor, I can confirm that these are the 10 best shampoos I've ever used
Gorgeous curls start with this first step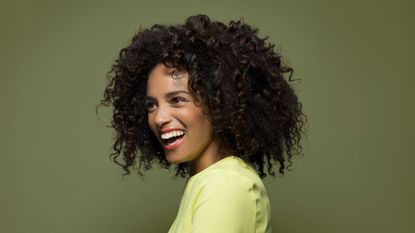 (Image credit: Getty Images)
While some people wash their hair every day, us curly folks can usually go a full week without giving our coils a good cleanse. But when we do, it is imperative that we use the best shampoo for curly hair in order to protect our beloved coils and spirals.
"Characterised by a unique set of traits, curly hair spirals as it grows, and it's this spiral that results not only in natural volume and texture, but a hair type that's prone to frizzing and dryness rather than a prosperity to getting greasy fast like straight hair," shares trichologist and founder of The Hair Growth Clinic Hannah Gaboardi.
Unlike straight and wavy hair textures, natural oils find travelling down the hair shaft a major challenge – and this hair type is often more porous, which means greasy hair is rarely a problem for curly girls. But as you may well know if your locks fall anywhere within the 3a-4c category (check out our guide to curl types) – curls are more susceptible to damage like splitting and breaking. This makes, "specialised care and attention to maintain its health and appearance a must," stresses Gaboardi.
Without using a shampoo specifically targeted for this hair type, our texture is compromised and we're unable to style it how we want to.
How often should you wash curly hair?
While you might not visibly need to wash your curls as frequently as oily hair types, unless you're living in a bubble and not ever breaking a sweat you may need to cleanse more often than you think. "Generally, it's advisable to wash curly hair no more than three times a week, as over washing can strip natural oils, which can exacerbate dryness and frizz," explains Gaboardi. However, lifestyle factors should be a consideration too as ultimately, "the goal is to strike a balance that keeps your hair and scalp clean, well-hydrated, and free from sweat and product build-up," adds Gaboardi.

What should you consider when choosing a shampoo if you have curly hair?
Taking into consideration how dry curly hair can get, and the abundance of conditioning and styling products it generally takes to keep locks healthy and defined, what type of shampoo you use shouldn't be an afterthought.

Look for sulfate-free formulas, as sulfates can strip the hair of natural oils and contribute to dryness and frizz. Opt for a shampoo designed to provide moisture and hydration, containing ingredients like shea butter, coconut oil, or glycerin, which helps maintain the hair's natural moisture balance.
"Try to avoid shampoos containing harsh ingredients like sodium lauryl sulfate, ammonium lauryl sulfate, and alcohol as these can strip the hair of its natural oils and lead to dryness and frizz," shares Gaboardi. Also, consider your specific curl type, as not all curls are created equal and what works for loose, fine curly tresses is unlikely to cut the mustard when it comes to cleansing tight coils, or more coarse textured manes.
Oh and Gaboardi also recommends choosing a shampoo that addresses the needs of not only your curls but your scalp too. We've all been there, you've not washed your hair in a week, your hair is drier than a desert and soaks up everything you throw at it – but although your hair doesn't look greasy your scalp feels overloaded and itchy, maybe it's flaking too. You desperately need to give your scalp a deep cleanse, but you're usual nourishing shampoo won't get the job done. That's where having a shampoo wardrobe comes in handy.
"Alternating between appropriate shampoos that address the multiple concerns of dealing with curly hair can help manage issues effectively," explains Gaboardi. If you're experiencing product and dead skin build-up on the scalp reach for a clarifying shampoo, and for dandruff a medicated variety, then alternate between one of the two and a curl friendly hydrating shampoo. "This approach can help address specific scalp concerns, without compromising the well-being of your curly locks," adds Gaboardi.
How we tested the best shampoos for curly hair
Each shampoo was tested on curly hair and we considered how well it cleansed the hair and scalp, whether it kept strands hydrated, ease of use, plus how enjoyable it was to use.
Best shampoo for curly hair
1. Briogeo Don't Despair, Repair! Super Moisture Shampoo
Briogeo Don't Despair, Repair! Super Moisture Shampoo
Best for damage repair
Reasons to buy
+
Doesn't dry out curly hair
I'm a huge fan of this shampoo and have been using it for months. It's the perfect consistency, not too runny and not too thick. It glides over the hair and feels like it's coated each one with a moisturising film, and yet it cleanses really well and rinses off with ease – so it doesn't weight down the hair nor strip it of moisture. This is thanks to the nourishing vitamin and mineral rich algae extract, and hydrating and moisture boosting panthenol, coconut and rose oils – which as you may imagine makes the formula smell beautiful.
2. Trepadora Hibiscus Pink Cleansing Clay-Wash
Trepadora Hibiscus Pink Cleansing Clay-Wash
Best for oily scalps
Reasons to avoid
-
The tube doesn't last very long
While curly hair can get very dry, it's not unusual to have a naturally oily scalp, and that's where this Trepadora shampoo comes in handy. I'm a massive fan of the brand and can't get enough of their Coconut Almond Detangling Conditioner, but I'm equally impressed by this co-wash. Pink clay restores moisture to dry lengths, coconut oil cleanses and natural zinc PCA controls sebum production to help reduce the accumulation of yeast, bacteria and fungus that can cause itching, inflammation and discomfort. I haven't yet mastered the less is more approach with this shampoo, even when my hair is sopping wet, I still end up using a lot more than a traditional shampoo – which means I finished this in record speed.
3. Flora & Curl Rose Water & Honey Cream Shampoo
Flora & Curl Rose Water & Honey Cream Shampoo
Best natural shampoo
Reasons to buy
+
Formulated for all curl types
Be careful when using this shampoo for the first time, as a gentle squeeze of the bottle and this runny shampoo filled my palm and ran through my fingers before I could even blink. While I like a thicker consistency, it did mean that the shampoo spread really easily, and I imagine on tighter, textured hair that can be an advantage. It's packed with softening and hydrating ingredients like rose water, camellia oil and oat milk and so I was surprised at how squeaky clean this left my hair and scalp. It's not the type of shampoo that you would want to skip your conditioner after using, but equally it didn't leave my scalp dry or tight.
4. Ful Purifying Charcoal Shampoo
Ful Purifying Charcoal Shampoo
Best clarifying shampoo
Reasons to buy
+
Cuts through build-up in the hair
Reasons to avoid
-
It doesn't smell the nicest
I really put this charcoal-based weekly treatment shampoo to the test by using it after a I'd used an excessive amount of styling products, not washed my hair in a week and applied a pre-wash treatment oil. But this cleanser was unphased and cut through oil, dirt, product residue and everything else that had made my hair its home. It has a soapy smell, but thankfully while it deep cleansed to perfection it didn't leave my hair straw like, or tangled, instead it was super soft, and shiny.
5. Bouclème Curl Cleanser
Bouclème Curl Cleanser
Best co-wash
Reasons to avoid
-
Can be heavy on fine curls
Not your typical shampoo, this cleanser does not foam – not even a little bit, which may take some time to get used to. But despite the fact that you don't get that traditional cleansing experience, it does eliminate dirt, and product build-up on the hair and scalp. Argan oil, virgin coconut oil, and organic aloe vera form a deeply nourishing ultra-creamy formula that's ideal for super dry curls and warding off frizz. Plus, this co-wash doesn't require you to follow up with a conditioner, making it economically friendly too. But be sure to rinse it out thoroughly to ensure your scalp is left nice and clean.
6. Osmo Curl Revival Reinvigorating Shampoo
Osmo Curl Revival Reinvigorating Shampoo
Best professional shampoo
Reasons to avoid
-
Difficult to open - not for type 4 curls
Part of the latest curl revival collection by UK based professional haircare brand Osmo, I found this shampoo a joy to use on my curls – once I finally got my hands on the stuff. After several attempts I still couldn't get the pump to work and having tested hundreds of products in my time as a beauty editor I'm no stranger to opening a pump. Thankfully this is easily unscrewed so I poured it out instead (although I love the ease of a pump shampoo and conditioner). The texture is jelly like which was novel, it spread and lathered nicely and a little went a long way. My hair and scalp felt clean and thanks to the avocado oil and jojoba oil it was well moisturised and less frizzy too.
7. Percy & Reed Give Me Strength Strengthening Shampoo
Percy & Reed Give Me Strength Strengthening Shampoo
Best for hair growth
Reasons to avoid
-
Geared towards thinning hair
While beautiful and unique, curly hair is hard work. It's not a wash and go kinda hair type and sometimes us curly girls are left with no choice but to scrape up our post sleep, flattened tendrils into a high bun, or pony which can lead to thinning and hair loss due to the regular tension. Not only that, straightening by way of heated tools can weaken hair too. Cue, this clinically tested shampoo that boosts hair growth, blocks the hormone responsible for hair loss, injects wheat proteins and amino acids into strands to increase density, deeply hydrates to revive damaged hair and increases elasticity to reduce breakage. It's easy to use, smells good, lathers well and I found using it twice works best to ensure your scalp is well cleansed.
8. Vichy Anti-dandruff Shampoo Dry Hair
Vichy Anti-dandruff Shampoo Dry Hair
Best anti-dandruff shampoo
When dandruff rears its ugly head, it can be a challenge to find a treatment shampoo that doesn't strip your scalp and already dry hair of every last bit of moisture. Thankfully the Vichy dandruff shampoo comes in two varieties, one for greasy hair and one for dry hair – genius! It gets rid of flakes instantly and offers 6 weeks of dandruff protection thanks to a blend of salicylic acid and anti-fungal active selenium disulfide. And it helped me wave goodbye to the irritated, itchy skin that had developed during a random bought of dandruff.
9. Umberto Gianni Curl Jelly Wash Shampoo
Umberto Gianni Curl Jelly Wash Shampoo
Best affordable shampoo
Reasons to avoid
-
Thicker hair might need more moisture
It can be hard to find affordable haircare that caters to all curl types but this shampoo has been formulated for waves, curls and coils which gets a big thumbs up from me. Understanding the needs of curly tresses this is packed with vitamin B5 to help lock in moisture and strengthen strands. It lathers well, gave a good clean and didn't leave my fine hair feeling heavy or greasy, but it did leave them feeling and looking super soft and shiny.
10. The Body Shop Banana Truly Nourishing Shampoo Bar