What is a Brazilian blowout? Everything you need to know about the popular hair treatment
Hello smooth, silky strands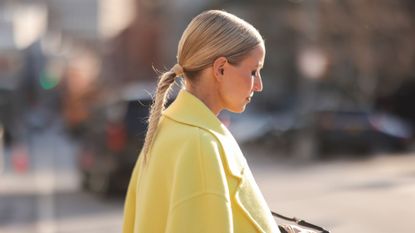 (Image credit: Photo by Jeremy Moeller Getty Images 1371053272)
If there is one hair treatment that I am seeing everywhere this summer, it's the Brazilian blowout. I don't know about you, but my TikTok feed is filled with videos of people heading to the salon to get the treatment done, and it's left me feeling somewhat curious.
As someone who spends a lot of their time using the best hair straighteners on their hair, I found myself asking whether a Brazilian blowout could save me a lot of time and hassle over the summer months.
Therefore, I took it upon myself to speak to the experts about what the hair treatment really involves, and why it is so popular.
Keep on scrolling for everything you need to know, and for more inspiration, don't forget to check out our guide to the biggest hair trends.
What is a Brazilian blowout?
"A Brazilian blowout is a smoothing treatment that can help tackle flyaways, and relax the wave or the curl of the hair very slightly," explains James Samuel, hair colourist at Hershesons. "It can also help make the hair easier to blow dry and style."
Here at Marie Claire UK, we are all about embracing your natural hair texture. However, if like me, you do spend a lot of time styling your hair, then the treatment might be of interest.
How is a Brazilian blowout done?
One of the things that I was most interested in finding out was how a Brazilian blowout is actually done. Luckily, we've got the full low-down below.
"For the treatment that we currently use at Hershesons, we start by washing the hair, then applying the product to the hair after it has been it has been rough dried," explains Samuel.
"Then, we leave the hair under the heater for 15 minutes and dry any remaining water out of the hair. We also smooth it slightly with a brush if needed.
"Next, we go over the hair with a straightening iron.
"Finally, we make sure that the client leaves the product in the hair for three days before washing out."
How long does the treatment last?
The reason that a Brazilian blowout is so appealing is that the treatment can last for three to five months. According to Samuel, you shouldn't come back any sooner than three months to have the treatment done again.
How to look after a Brazilian blowout
To make sure that the hair treatment lasts as long as possible, it's important to follow the correct steps after getting a Brazilian blowout. "I would advise using a sulfate free shampoo, as they won't contain the salts that you get in sulfates that can rub the product out of the hair," says Samuel.
"Also, try not to wash your hair too much. Only wash it when you need to in order to ensure that the treatment lasts as long as possible."
Is a Brazilian blowout suitable for all hair types?
Samuel says that the hair treatment is best suited to thick, coarse hair types. If you have fine or thin hair and you want added volume, then Samuel recommends avoiding the treatment, as it can take some volume out of the hair.
Is the treatment good for summer?
When it comes to summer, we all have to give our hair a little extra TLC (you can check out our top summer hair care tips here). If you are in a humid climate, then a Brazilian blowout is great as you can leave your hair to dry naturally. If you do want to blow dry it, Samuel recommends just rough drying it as the hair treatment will help to give it that smooth, blow dried look.
Celebrity news, beauty, fashion advice, and fascinating features, delivered straight to your inbox!
Grace Lindsay is currently Junior Beauty Editor at Who What Wear UK and previously was Marie Claire UK's E-Commerce Writer. With over three years of experience in the fashion and beauty industry, she covers everything from the best make-up and skincare deals to how to shop the stand out trends of the season. When she's not typing away at her laptop, Grace can be found shopping her favourite vintage markets IRL, or catching up on her never-ending list of books to read.