6 ways to care for your hair during summer, according to experts
Because the sun can really take its toll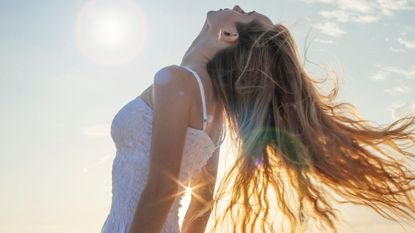 (Image credit: Getty Images ac productions 594826921)
It's no secret that you have to take extra care of your skin during summer. As the weather starts to get warmer, we are constantly reaching for the best sun cream and the best facial sunscreens to keep ourselves protected.
However, what about your hair? Although it's not talked about as much, the sun can also have a damaging effect on both your hair and scalp.
According to celebrity hairstylist Sam McKnight, "the sun's harmful rays can cause a range of issues for your hair and scalp, including colour fading, split ends, and breakage. It can end up leaving your hair looking and feeling dry and dull."
But not to fear, as there are lots of things you can do to help stop this from happening. Curious? We thought so.
We spoke to the experts to find out exactly how to care for your hair in summer, and what products you need to keep your hair looking as healthy as possible.
Keep on scrolling for everything you need to know, and for more inspiration, don't forget to check out our roundups of the best hair oils, the best hair masks and even the best dry shampoo.
1. Use a UV protecting mist
In an ideal world, we would all keep our hair out of the sun, however, we know that isn't always possible. "The next easy thing is to use a UV protecting mist," says McKnight. "Whether you summer in the city or at the beach, sun and humidity protection is key. I recommend using my Sundaze Sea Spray, a UV protecting mist that gives you a sea kissed texture like the ultimate Ibizan cool girl."
2. Try a pre-wash scalp oil
"This is so important all year round, but especially in summer when you're spending more time outside," says Jonathan Van Ness, hairstylist and founder of JVN Hair. "Our hair goes through so much more in summer, and a pre-wash scalp oil can help to support hair growth, and help to decongest and repair. I advise letting it sit for 15 minutes and then washing it out in the shower. Trust me, you will have less breakage, your hair will look shiny, it won't fade as fast and it will hold its shape for longer."
3. Wear your hair up at night
Another thing that Jonathan Van Ness recommends to do in summer is to wear your hair up at night. "By wearing your hair up when you sleep, you are keeping the ends of your hair away from your body heat. When you think about it, if you wear your hair down, your ends will get stuck between your shoulders and the bed. Not only will this expose your hair to low grade heat, but by tossing and turning throughout the night you will be creating a lot of friction on your hair."
Instead, Jonathan advises to wear your hair up on top of your head, and use a silk pillowcase as it doesn't conduct as much heat. You can check out our roundup of the best silk pillowcases here.
4. Invest in an intensive treatment for your hair
This might seem like an obvious one, but it's more important than ever in summer to invest in an intensive treatment for your hair. "Look for one that repairs, deeply nourishes and strengthens, and that's easy to incorporate into your routine," says McKnight. "This is because the sun can damage and dehydrate hair, so regular treatments will help to keep it in tip top condition."
Kérastase Resistance Masque Force Architecte
5. Condition before you go to the pool
If you are in and out of the pool a lot over summer, then a conditioning mist is key to help protect your hair. "Wet your hair down and put it all over your hair before you jump in the water," says Van Ness. "Your hair is a lot like a sponge, and it won't take in as much of that pool water with conditioner in the hair. This is particularly important if you have colour treated hair, as your hair is way more porous."
6. Embrace natural texture
And finally, the last tip is to embrace your natural hair texture. "We don't have as much time in the summer to be styling our hair, so I'm all about embracing natural texture," says Van Ness. "Use something such as our Complete Air Dry Cream which is great for people with curly hair, coily hair, and wavy hair. If your hair is straight it's also amazing, but make sure to use a little bit less product. All you have to do is apply on wet hair and style as desired. It will give you a beautiful texture and enhance curls."
Celebrity news, beauty, fashion advice, and fascinating features, delivered straight to your inbox!
Grace Lindsay is currently Junior Beauty Editor at Who What Wear UK and previously was Marie Claire UK's E-Commerce Writer. With over three years of experience in the fashion and beauty industry, she covers everything from the best make-up and skincare deals to how to shop the stand out trends of the season. When she's not typing away at her laptop, Grace can be found shopping her favourite vintage markets IRL, or catching up on her never-ending list of books to read.