Battling with a flaky scalp? We've tried them all, and these are the 9 best shampoos for dandruff
Buh-bye flakes, hello relief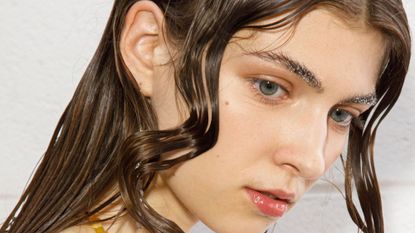 (Image credit: Getty Images/Rosdiana Ciaravolo / Contributor)
We get it, dealing with dandruff can feel all-consuming, whether you're changing your parting and hairstyle or constantly checking for flakes in the mirror. If you have finally had enough and are wondering what the best shampoo for dandruff is, you're in the right place. I've suffered from dandruff for a long time, and trust me, I understand the struggle. I've tried switching up how often I wash my hair, have been googling how to treat dandruff and have even tried the best scalp treatments, and I've still not managed to totally eradicate it.
Truthfully, it's embarrassing (even though I know it shouldn't be), and I am putting my daily dandruff woes out there because I know I'm not alone. According to Nizoral, 42% of us have noticed dandruff worsening since the cost-of-living crisis. And I make up one of the 36% of us who feels embarrassed by the falling flakes because I feel like I'll be judged because of it.
"The first signs of dandruff is an itchy, dry scalp, with white flakes that accumulate in the hair. Dandruff is something most common in the winter months when hair and the scalp is at its driest, but while in summer, I also see a lot of issues arise with the scalp due to burning, which can result in a flaky scalp," says Trichologist and Viviscal ambassador, Hannah Gaboardi.
Personally, I have found that my scalp is extra dry and flake-filled a week before my period, when I'm stressed or when my water intake has been rubbish. According to Nizoral, 40% of people in the UK believe stress causes their dandruff to flare up. "When you are stressed, cortisol is released, which can lead to a flare-up. After difficult and anxious periods, dandruff can become more prevalent," says Expert Trichologist for Nizoral, Stephanie Sey.
But one thing we can stop stressing about is dandruff causing hair loss. "Dandruff itself does not cause hair loss. However, if the condition remains untreated and becomes inflamed, it can lead to some shedding. If the scalp is particularly itchy, you may scratch more than normal, which can hurt the scalp, which can also lead to hair loss," Sey explains.
I suffered from dandruff for a year before I went to see Gaboardi for advice. Scanning my scalp, she immediately saw I had dandruff, which I had left for too long and ended up becoming seborrheic dermatitis (severe dandruff - yay!) which can move to your eyebrows and behind your ears, too. Gaboardi told me to stop using the shampoos I was using and to just stick to the best shampoo for dandruff instead, and recommended Nizoral's Anti-Dandruff Shampoo.
Keep scrolling for the best shampoos for dandruff to cure a dry, flaky scalp. But first, I speak to the experts all about what we need to know about dandruff.
What is the difference between dandruff and a dry scalp?
One mistake I made was convincing myself my scalp was just a little bit of dryness and not dandruff. Gaboardi explains the difference. "Dandruff causes the scalp to flake and causes visible flakes on clothing or in the hair. In contrast, a dry scalp means your hair isn't producing or holding enough moisture—not necessarily producing dandruff," she tells me.
What can you do to prevent dandruff?
Gaboardi suggests using scalp treatments, such as a scalp scrub, to prevent build up which can cause dandruff. To prevent dandruff don't overuse things like scrubs or clarifying shampoos as this can mess with the natural oils in the scalp.
"Actually, not shampooing enough could be the cause of your dandruff. Oil accumulates in the hair and builds up on the scalp, which can cause dandruff," explains Sey. "Drinking water is essential for the health of our body, so a lack of it will be an issue for the body in general. Alcohol dehydrates the body, so again, this is also not great for overall health and well-being," Sey explains.
Dandruff is usually caused by an imbalance on the scalp, whether that is triggered by stress or hormonal imbalances. The scalp is similar to the skin on our face, and when there is an imbalance, it gets inflamed. On the scalp this shows up as itchiness, dead skin cells and flakes.
What is the best way to look after hair with dandruff?
It sounds cliché, but being kind and gentle to your hair is key when suffering from dandruff. "I would always recommend using a regular cleansing and gentle shampoo to reduce oil and skin-cell build up. If you suffer from really bad dandruff, I recommend using a dandruff-specific shampoo. I love using a scalp massager anyway, but I would recommend putting the shampoo on first, then massaging it into your scalp. This is a great way of exfoliating the scalp and removing any dead skin cells," says Gaboradi.
"You must assess your hair's needs. If you go to the gym everyday you may need to wash your hair more often, the same if you have oily hair for example. People do tend to over wash when they have dandruff as they feel it helps improve things – but I would suggest not over washing, as you want to keep your scalp ecosystem as balanced as possible," Sey explains.
How often should you use dandruff shampoo?
"Each shampoo is different and varies from person to person. In most cases, I recommend twice a week, others more frequently and sometimes daily," says Gaboardi.
You may see results in one or two washes, but continue using dandruff shampoo long-term if you want to prevent it from returning. Going back to your usual shampoo is a common mistake, but keep with the best shampoo for dandruff for at least a couple of months. "There is no cure for dandruff, so if you stop using your anti-dandruff shampoo, then it's likely your dandruff will come back. Often, people use an anti-dandruff shampoo to treat their dandruff, and once they see an improvement, they go back to their usual shampoo and find that their dandruff comes back. It's important to be consistent," Gaboardi explains.
The best shampoo for dandruff for a flake free, soothed scalp
1. Nizoral Anti-dandruff Shampoo
Nizoral Anti-dandruff Shampoo
The expert-recommended shampoo for dandruff
If you've been suffering from dandruff for some time, you may want to go see a trichologist or your doctor. This here is the shampoo recommended to me by the trichologist I saw.
I asked trichologist, Sey, what I should know about the shampoo before I start using it. She told me it is a "clinically proven treatment for dandruff flare ups, which treats the cause of dandruff, relieves itching, helps remove flakes and soothes inflammation, with an active ingredient that gets right to the cause of the problem".
"However, this is a treatment for your scalp, so make sure not to confuse it with an everyday shampoo. It is recommended to use Nizoral Anti-Dandruff Shampoo two times a week for a maximum of four weeks to treat your dandruff flare up," says Sey. Once the flare up is under control, then she recommends using the daily prevention shampoo in-between and to prevent it recurring, which will "help to break the frustrating 'stop-start' cycle of dandruff".
2. Nizoral Anti-Dandruff Daily Prevent Shampoo
Nizoral Daily Prevent shampoo
Best everyday shampoo for dandruff
As the experts explain, over washing hair may not be the best idea, but sometimes it is necessary if your hair is particularly greasy or after a workout. This daily shampoo was made for those in-between days where you don't want to use a medicated dandruff shampoo but don't want to ruin any progress either.
"The daily prevent is a moisturising shampoo which can be used daily without compromising the condition of your hair, while providing relief for dry, itchy, flaky scalps. The formula is specially designed for those prone to persistent dandruff," explains Sey. It's formulated with an anti-dandruff ingredient, Crinipan PMC green. It specifically targets malassezia globosa, which is a fungus that can cause mild dandruff. It promises to stop dandruff from returning from the first wash.
3. Philip Kingsley Flaky Itchy Scalp Anti-Dandruff Shampoo
Philip Kingsley Flaky Itchy Scalp Anti-Dandruff Shampoo
Best shampoo for itchy dandruff
If an itchy scalp is the concern and you don't want a more serious treatment, then this is the one for you. Formulated by the trichologists at Philip Kingsley, it contains anti-microbial piroctone olamine, which will remove flakes and bring relief instantly. It's mild enough to be used daily while removing build up and soothing the scalp. Plus, it has a fresh apple scent without smelling medicated.
4. Ouai Anti-Dandruff Shampoo
Ouai Anti-Dandruff Shampoo
Best cleansing shampoo for dandruff
We know and love Ouai for its divine-smelling products and as the brain child of the Kardashian's go-to hair stylist, Jen Atkin. Recently, the brand has expanded into anti-dandruff haircare, and we're here for it.
Granted, this shampoo doesn't have the brand's iconic scent (it has to be gentle, after all), but it's still great. This is the best shampoo for dandruff if you suffer from sporadic flare ups, not if you have chronic dandruff. It will purify the scalp as well as give your strands a refresh. Infused with salicylic acid to exfoliate and slough away those flakes, it also conditions hair.
5. Kérastase Symbiose Moisturising Anti-Dandruff Cellular Shampoo
Kérastase Symbiose Moisturising Anti-Dandruff Cellular Shampoo
Best shampoo for dandruff for sensitive scalps
This dandruff shampoo is silicone and sulphate-free, so it's perfect for extra-sensitive scalps. Acting on the cause of dandruff with piroctone olamine, it helps to reduce yeast production. It is also infused with salicylic acid to gently exfoliate. Kérastase made the Symbiose range after years of research and with the knowledge that we don't always want to chose a clinical shampoo and still want that little bit of luxury even if we are suffering with dandruff.
6. L'Oréal Professionnel Serié Expert Scalp Advanced Anti-Dandruff Dermo-Clarifier Shampoo
L'Oréal Professionnel Serié Expert Scalp Advanced Anti-Dandruff Shampoo
Best deep-cleansing shampoo for dandruff
If product build up is the cause of your dandruff then this cleansing shampoo will do the trick. Removing impurities straight from the root, it is also enriched with piroctone olamine, so your hair will feel super clean and smooth and flakes will be removed.
7. Head & Shoulders Bare Soothing Hydration Anti-Dandruff Shampoo
Head & Shoulders Bare Soothing Hydration Anti-Dandruff Shampoo
Best dandruff shampoo for dry scalps
This new version of the classic Head & Shoulders was two years in the making. The Bare Soothing Hydration formula only uses minimal ingredients to get dandruff gone. Formulated around piroctone olamine, which is clinically proved to treat dandruff, it also contains citric acid to balance the pH of the scalp.
8. Briogeo Megastrength Dandruff Control Shampoo
Briogeo Megastrength Dandruff Control Shampoo
Best dandruff shampoo for instant relief
Formulated with charcoal and an exfoliating AHA and BHA blend, this shampoo exfoliates and soothes the scalp while also hydrating the lengths. Whether dandruff is causing itching, flaking or general irritation, this shampoo will provide instant relief.
8. The Body Shop Ginger Anti-Dandruff Shampoo
The Body Shop Ginger Anti-Dandruff Shampoo
Best overall shampoo for dandruff
Ask any beauty editor and they'll tell you this is the best shampoo out there for fending off flakes and dandruff. Acting Senior Beauty Editor, Shannon Lawlor says, "Everyone I have ever recommended this shampoo to has converted to it instantly. It is, without question, the best shampoo for dandruff on the high street."