10 perfumes celebrities actually wear—and aren't paid to rave about
Looking for your new signature scent? Try one of these celebs faves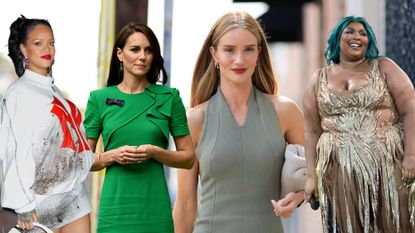 (Image credit: Getty Images/Gotham / Contributor/Anadolu Agency / Contributor/Rachpoot/Bauer-Griffin / Contributor/Harry Durrant / Contributor)
With access to some of the best glam teams in the business, it's no surprise that our favourite celebrities have exquisite choice in perfume. So much so, that one of the biggest questions we want to find out is: what perfumes do celebrities wear? Well, thanks to interviews with publications and tell-alls on social media, we've got the intel.
We've searched high and low to find out exactly what perfumes you'll find sitting proudly on these celebs' vanities so that you can take inspo from them, and perhaps even share their signature scent—whether it be a wedding-day scent, a new summer perfume or a classic, fresh scent.
Ahead, you'll find the very best perfumes that celebrities actually wear (including some royal perfumes), and more importantly, aren't paid to wear, which is how you know they're truly special.
1. Lizzo wears Escentric Molecules Molecule 01 Eau de Toilette
In 2019, the singer told The New York Times that the iconic Escentric Molecules Molecule 01 is her signature scent. Although, with this perfume, you actually won't smell like Lizzo when you spritz it on yourself. See, this is a skin scent, which means it differs on each person due to how it reacts to the skin. It's a true one-of-a-kind perfume and definitely deserves a spot in your fragrance wardrobe.
2. Rosie Huntington Whiteley wears Byredo Gypsy Water Eau de Parfum
On her YouTube channel for her lifestyle brand Rose Inc, Rosie Huntington-Whiteley shared that the cool-girl brand Byredo is top of her favourite fragrance list. Describing it as her "all time, ultimate fragrance," Byredo's Gypsy Water takes top spot thanks to being incredibly fresh, light, and easy to wear.
3. Princess of Wales wears Illuminum London White Gardenia Petals Eau de Parfum
Rumours swirled that the Princess of Wales wore small brand Illuminum London White Gardenia Petals on her wedding day in 2011, which was confirmed shortly after the big day; leading to sales skyrocketing. The scent has notes of bergamot, gardenia, jasmine and amber wood. It's elegant (we'd expect nothing less from a royal-approved perfume), uplifting and clean-smelling — a perfect floral perfume.
4. Olivia Rodrigo wears Maison Francis Kurkdjian Baccarat Rouge 540 Eau de Parfum
Olivia Rodrigo has expensive taste, opting for one of the most talked about fragrances of the moment. She told British Vogue back in 2021 that Maison Francis Kurkdjian Baccarat Rouge 540 was her go-to scent thanks to its musky notes. The incredibly luxurious gourmand perfume boasts notes of jasmine, amberwood, fir resin and cedar. It's complex, wearable and incredibly addictive.
5. Doja Cat wears Byredo Black Saffron Eau de Parfum
Doja Cat is also a fan of Byredo, but her scent of choice is the sexy, leathery Black Saffron, as told to Harpers Bazaar in 2021. It's the perfect nighttime perfume for people who enjoy unisex, powerful blends.
6. Rihanna wears Kilian Love, Don't Be Shy Eau de Parfum
Obviously aside from wearing her own brand's scent, Fenty Eau de Parfum (that would make this too easy) Rihanna adores Kilian Love, Don't Be Shy. The story of this perfume is sweet. It aims to encapsulate those first moments with a new lover; the nervous meeting, giggles, soft kisses and feeling of wanting more. Basically, if you want to impress your loved one and smell expensive, this is for you. Oh, and it's a brand that Beyoncé is a fan of, too.
7. Hailey Bieber wears Ex Nihilo Fleur Narcotique Eau de Parfum
Ex Nihilo Fleur Narcotique is one of Hailey Bieber's top perfume picks. Its notes of peach and lychee are the stars of the show, elevated by moss and musk, so it's no wonder the fragrance is a celebrity favourite. Hailey told Bustle in 2021, "I don't remember if someone gave it to me, but I just fell in love with this one scent. All their scents are really beautiful."
8. Paul Mescal wears Le Labo Another 13 Eau de Parfum
If there's one man we want to smell like, it's obviously Paul Mescal. Thankfully for us, he revealed in his GQ 10 Things Paul Mescal Can't Live Without, he revealed Le Labo Another 13 being his go-to. Simply describing it as "delicious... it smells good". Honestly? That's good enough for us. But for real, its notes of musk, jasmine and moss mean it feels like an addictive skin scent that makes you smell like the best version of you.
9. Maya Jama wears Dior Poison Eau de Parfum
Maya Jama is a big fan of Dior's classic Hypnotic Poison, which she revealed to Marie Claire UK in 2019. Though she's known for mixing things up regularly, most recently noting that one of her current faves is Mugler Alien. She told Who What Wear that she tried the classic scent because her friend, Jourdan Dunn, is the face of the fragrance, and she now loves it.
10. Reese Witherspoon wears Aerin Amber Musk Eau de Parfum
You just know that Reese Witherspoon smells elegant, fresh and put together, and we can confirm that she actually does. She told Harper's Bazaar back in 2016 that Aerin Amber Musk "is my new favourite fragrance. I don't go anywhere without a spritz". Sure, she might have a new favourite now, but this one is special so deserves a place in your fragrance wardrobe.
Celebrity news, beauty, fashion advice, and fascinating features, delivered straight to your inbox!