Beauty editors would prefer to keep these 6 subtly scented perfumes a secret
They smell like you... but better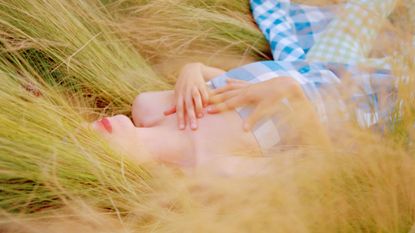 (Image credit: Getty Images/Andriy Onufriyenko)
As a beauty editor, believe me when I say sometimes the best perfumes are those you can barely smell. Yes really, I mean it. We don't always want our scent to enter the room before we do, or have a waft of a popular fragrance and someone be able to place it right away. While stronger, long-lasting perfumes are of course great, there's an allure and elegance of someone not knowing whether you're wearing perfume or if you just smell really good.
That's where skin scents come in. You've probably heard of them (maybe as pheromone perfumes or even TikTok's classic 'clean girl aesthetic'), seen them and might even already own a few of these skin-like, fresh perfumes but not know it. Whether it's spring or summer, skin scents work for all. But what actually is a skin scent? We've tapped Nick Gilbert, Director and Evaluator at Olfiction, and founder of Boujee Bougies and Eau de Boujee to find out everything you need to know about the perfume that's got everyone hooked.
Plus we've rounded up some of our favourites if you fancy spritzing your own.
What is a skin scent?
Well, essentially it's a fancy way of smelling like you—but better. "A skin scent refers to a kind of fragrance that wears closely to the skin, or smells like warm skin," explains Nick. "Instead of projecting an enormous scented aura around it, it creates a gentle, more subtle trail," he says.
Unlike a lot of fragrances, which are designed to smell a very specific way and maintain the scent across the vast majority of people's skins, skin scents all differ depending on who the wearer is and how it interacts. "In the case of [the note] Iso E Super, well known thanks to Molecule 01, it seems to behave more like an enhancer than an odour in its own right," Nick explains. "That's not to say it doesn't smell (it has a velvety, smooth cedarwood effect), but it is being used for its effect."
Why do people love skin scents so much?
In short: they're familiar. It's no secret that we subconsciously prefer familiarity and this is like an elegant, elevated version of that. "They tend to appeal to people because they smell soft, clean and comfortable, like an enhanced version of our own skin," Nick says. Think of it as the perfectly tailored crisp white shirt of scents—one that is simple, classic and looks like it was made for you.
People also love to gatekeep and be unique when it comes to fragrance. Knowing that even if someone asks what scent you're wearing and spritzes on the same they won't smell like you is special. In that sense, they're a really intimate and special type of fragrance.
What notes create a typical skin scent?
So, what notes should you look out for? Nick explains that musks like ebanol, ambrettolide and edenolide and ambergris style notes such as ambroxan and cetalox are favoured. "Woody notes from cedarwood and sandalwood, to Iso E Super and sandalore, ambrette seed, as well as iris root and some of its analogues are all useful for skin scents."
As for more summery skin scents, "it tends to be salicylate rich materials like jasmine and ylang ylang that remind us of sun warmed skin," says Nick.
Shop the 6 best skin scents
1. Escentric Molecules Molecule 01
Escentric Molecules Molecule 01 Eau de Toilette
The OG of skin scents is Escentric Molecules Molecule 01. It's made up of just Iso E Super, which is typically used as a fragrance booster rather than being built around it alone. It's almost undetectable to the wearer but you'll find others complimenting you on the scent, making it a really special, unique perfume. It's hard to define but is musky and powdery and just feels elegantly clean. Sometimes I layer it with other fragrances if I want something a little more punchy. If you're not one for fragrance wardrobing, this is a perfect year-round scent, because it's fresh and light without being sickly sweet or intensely heavy in any way.
2. Glossier You
Glossier You Eau de Parfum
Glossier describes this as a 'skin-enhancer' and that's exactly what you'll get. It's You but better—quite literally. With notes of pink pepper, ambrette seeds (supposedly an aphrodisiac but we'll leave that up to you) and iris, although the combination smells different on each wearer, one thing is for sure: it'll smell like a pure delight on everyone. To me, this is an easy wear. You know when you want to smell really, really good but can't decide what? This is your MVP.
3. Phlur Missing Person
Phlur Missing Person Eau de Parfum
Designed to be a 'delicate yet addictive fragrance that evokes the lingering scent of your lover's skin' and truly, we couldn't describe it better. At first, I wasn't blown away by this fragrance but then I realised, that's not really the point. This scent is wonderful in how familiar it smells rather than being dramatic or punchy. Described as warm, sensual and cosy, it's sexy in its simplicity with notes of neroli blossom, sandalwood and skin musk.
4. Diptyque L'Eau Papier
Diptyque L'Eau Papier Eau de Parfum
Now, at first when I heard about this (before I took a whiff) I figured there was no way it could smell like ink saturating paper (the brand's inspiration). Well, how wrong was I, and how could I doubt Diptyque? This is one of my favourite scents yet; I find myself consistently reaching for it. Developed with the aim of changing from one skin to another, it almost feels nostalgic. Definitely stronger than the other skin scents, you'll be able to smell it on yourself a little more, which I personally like. If you liked the brand's Fleur de Peau but found it a bit too 'much', you'll love this.
5. Altra Skin
The clue with this one is in the name. Created with a 'secret blend' of plant-based musk and botanical base notes that are alluring, addictive and never overpowering, it boasts being inviting and familiar—and I can attest to both. To me, it's like a spritz of confidence that doesn't feel forced. Altra also has some impressive sustainability credentials, with small-batch production, incredibly thoughtful ingredient sourcing and smart packaging solutions.
6. Le Labo Another 13
Le Labo Another 13 Eau de Parfum
Created using Iso E Super and ambroxan (which has a velvety feel), this is definitely one of the more masculine skin scents out there, making it a sexy, date-night option. I do find that it's a bit of a marmite scent, you either love it or hate it. If you're in the love it camp, it's one of the more addictive skin scents out there; one you'll keep reaching for in your stash. Oh, and the compliments will absolutely roll in.
Celebrity news, beauty, fashion advice, and fascinating features, delivered straight to your inbox!
Tori is a freelance beauty journalist and contributor for Marie Claire. She has written for various titles, including Allure, Glamour, Elle, Refinery29, Brides, and more. Currently training to be a nail tech, Tori is a total nail enthusiast and always has time to talk all things nail art. When she's not writing about beauty and testing products, Tori can be found walking her rescue dog Pip, drinking great coffee, and eating as many croissants as humanly possible.