The 12 wedding perfumes beauty and fashion editors wore (or plan to wear) for their big days
Spoiler: they're not all florals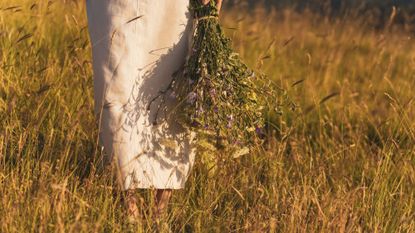 (Image credit: Getty Images/LittleBee80)
As a beauty editor who is getting married next year, I'll put my hands up and say the planning so far as been minimal. I have a date and rough plan set, but other than that I've done nothing. Something I have been thinking about a lot, however, is what wedding-day perfume I'm going to wear. It seems silly, I know, but as a beauty editor, my wedding scent means a lot to me. While I've given my wedding hair and wedding nails some thought, I've spent many hours to-ing and fro-ing over which wedding fragrance I'll opt for on the big day.
And while I've been talking to literally anybody who will listen about my wedding-day perfume conundrums (I've changed my mind a lot), I've realised that virtually everyone I know wants to talk about bridal scents. Turns out, it's a big deal to a lot of people. Everyone I speak to about it either wants to know how to choose your wedding-day perfume or they want to know what scents other people have opted for in a bid to find some inspiration.
And I figured I'd do the hard work for them. Last week, I reached out to a number of in-the-know beauty and fashion editors who have every and any perfume their heart so desires at their finger tips to find out exactly which scents they opted for (or plan to opt for) on their wedding day. So, whether you're looking for wedding scent inspiration or you're just feeling nosy, here are the 12 best wedding day perfumes, according to editors (and they're not all florals) ...
Shannon Lawlor, Acting Senior Beauty Editor, Marie Claire UK
Acqua di Parma Colonia Eau de Cologne
"My wedding isn't until April next year, but I've been thinking about what perfume I'll wear for years. (It's the beauty editor in me, what can I say?!) Acqua di Parma Colonia means a lot to me, and I've worn it for the entirety of our relationship. Having been the boyfriend of a beauty editor for over 8 years, it's needless to say my fiancé is into his fragrance and has already settled on his—Maison Francis Kurkdjian l'Homme À La Rose for the ceremony and Penhaligon's Terrible Teddy for the reception the following day. I wanted my fragrance choices to pair with his, and Colonia's fresh, citrus scent will blend beautifully with his choice for the ceremony. For the reception, I'll be reaching for Colonia's slightly darker older sibling, Acqua di Parma Colonia Essenza—a soapy, woody cologne that I consider the best perfume of all time." — Shannon Lawlor, Acting Senior Beauty Editor at Marie Claire UK
Sofia Piza, Producer, Marie Claire UK
"This fragrance has been a key staple in my repertoire for the past two years. I've always leaned into the super-sweet or super-woody extremes and this fragrance feels like the perfect combination of both. It holds fresh notes of freesia and honey combined with oakmoss and patchouli, making it the ultimate combination to say 'si' on your big day." — Sofia Piza, Producer at Marie Claire UK
Emma Spedding, Acting Executive Fashion News and Features Editor, British Vogue
Jo Malone London Jasmine Sambac & Marigold Cologne Intense
"When it comes to wedding fragrances there is a lot of discussion about finding a new scent that will then remind you of and take you back to your wedding day. However, I decided I didn't need to buy anything new or make a big thing of finding a new fragrance. Instead, it felt special to wear my favourite perfume, Jasmine Sambac & Marigold by Jo Malone London (it was also a gift from my husband). We have jasmine and lunaria hanging from the beams of our venue, so the room already had a beautiful smell of jasmine." — Emma Spedding, Acting Executive Fashion News and Features Editor at British Vogue
George Driver, Senior Digital Beauty Editor, Elle UK
L'Occitane Cherry Blossom Eau de Toilette
"I always knew what I was going to wear (because I'm a massive sap). I have a perfume from when I first met my husband when I was 18, which I wore all through uni. I don't really wear it anymore but I have half a bottle left that I keep on my dressing table. I wear it once a year and it smells super nostalgic. It's L'Occitane Cherry Blossom. It's far sweeter than any perfume I would wear now but it's so evocative and nostalgic when I do that my wedding day felt like the perfect time to wear it. I think because of my job people expected me to wear something quite sophisticated, but actually I always knew I was going to wear that." — George Driver, Senior Digital Beauty Editor at Elle UK
Katie Thomas, Senior Beauty Editor, Marie Claire UK
Jo Malone London Jasmine Sambac & Marigold Cologne Intense
"I took all of my fragrances that I wanted to consider for the wedding and I got loads of perfume blotters and sprayed each of them. I lined the kitchen table with them and I had Nick go through and talk me through what he thought of each one. I wanted him to tell me which one he thought reminded him of me the most. We came up with Jo Malone Jasmine Sambac & Marigold." — Katie Thomas, Senior Beauty Editor at Marie Claire UK
Mica Ricketts, Freelance Beauty Editor
Byredo Bibliothèque Eau de Parfum
"Despite being a pretty laid back bride—I wore the first dress that I ordered online and tried on, did my own hair and make-up and we got married in a pub in Camden—fragrance felt like a really important decision for my day. I knew that I wanted something that I hadn't worn before so I would always associate it with our wedding and I wanted it to feel special. At the time, I was working as a content manager for a beauty subscription box so I didn't have the access to some of the amazing brands that I do now as an editor, but I knew that everyone in the industry was obsessed with Byredo. I remember heading to Liberty after work, rather sheepishly as these perfumes were way more expensive than anything I'd ever looked at before, and smelling every single perfume they had. I instantly fell in love with Bibliotheque. Admittedly, as a huge bookworm, the name was part of the appeal but it was a perfume that somehow smelt like home to me. It has a leathery warmth, sweetened with notes of vanilla and plum, and contains a note that runs through basically all of my favourite perfumes—violet—which lent it an almost powdery familiarity. Looking back, it's quite an intense choice for a June wedding, and definitely a far cry from the typically feminine florals that you might expect, but I am so glad that I decided on it. I super cheesily wear it on all of our anniversaries now, or on the rare occasions that we get a special date night, and five years later it still instantly transports me back to our amazing day." — Mica Ricketts, Freelance Beauty Editor
Humeara Mohamed, Freelance Beauty Journalist
"Our wedding was somewhat of a shambles. Set in the midst of a Covid-19 lockdown, a handful of witnesses attended over Zoom, and Jack and I were huddled in the middle of an Imam's living room after we failed to get an internet connection in the Mosque. It was all a bit spontaneous and adventurous and unknown —nothing like the big event I'd grown up dreaming of —but somehow hilariously perfect all the same. When it came to my fragrance, then, I needed something comforting and familiar to keep me feeling calm. KAYALI Musk|12 layered with a touch of Vanilla|28 was the obvious choice. The two together feel like a warm hug, mixed with memories of days spent baking cupcakes, thanks to notes of creamy jasmine, musk, Madagascan vanilla and brown sugar." — Humeara Mohamed, Freelance Beauty Journalist
Madeleine Spencer, Freelance Beauty Journalist
Guerlain Angélique Noire Eau de Parfum
"When I got married, Jo Malone had released a limited edition set of perfumes which included milky and cucumber ones. I love both sorts of smells—milky being creamy and comforting and skin-mimicking, cucumber adding a shot of freshness. I applied the milky one to my skin after moisturising for a haze of softness, and the cucumber one as a mist to walk through once dressed. Sadly, Jo Malone never made either perfume permanent, but were I to pick now, I'd spritz Guerlain Angélique Noire on my skin for a warming, cashmere hug, and then add a dash of Aerin Rose de Grasse, which smells precisely like a very dewy morning rose." — Madeleine Spencer, Freelance Beauty Journalist
Mollie Burdell, Freelance Beauty Editor
Jo Malone London Fig & Lotus Cologne
"I was torn between wearing my statement scent, Parfums de Marly Oriana, or picking something entirely new so each time I smelled it, it would take me right back to my wedding day. I decided on the latter, and booked in for a 'Scent Your Wedding' experience with Jo Malone London which I'd highly recommend. I brought my now husband along with me as he is ridiculously fussy when it comes to perfume and it was actually really nice choosing one together for me to wear. We experimented with different fragrance combinations before settling on Fig and Lotus Flower Cologne paired with the Wood Sage and Sea Salt Body Crème—a moisturiser helps the fragrance cling to the skin longer. As my wedding was in June, I found this to be an absolutely perfect fit." — Mollie Burdell, Freelance Beauty Editor
Grace Day, Freelance Beauty Editor
Byredo Eyes Closed Eau de Parfum
"For most people, choosing a wedding dress is the biggest decision to be made ahead of the big day, but as a beauty editor, I've spent far more time thinking about what perfume I'll wear. I was originally supposed to get married back in 2020 (thanks Covid), so I've had quite a lot of time to dwell on the matter, and have changed my decision more times than I can remember. Potential candidates have included Maison Francis Kurkdjian Baccarat Rouge 540 (before it went TikTok viral), Penhaligon's Juniper Sling (until I started wearing it every day) and Acqua Di Parma Blu Mediterraneo Ginepro Di Sardegna (which sadly was discontinued). Right now, the current candidate is Byredo Eyes Closed. As soon as I smelled it I knew it was wedding perfume material. It's at first papery and powdery, thanks