The 25 perfumes of all time: the classic perfumes that have kept us smelling beautiful for years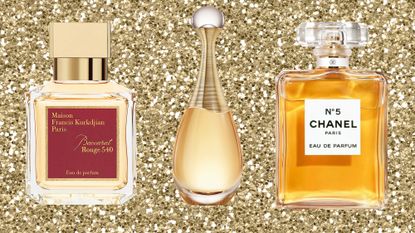 We've all got a favourite fragrance - one that we consider the best perfume ever - but is your signature scent one of the best perfumes of all time? One of those scents that launched years ago, but continues to be a bestseller today.
It obviously takes a special juice to make this list - we're talking a scent that when someone walks into a room you instantly know what it is, or your interest is piqued. Something like Chanel No.5, which is undoubtedly the most famous fragrance on the planet, not to mention the best Chanel perfume there is. You might not have smelt this one, but you've certainly seen the bottle. Or what about Marc Jacobs Daisy that so many of us associate with our teenage years? These are the scents that can stand the test of time. There are fragrances on this list that even after 20 years since the initial launch, they continue to sell at rapid speed.
There are some that we only smell around the warmer months, the best summer perfumes that have been there with us creating memories on holidays. The scents with notes that somehow seem to warm us up when outside it's freezing, like those in the best winter perfumes.
Best perfumes of all time
Byredo Gypsy Water EDP, £127 | Space NK
This is a magical scent. With notes of pine needle, sandalwood, lemon, vanilla and bergamot, you go on a journey with this fragrance. Which is exactly what was intended. Top notes: Juniper, Lemon, Bergamot & Pepper Heart notes: Pine Needles, Incense & Orris Root Base notes: Sandalwood, Vanilla & Amber
Clarins Eau Dynamisante, £38 | John Lewis
An iconic bottle that is so often seen on the dressing table of older female relatives. Did you know that this is both a fragrance and a skincare product? It tones and softens the skin after showering. Top notes: Amalfi Lemon, Caraway, Coriander, Orange & Petitgrain Heart notes: Rosemary, Carnation, Thyme & cardamom Base notes: Patchouli
Jean Paul Gaultier Classique for Women EDT, £47 | Boots
Oh la la! Jean Paul Gaultier's famous fragance for women that delivered sex and mystery with one spritz. Top notes: Rose & Anise Heart notes: Orange Blossom & Ginger Base notes: Vanilla & Amber
Marc Jacobs Daisy EDT, from £41.99 | John Lewis
The perfume that stole the hearts of teenagers across the land. And continues to do so today. The fresh and fruity fragrance is so popular that it has had many an upgrade over the years, but the original remains the best. Top notes: Blood Grapefruit, Wild Strawberry & Violet Leaf Heart notes: Gardenia, Jasmine & Violet Base notes:Musk, Vanilla & White Wood
Le Labo Santal 33, from £60 | Cult Beauty
The coolest fragrance on this list by far. It's cult status has been cemented by the fashion set adopting it as their own. Top notes: Violet Accord & Cardomom Heart notes: Iris, Papyrus & Ambrox Base notes: Cedarwood, Leather & Sandalwood
Dior J'Adore EDP, from £50 | John Lewis
This is Dior's bestselling fragrance for a reason. It's pure luxury, from the rich opulent juice with notes of magnolia, tuberose and musk, to the famous curved bottle and gold cap. A legend. Top notes: Bergamot, Pear, Peach, Melon, Magnolia & Mandarin Orange Heart notes: Freesia, Orchid, Violet, Plum, Tuberose, Rose, Lily-of-the-Valley & Jasmine Base notes: Musk, Vanilla, Blackberry & Cedar
Jo Malone London Pomegranate Noir Cologne, from £52 | Feelunique
Just the mention of Jo Malone London will instantly conjuer up the scent of Pomegranate Noir. Is it hands down the brand's most iconic scent. It's a warm, enveloping scent with a richness that's topped with a peppering of sweet. Top notes: Pomegranate Heart notes: Casablanca Lily Base notes: Guaiacwood
Chanel No. 5 EDP, from £62 | John Lewis
Without a doubt, the most famous perfume of all time. Instantly recgnisable - both the bottle and the scent - it has celebrated its 100th birthday last year. It's the epitome of elegance. Top notes: Aldehydes, Ylang-Ylang, Neroli, Bergamot & Lemon Heart notes: Iris, Jasmine, Rose, Orris Root & Lily-of-the-Valley Base notes: Civet, Amber, Sandalwood, Musk, Moss, Vetiver, Vanilla & Patchouli
YSL Black Opium EDP, RRP £82 | Lookfantastic
A modern take on the 1977 fragrance Opium. This fragrance took the world by storm in 2014 and continues to do so today. In 2020, it was the most googled fragrance. Top notes: Pear Accord & Mandarin Essence Heart notes: Vanilla, Orange Blossom & White Flowers Base notes: Black Coffee Accord, Cedarwood Essence, White Must & Patchouli
Calvin Klein CK One EDT, RRP £44 | Boots
The perfume of the 90s. Think Kate Moss is her sheer spaghetti strap dress. Its the scent that encapsulated the era perfectly - cool, clean and fresh. Top notes: Green Tea, Beragmot & Cadamom Heart notes: Violet, Rose & Nutmeg Base notes: Amber & Musk