I test hundreds of beauty products a year—here's 10 new launches that are a cut above the rest
Welcome to Beauty Desk Drop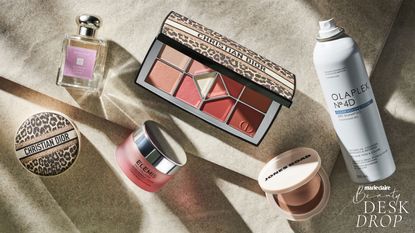 (Image credit: Future)
I would like to welcome you to our inaugural instalment of Beauty Desk Drop—a monthly round-up of all the best new beauty products to have landed on my desk. You see, as a beauty editor, I receive countless parcels of beauty products a day. Why? Essentially, it's so I can test them out and give you guys an honest opinion on whether or not they're worth your time, energy and, most importantly, cash.
From the best cleansers and night creams to the best foundations and mascaras, there aren't really any new beauty launches that pass me by. Over the years, I've tried every beauty product worth its weight in gold. In fact, I've spent the past eight years of my career switching up my routine every week so that I can be sure I'm giving you the best advice possible. Hundreds of beauty products come my way every month, so it takes something really special to catch my eye. Beauty Desk Drop is a place you'll only find products I consider to be the best of the best.
The reason I've decided to launch Beauty Desk Drop now? I've found that it has become near on impossible to open up Instagram or TikTok without being sold to. And here at Marie Claire, we know the dangers of over-consumption. With every day that passes, it's becoming easier and easier to impulse buy the latest beauty products—and, in my experience, no good beauty product was ever one bought on a whim without any research.
So, in a bid to help you cut through the noise of it all, I've decided to give you a detailed round up of the beauty launches that I deem most impressive. And I don't want you to feel as though this is a way to further fuel the seemingly never-ending cycle of beauty consumption we have found ourselves in. It's quite the contrary. I want this to be a safe space, where you can switch off for just a moment and relish in the things you love about beauty—the textures, the aesthetics and, most importantly, results that don't leave you feeling let down.
In short, Beauty Desk Drop is a space for you to take time over your beauty browsing. Whether you're looking for inspiration or you've had your eye on a new beauty launch for a while and want to know more, this is a place for you.
So here goes, these are the 10 best new beauty products to have dropped on the beauty desk throughout February. Welcome to Beauty Desk Drop...
The Best Beauty Products to launch in February 2023
1. Jo Malone London Rose Water & Vanilla Cologne
Jo Malone London Rose Water & Vanilla Cologne
Best new fragrance
Specifications
Key notes: Rose water, rose Turkish delight, vanilla
Size: 50ml
Blend: Cologne
If you're a fan of delicate perfumes with a warm sweetness, this one's for you. To be honest, if you'd have asked me whether I'm a fan of vanilla scents this time last month, I probably would have said no—but this has changed my mind entirely. A far cry from a traditional, powdery rose perfume and nothing at all like the sickly sweet vanillas you might associate with your teenage years, Rose Water & Vanilla Cologne is totally wearable and entirely inoffensive. It's soft on the nose and swirls over skin in a comfortingly refreshing sort of way—like a field of fresh roses combined with the sweet creaminess of milk and sugar.
2. Olaplex No.4D Clean Volume Detox Dry Shampoo
Olaplex No.4D Clean Volume Detox Dry Shampoo
Best new hair product
Look, I'm running out of things to say about this. I wrote a pretty in-depth review of Olaplex No.4D Clean Volume Detox Dry Shampoo (catchy name, right?) when it launched, and I'm still super impressed with it. If, like me, you have thin and fine hair, chances are you'll love this product. If, however, you like your dry shampoos to come with some serious grit and texture, this isn't for you.
It's lightweight, invisible to the eye and just makes hair feel fresher. Does it feel like you've just freshly shampooed your hair? No. But then I'm not sure any dry shampoo will lead to those results. As far as I'm concerned, this is the best weightless dry shampoo I've ever used.
3. Elemis Pro-Collagen Rose Marine Cream
Elemis Pro-Collagen Rose Marine Cream
Best new face cream
Specifications
Size: 50ml
Key ingredients: Padina pavonica, ginkgo biloba, chlorella vulgaris, organic English rose hydrolat
It's spenny, I know, but this face cream really does feel like the pinnacle of luxury. I've been a big fan of Elemis Pro-Collagen Marine Cream for many years, and this new rose version has impressed me even more. It contains all of the moisture-rich, skin-plumping goodness that the original cream offers, just with a delicate rose extract, which proves soothing for both mind and skin.
4. Dior Diorshow 10 Couleurs Mitzah Limited Edition
Dior Diorshow 10 Couleurs Mitzah Limited Edition
Best new eye shadow palette
I promise not everything on Beauty Desk Drop has a tear-inducing price tag, it's just been a month of very expensive launches. Do you need this eye shadow palette? Absolutely not. Is it one of the best eye shadow palettes I've used in ages? Yep. But then again, it should be for £111. The shadows themselves are buttery, blendable and beautifully wearable. The pans are massive too, meaning I can see this palette being a life-long companion (I'm the worst at abiding by make-up expiry dates).
The biggest appeal though is obviously the packaging. In a fabric-wrapped, leopard-print case, this palette is easily the chicest make-up launch I've ever laid eyes upon.
5. Oskia Violet Water Clearing Cleanser
Oskia Violet Water Clearing Cleanser
Best new cleanser
Specifications
Size: 125ml
Key ingredients: Salicylic acid
If you have oily skin that's prone to congestion, listen up. This is the best cleanser that has come my way in years. With salicylic acid to help decongest pores, minimise the appearance of blackheads and reduce excess oil production, it has proved a wonderful way to keep my oiliness in check.
What makes it really special, however, is the general feeling of it. While most salicylic acid cleansers risk feeling a bit clinical and can leave skin feeling tight and dry, this stuff is a joy to use. Not only does it have a delicately clean scent, but the formula glides effortlessly over skin, working into a lightweight lather than leaves skin feeling deeply cleansed but not tight or dry.
6. Jones Road The Bronzer
Jones Road The Bronzer
Best new bronzer
I've been a bit fed up of fancy bronzer launches in recent years. I just find sticks and creams a bit of a faff sometimes—that's why this launch from Jones Road speaks to me. It's a bronzer in its truest and best sense. It's free from obvious shimmer and is sheer enough that you can be heavy handed without looking like a Wotsit. Everything about it is just spot on. Ideal for lazy girls just like me, I can dust it over my face with my eyes closed and still walk away looking (and feeling) better for it.
7. Glossier Deodorant
Glossier Deodorant
Best new deodorant
Specifications
Size: 65g
Scents available: 4
Look, I am not a 'natural' deodorant person. I'm a sweaty person. I'm a Sure girl. If it's not Sure, I don't want it. Ask anyone in the Marie Claire office and they will confirm that one of my most spoken phrases is, "I stink". It's a permanent state of being for me. But, whenever I hear of a new natural deodorant, the curious journalist in me needs to give it a go.
I have been testing this deodorant for many weeks now, and I'm weirdly impressed. In fact, out of all the natural deodorants I've ever tried, I'd say I rate this one most highly. I've been testing out the Sandstone scent (it's a bit Le Labo—fresh and woody) and our Health Editor, Ally Head, has been giving the unscented version a go. We both agree, it does a stand-up job at preventing the usual armpit stench. It doesn't necessarily prevent sweating, we'll admit, but it keeps us smelling fresh all day.
8. Maybelline SuperStay 24H Hybrid Powder Foundation
Maybelline SuperStay 24H Hybrid Powder Foundation
Best new foundation
If you haven't seen this on your TikTok feed, consider yourself in the minority. It's everywhere right now—and for good reason. It's not very often I find myself agreeing with beauty creators on TikTok, especially when it comes to rave reviews on a full-coverage powdered foundation, but here we are.
I'm not a foundation person. Most mornings I slather some concealer under my eyes and call it a day, but this product has changed that. Not only does it take a matter of seconds to apply (either with a brush or a sponge), but it also feels wonderfully comfortable on the skin. It's buildable enough to pack a hearty punch of coverage, but natural looking enough that I'm willing to wear it every day. It has, hands down, been my most used make-up product of the month.
9. BYOMA De-Puff + Brighten Eye Gel
BYOMA De-Puff + Brighten Eye Gel
Best new eye cream
Specifications
Size: 20ml
Key ingredients: Ceramides, hyaluronic acid, vitamin C
I am always on the look out for the best new eye creams. Is this the fix-it-all eye cream I've been waiting for my whole life? No—but I'm not sure that's ever coming. What it is, however, is lightweight, hydrating, refreshing and an all-round treat to use. It's nice and cooling, so proves a welcome wake-up for my tired eyes in the morning. With ceramides to nourish, hyaluronic acid to plump and vitamin C to brighten and protect, it's generally just very impressive.
10. Nars Orgasm Four Play Blush Quad