Vanessa Hudgens just put 'aura nails' back in the spotlight this summer
They are a whole vibe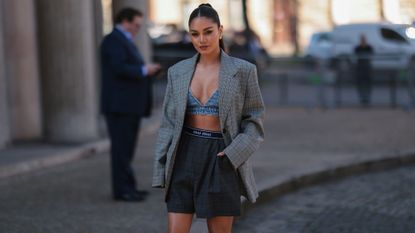 (Image credit: Getty Images 1384849466)
When aura nails first appeared late last year, I knew they would be perfect for summer. We predicted they would be one of the biggest nail trends this year, and it turns out we were right (hair flick).
Unlike anything we have seen before and quite the opposite of quiet luxury nails, aura nails are one of the best nail art ideas right now. Think bright pinks, oranges and blues, with a spiritual and celestial twist.
According to Pinterest search data, orange aura nails have risen in search by 3445% from April last year. Over on TikTok, aura nails are taking off with over 96 million views on #auranails.
And as if we weren't already sold, Vanessa Hudgens just put aura nails at the top of our nail wishlist (AKA, a very full nail folder on Instagram). Ever since I laid eyes on Vanessa Hudgens's met gala nails earlier this year, I've been religiously following her nail artist's Instagram.
Zola Ganzorigt is the genius behind Hailey Bieber's glazed doughnut nails and a number of Vanessa's look, so when Zola does a set, you take notes—and this aura set on Vanessa Hudgens has me sold.
What are aura nails?
Aura nails take inspiration from the colourful aura that is said to surround one and all in the spiritual world.
Usually done with an airbrush to create the blown-out look, if you are recreating the look at home, you can use a sponge to dab out the colour. Having said that, TikTok hacks have come through and shown us that all you need to do to make aura nails super easy is dab on a bit of colourful eyeshadow onto clear nails—just pick a colour that's suits your aura. Which colour are you drawn too? Check out the top summer nail colours if you need some inspiration, and keep scrolling to see all the best aura nails to try.
7 aura nail designs to take to your next nail appointment
1. Retro aura nails
We love the added white lines and bling on these pink aura nails. Trade in the white lines for some chrome ones for even more sparkle.
2. Clean-girl aura nails
These pink aura nails are very similar to blush nails, and what you can expect when you use blush or eyeshadow to create an aura nail look.
3. Pastel aura nails
Opting for pastel tones for your aura nails really does create an unbelievably pretty result—and proved by this look.
4. Celestial aura nails
Orange aura nails with golden accents—is there anything more perfect? Adding star details onto aura nails creates the most divine celestial finish.
5. Clashing aura nails
Can't decide on the colour of your aura? Why not go for two colours. You can either mix and match each finger or keep switch it up between your hands.
6. Metallic aura nails
Another mixed aura nail set of dreams—although our eyes are drawn to that super-pretty metallic purple hue.
7. Eyeshadow aura nails
The nail artist used the eyeshadow hack for this dreamy white and pink aura-nails look. I'm in love.
Here's how to try aura nails at home:
Above is the TikTok eyeshadow hack I mentioned earlier, how simple is this!?
Celebrity news, beauty, fashion advice, and fascinating features, delivered straight to your inbox!
Dionne Brighton is a writer at Marie Claire UK, specialising in all things shopping, beauty and fashion. Born and raised in North London, she studied Literature at the University of East Anglia before taking the leap into journalism. These days, you can find her testing out the latest TikTok beauty trends or finding out what the next full Moon means.