Prince William and Kate Middleton have revealed a royal travel tradition - and it's adorable
They keep their kids in the loop in a very sweet way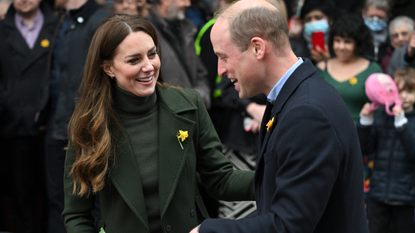 (Image credit: Getty)
They keep their kids in the loop in a very sweet way
Any parents know how tricky it can be to go on holiday and leave the kids at home. Although a few nights away from the chaos can be lovely, it can also leave children missing mum and dad.
The royal children, George, Charlotte, and Louis must have gotten very used to saying goodbye to their parents before royal trips. That said, it doesn't make it any easier.
To make sure the kids don't feel lonely when they are away, Prince William and Kate have an adorable royal ritual which they let slip on their trip to Wales.
On the trip, which was to mark St David's day (you can read all about it, here), Prince William let a well-wisher in on the secret.
The royal couple visited Abergavenny Market, in their first joint visit since the start of the pandemic. They were, of course, met with cheering crowds.
Whilst they were there, pupils from Cantref Primary School sang for them and other children greeted them in traditional welsh costumes.
The fans must have been more excited than ever because of rumours that Wales could be on the cards for the couple's move.
Liz Brewer, a local resident of Abergavenny was asking after the children when the Duke of Cambridge told her: "They are always asking us where we are going."
"And we show them where we are on the map."
Aw - adorable.
The royal couple must have had to do this lots recently. In the last month, Kate has visited Copenhagen and William made his first official visit to the United Arab Emirates.
The royal couple is set to tour the Caribbean at the end of this month too.
It's thought that they will spend a week away from the children. We're sure the kids will love learning about where the Caribbean is whilst their parents are away.
Celebrity news, beauty, fashion advice, and fascinating features, delivered straight to your inbox!
Grace Warn is the at Commercial Producer & Writer Marie Claire UK. From organising cover shoots and uncovering the latest news to creating social content, she loves the fact that no one day is the same!
Growing up just outside of London, Grace made the leap at 16 and started to intern. Juggling education, earning money, styling, producing and organising numerous fashion cupboards was as intoxicating as it was challenging and it's what's brought her here today.
After graduating in the pandemic, the only option was to take on as many freelance roles as possible. From demystifying health jargon to keeping up with the latest footwear drops, a strange concoction of health and footwear journalism became Grace's bread and butter but she always wanted a break in lifestyle journalism and production. Then she landed her dream role!
When she's not racing to deadlines, Grace can be found on anything that could pass as a dancefloor dancing to Diana Ross or scouting out vintage sales on the outskirts out South London - believe it or not, Beckenham is the place to go!