The Queen and Prince William are joining together to light a special beacon for the Platinum Jubilee
Beacons will also be lit in each of the capital cities of Commonwealth countries.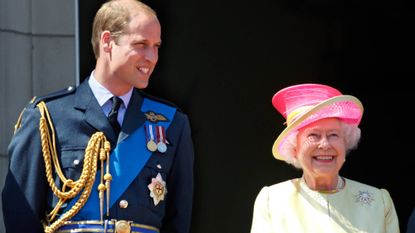 Beacons will also be lit in each of the capital cities of Commonwealth countries.
It's a pretty packed schedule of celebrations and events all ready for the Queen as she marks her Platinum Jubilee - the first British monarch to do so.
There's no let up either, as the 96-year-old monarch is reported to be leading the lighting of the main Jubilee beacon this evening at Buckingham Palace, according to The Express. As part of a 'special dual ceremony', she will join with Prince William in taking part at the event.
According to Buckingham Palace, the ceremony will include a lighting installation with The Queen's Green Canopy 'Tree of Trees' sculpture and projections onto the front of Buckingham Palace.
They highlight that this "innovative" way of participating in the beacon lighting will reflect the royal family's "long history of championing environmental causes."
What are the Platinum Jubilee beacons?
Beacons - a fire or light set in a prominent position as a signal or celebration - have long been associated with marking major royal events.
For example, beacons were lit for the Queen's 90th birthday, but events such as royal weddings, jubilees and coronations are also celebrated this way.
There are three different types being used in the celebrations for Her Majesty: free standing gas fuelled beacons, a beacon brazier with a metal shield and a bonfire beacon.
Tonight, beacons will be lit in more than 2,000 towns, villages and cities throughout the UK, Channel Islands, Isle of Man and UK Overseas Territories.
For the first time, beacons will also be lit in each of the capital cities of the Commonwealth countries. Information on the timing of the lighting of the beacons can be found on the official website.
According to The Express, during the special ceremony, the Queen will touch the Commonwealth of Nations Globe - a blue globe, within a silver crown on a blue and gold cushion placed upon a podium. The touch will then symbolically trigger the lighting of the 'Tree of Trees' beacon outside Buckingham Palace.
Throughout the long weekend of celebrations, the Queen is set to be joined by various members of the royal family at events.
Today's Trooping the Colour, has already seen the participation of Prince Charles, the Duchess of Cornwall, the Duke and Duchess of Cambridge along with their children in the Queen's birthday parade.
On top of all the official events on her schedule, the Queen is also said to have some personal milestones to celebrate. It's been reported that on Saturday, the monarch will meet her namesake and 11th great-grandchild, Prince Harry and Meghan Markle's daughter Lilibet who is about to turn one.
Celebrity news, beauty, fashion advice, and fascinating features, delivered straight to your inbox!
Amy Sedghi is a freelance journalist, specialising in health and fitness, travel, beauty, sustainability and cycling.
Having started her career in The Guardian newsroom working with an award-winning team, Amy's proud to have reported on a variety of topics, speaking to a range of voices and travelling far and wide to do so. From interviews on ski lifts to writing up breaking stories outside courtrooms, Amy is used to reporting from a range of locations (she's even been known to type up a story in a tent).
She also loves being active, spending time outdoors and travelling - with some of her favourite features she's worked on combining all three. Cycling and eating her way round the Isle of Man, learning to sail on the Côte d'Azur and traversing the Caminito del Rey path in Spain are just some of her highlights.
Covering a diverse range of subjects appeals to Amy. One minute she may be writing about her online styling session with Katie Holmes' stylist and the next she's transporting readers to the basketball courts of Haringey where she joined a group trying to lower knife crime in the capital.
While at university, Amy was awarded The Media Society bursary. Following her stint at the Guardian, Amy worked at Google and as well as writing for Marie Claire, she regularly contributes interviews, features and articles to National Geographic Traveller, The Guardian, The Independent, The Telegraph, Stylist, Refinery29, Glorious Sport, Cycling Weekly and Rouleur.
When she's not writing, Amy can be found trying to get through her towering stack of books-to-read, cycling down at Herne Hill Velodrome or looking for the next place to eat and drink with friends.