Kate Middleton secretly spent time with the British Army to see how they train
The Duchess of Cambridge made trips to an army training academy and airfield last November.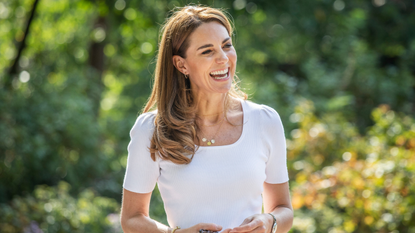 (Image credit: Getty)
The Duchess of Cambridge made trips to an army training academy and airfield last November.
In an Instagram post to mark Armed Forces Day on the 25th June, the Duchess of Cambridge revealed that she'd spent time with the British Army last year.
Undertaking publicly unannounced visits to Pirbright Training Academy and the 101 Operational Sustainment Brigade at Abingdon Airfield, new images show the Duchess diving in to learn about how serving personnel and new recruits are trained.
In a series of images shared on the official Instagram account of the Duke and Duchess of Cambridge, Kate can be seen in full camouflage gear looking quite the professional.
Paying tribute to the "brave men and women, past and present" serving in the armed forces, the Duchess said she'd been "honoured" to spend time with the British Army last November and that it had been "wonderful" learning about the varied roles the military play.
As well as photographs of the hands-on Duchess taking part in training, Kate can also be seen chatting to personnel and recruits (all whilst wearing army appropriate shades of khaki, brown and black).
The Royal Family have a long standing association with the military and both Prince Harry and Prince William have undertaken roles within the armed forces.
Having served in the army for ten years, Prince Harry rose to the rank of captain and undertook two tours of Afghanistan. His passion for helping wounded, injured and sick servicemen and women lead to the creation of the Invictus Games.
His brother, Prince William, joined the Royal Military Academy Sandhurst as an Officer Cadet following his time at the University of St Andrews and completed seven-and-a-half years of full-time military service. William will also one day become Head of the Armed Forces.
Kate's Instagram post hinted at more involvement from her side also, as she signed off by saying "I look forward to discovering more about the Royal Navy and Royal Air Force in due course."
The Duchess' relationship with and knowledge of the armed forces stems back a long way. Speaking to a war veteran last year, Kate shared how she'd "heard a lot" about Prince William's training at Sandhurst. She was also in attendance at Prince William's passing-out parade at the military academy back in 2006.
Celebrity news, beauty, fashion advice, and fascinating features, delivered straight to your inbox!
Amy Sedghi is a freelance journalist, specialising in health and fitness, travel, beauty, sustainability and cycling.
Having started her career in The Guardian newsroom working with an award-winning team, Amy's proud to have reported on a variety of topics, speaking to a range of voices and travelling far and wide to do so. From interviews on ski lifts to writing up breaking stories outside courtrooms, Amy is used to reporting from a range of locations (she's even been known to type up a story in a tent).
She also loves being active, spending time outdoors and travelling - with some of her favourite features she's worked on combining all three. Cycling and eating her way round the Isle of Man, learning to sail on the Côte d'Azur and traversing the Caminito del Rey path in Spain are just some of her highlights.
Covering a diverse range of subjects appeals to Amy. One minute she may be writing about her online styling session with Katie Holmes' stylist and the next she's transporting readers to the basketball courts of Haringey where she joined a group trying to lower knife crime in the capital.
While at university, Amy was awarded The Media Society bursary. Following her stint at the Guardian, Amy worked at Google and as well as writing for Marie Claire, she regularly contributes interviews, features and articles to National Geographic Traveller, The Guardian, The Independent, The Telegraph, Stylist, Refinery29, Glorious Sport, Cycling Weekly and Rouleur.
When she's not writing, Amy can be found trying to get through her towering stack of books-to-read, cycling down at Herne Hill Velodrome or looking for the next place to eat and drink with friends.