Wearing a skirt 'boosts your career'
A new study reveals that those of us who opt to wear skirts over trousers are more likely to succeed in the workplace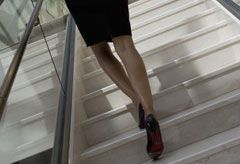 (Image credit: Rex)
A new study reveals that those of us who opt to wear skirts over trousers are more likely to succeed in the workplace
A new study reveals that those of us who opt to wear skirts over trousers are more likely to succeed in the workplace. It may be time to wave goodbye to the sharp trouser and bid adieu to the sultry cigarette pant. A new study claims that skirts should be the uniform of choice for women looking to boost their careers and get ahead in the workplace.
The research conducted at the University of Hertfordshire claims that skirts give a 'better first impression', and those who wear them are 'more likely to succeed at work'.
Participants in the study were shown images of women and asked to make snap judgments on their likely levels of confidence, trustworthiness, success, flexibility and salary.
Research leader Professor Karen Pine explained that impressions are formed rapidly and are often very accurate, adding that it is important for women to 'maintain an identity that balances professionalism with attractiveness.' Emmeline Pankhurst will be spinning in her grave...
'Dressing to impress really is worthwhile and could even be the key to success. We may think that fashion is just an indulgence and our personality will eclipse our dull attire: Untrue,' she concluded.
What do you think? Should it make a difference what we wear in the work place? What do you feel most confident in? Let us know in the box below.
Celebrity news, beauty, fashion advice, and fascinating features, delivered straight to your inbox!