Video: Lance Armstrong confesses to doping
Lance Armstrong admits using banned substances in all seven Tour de France wins in interview with Oprah Winfrey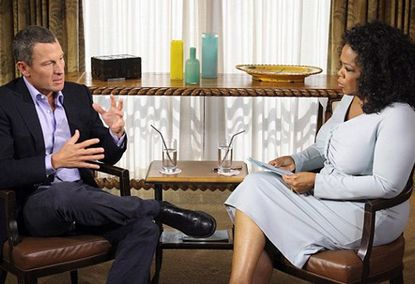 Lance Armstrong admits using banned substances in all seven Tour de France wins in interview with Oprah Winfrey
Lance Armstrong confessed to using banned substances in all seven of his Tour de France victories in an interview with Oprah Winfrey.
The cyclist admitted using EPO, blood doping, human gorwth hormone and testosterone during his career.
When Winfrey asked why Armstrong why he had done it, he said: 'I don't know that I have a great answer. I will start my answer by saying this is too late. It's too late for probably most people, and that's my fault.
LANCE ARMSTRONG CONFESSES TO DOPING ON OPRAH
'I view this situation as one big lie, and I repeated a lot of lies. As you said, it wasn't as if I just said 'no' and I moved on. While I've lived through this process... I know the truth. The truth isn't what was out there. The truth isn't what I said, and now it's gone.
'This story was so perfect for so long,' he continued. 'You overcome the disease [testicular cancer], you win the Tour De France, you have a happy marriage, you have children... all the fault and all the blame falls on me.'
Watch Lance Armstrong's doping confession below:
Celebrity news, beauty, fashion advice, and fascinating features, delivered straight to your inbox!