Move over St Patrick, there's another Irish saint worth doing a jig for
It's the most ancient battle of the sexes…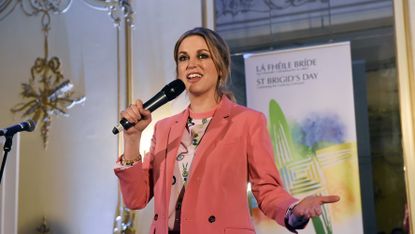 It's the most ancient battle of the sexes…
Dressing up as leprechauns, drinking Guinness from dawn till dusk, turning rivers green… St Patrick's Day on 17th March has been celebrated in myriad ways the world over, from New York and Boston to Russia and Singapore. Now though, the patron Saint of Ireland is having to share the limelight with another legend, who's being reclaimed by the women of the Emerald Isle as a role model for our times.
Said to be the founder of monasteries of nuns dating from the 5th Century, St Brigid is also known as a fertility goddess in Celtic mythology and her feast day on 1st February marks the pagan festival of spring - a time of rebirth, renewal, hope and optimism. Seen as both a divine and supernatural force, St Brigid was considered to be a healer and protector of women – in fact, her distinctive cross, woven from rushes, wouldn't look out of place on the front of a lycra-clad super hero.
'Celebrating St Brigid is about the stories of women that need to be told - their stoicism, valour and courage,' says former Irish President Mary McAleese. 'For too long women have had to navigate the spaces closed down to them by men. We want our country and culture to fly on two wings – men and women.'
Female-led celebrations from Washington to Warsaw included comedy nights, trad music sessions, art exhibitions and in London the Irish Embassy hosted an evening of poetry, song, talks and panel discussions. Launched in 2018 with a stellar line up including Sharon Horgan, Angela Scanlon and Pauline McLynn the 2019 festival featured Olivier award-winning actress Denise Gough, actress and novelist Amy Huberman, singer Loah, author Liz Nugent as well as theatre directors, jewellery designers, sports women, entrepreneurs - and Marie Claire's very own editor in chief, Trish Halpin.
Go Brigid, we say!
Celebrity news, beauty, fashion advice, and fascinating features, delivered straight to your inbox!