Rihanna has reportedly given birth to her first child with A$AP Rocky
Rumours are that they've welcomed a baby boy.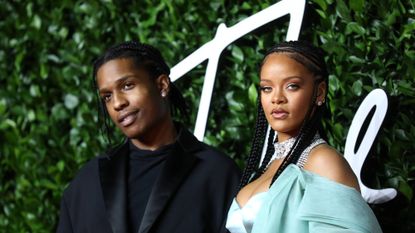 Rumours are that they've welcomed a baby boy.
Another day, another Riri headline. Hot on the heels of dominating the MET social coverage whilst not actually being in attendance, Rihanna has reportedly given birth to a baby boy, according to entertainment and celebrity news website, TMZ. According to the report, Rihanna and her boyfriend, A$AP Rocky welcomed their son on the 13th May in Los Angeles.
There's no news yet on the name and the couple haven't officially announced the birth yet, but TMZ has announced the news citing intel from 'sources with direct knowledge'.
Since the announcement of the pregnancy at the start of this year, via a photoshoot of Rihanna and A$AP Rocky in New York, where Rihanna's bump was visible through an unbuttoned pink Chanel puffer coat and draped in Christian Lacroix jewellery, the singer has delivered some incredible outfits.
The global superstar has been vocal about embracing feeling sexy during her pregnancy and has won a lot of praise for staying true to herself (and sense of style) whilst expecting.
However, when the singer and beauty mogul wore a sheer lace dress and a Savage X Fenty g-string at the Dior show during Paris Fashion Week, her outfit was accused of being 'indecent'.
She had the perfect response to those criticising her though. In an interview with Vogue, Rihanna said: 'When I found out I was pregnant, I thought to myself, "There's no way I'm going to go shopping in no maternity aisle."
'I'm sorry—it's too much fun to get dressed up. I'm not going to let that part disappear because my body is changing.'
Rihanna and A$AP Rocky didn't share a due date, although the Fenty Beauty founder did reveal in an interview with Elle that she was in her third trimester back in March.
In that same interview, Rihanna shared the best piece of advice she had been given around motherhood. She said it was 'to sleep now because I won't get much later' and joked it was something she needed to work on before it was too late.
Rihanna also opened up about the protective mother she sees herself being once her little one arrives. When the interviewee joked that she'd flip a table in a fight for her children, the singer responded by saying: 'Worse. You talk about my kids, it's over.'
Celebrity news, beauty, fashion advice, and fascinating features, delivered straight to your inbox!
Amy Sedghi is a freelance journalist, specialising in health and fitness, travel, beauty, sustainability and cycling.
Having started her career in The Guardian newsroom working with an award-winning team, Amy's proud to have reported on a variety of topics, speaking to a range of voices and travelling far and wide to do so. From interviews on ski lifts to writing up breaking stories outside courtrooms, Amy is used to reporting from a range of locations (she's even been known to type up a story in a tent).
She also loves being active, spending time outdoors and travelling - with some of her favourite features she's worked on combining all three. Cycling and eating her way round the Isle of Man, learning to sail on the Côte d'Azur and traversing the Caminito del Rey path in Spain are just some of her highlights.
Covering a diverse range of subjects appeals to Amy. One minute she may be writing about her online styling session with Katie Holmes' stylist and the next she's transporting readers to the basketball courts of Haringey where she joined a group trying to lower knife crime in the capital.
While at university, Amy was awarded The Media Society bursary. Following her stint at the Guardian, Amy worked at Google and as well as writing for Marie Claire, she regularly contributes interviews, features and articles to National Geographic Traveller, The Guardian, The Independent, The Telegraph, Stylist, Refinery29, Glorious Sport, Cycling Weekly and Rouleur.
When she's not writing, Amy can be found trying to get through her towering stack of books-to-read, cycling down at Herne Hill Velodrome or looking for the next place to eat and drink with friends.