Remembering Helen Bailey: A tribute to a friend
Helen Bailey, the hugely successful author, was brutally murdered by her fiancé Ian Stewart last year in a bid to get his hands on her fortune. Here her friend Alice Boagey, who took the lasting image of Helen above, remembers the vibrant, brilliant woman she knew.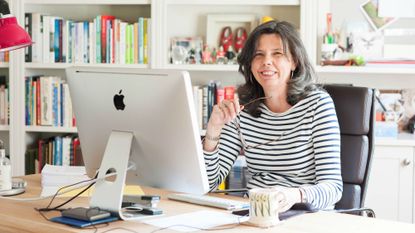 Helen Bailey, the hugely successful author, was brutally murdered by her fiancé Ian Stewart last year in a bid to get his hands on her fortune. Here her friend Alice Boagey, who took the lasting image of Helen above, remembers the vibrant, brilliant woman she knew.
This is one of my favourite shots from that afternoon. She said she felt most at peace at her desk, mug in hand.
This has been difficult to write. But now the trial is over and the case closed it feels like there is at last space to reflect upon the Helen I met away from the sensationalist headlines.
I met Helen Bailey in August 2015 when I went to take some portraits of her in her home. She was about to launch her latest book which she was very excited about and she needed some new shots for when it was released. She was very sweet and charming and told me at once about her nervousness in front of cameras but that she wanted to be brave and honest – her last professional shots were a little out of date - and she felt she needed to honour and embrace her greying hair. Before we began she made us some tea and we sat down to look at some of her favourite author's portraits. Before long we fell into a long gushing conversation about our shared love for Elizabeth Gilbert and Brene Brown. We both loved and subscribed to their belief on the importance of vulnerability, courageousness, and how creativity can be a tremendous source of healing.
When we eventually got around to shooting we started at her desk. She told me the story of buying it - how she'd searched and searched for 'the one' - and that it was love at first sight moment she found it. She told me how important to her it was to be surrounded by familiar and loved objects and she frequently launched into the stories behind the things around her. She was wearing her favourite stripy shirt, her favourite books lined the extensive book shelves all around the room and she had her favourite mug nearby the whole time I was there. She was keen to get her pink hydrangea in some of the shots - she told me she loved that vibrant shade of pink and it suited her. Part of the reason she wanted me to document these little things too was because she also intended to decorate her blog with images of simple objects she took pleasure in to provide a corner of peace and solitude for her readers. She wanted it to be like her own carefully curated space - calming and homely and serene.
When we finished shooting we had more tea and chatted about books and writing and travel. She was insightful and curious and modest. It was one of those shoots that didn't really feel like a shoot more like a meet up with a friend who you haven't seen in a long time. This happens now and then and its one of the many reasons I am grateful for my job – it always feels like a gift to be invited into someone's world and to connect with them - something about taking someone's photo does invite that particular kind of intimacy. When I eventually went to leave, many cups of tea later, she said that should her and her fiancé decide to get married she would like for me to shoot the wedding. I felt so honoured to be asked. I left with that warm feeling you get after time spent in wonderful company and I remember smiling to myself in the car as I was leaving. I really liked her and hoped I'd taken some shots that would do her justice.
Our friendship since then developed over email via discussions about photos and press releases and wedding plans and Elizabeth Gilbert appearances and sadly I never actually saw her again. Her going missing the following April and the eventual announcement of her death hit me quite hard but I didn't really feel I had the right to feel as sad about it as I was. I'd only spent an afternoon with her and it was a professional relationship so I wasn't sure I could have much to comment on beyond the obviously devastating nature of her death and how much of a horrendous shame it all was. But the truth is I was gutted. I was gutted for her and for her family; I was gutted for myself – I was so excited to get to know her and had so many things I wanted to talk to her about; and I was gutted for everyone that she had helped and would have gone on to help through her writing. She had experienced terrible loss and come out the other side determined to put it to good use and proof of her impact lies in the countless posts of gratitude from her blog readers. She was as determined in her writing as she had had to be in continuing with life when she'd lost someone so precious to her. She made me feel like anything could be possible, that nothing was insurmountable and I'm grateful to have met her at a time in my life when I was just about to need a lot of courage.
I don't really have any particular conclusions to come to here. I suppose to use her rhetoric this is proof that terrible things can happen to amazing people though it still seems impossibly cruel that that can be the case. More than anything though I wanted to share the impact she'd had on me in our short friendship and how grateful I am to have met her that afternoon. I shall always remember her for her strength, her determination, her intelligence and above all else her kindness, compassion and love for others and I hope that that will be her legacy.
Celebrity news, beauty, fashion advice, and fascinating features, delivered straight to your inbox!
The leading destination for fashion, beauty, shopping and finger-on-the-pulse views on the latest issues. Marie Claire's travel content helps you delight in discovering new destinations around the globe, offering a unique – and sometimes unchartered – travel experience. From new hotel openings to the destinations tipped to take over our travel calendars, this iconic name has it covered.