Photo of Michael Jackson's body revealed in Dr Conrad Murray's trial
The jury in the trial of the doctor accused of killing Michael Jackson has been shown a photo of the superstar's dead body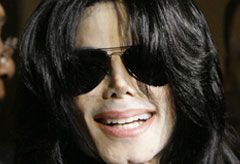 The jury in the trial of the doctor accused of killing Michael Jackson has been shown a photo of the superstar's dead body
The jury in the trial of the doctor accused of killing Michael Jackson has been shown a photo of the superstar's dead body.
The grim evidence was produced as Jackson's 58 year-old personal physician went on trial more two years after the singer's death.
The jury was shown a shocking photograph of the singer, lying dead on a hospital trolley. His body was stamped with the word 'homicide.'
Dr Murray denies charges of gross negligence, medical abandonment and repeated incompetence.
Ed Chernoff, the doctor's lawyer, told the court that Jackson caused his own death by self-administering propofol, an anaesthetic only meant for use in hospitals, after having already taken enough lorazepam sleeping pills to put six people to sleep.
This, according to Chernoff, created a 'perfect storm' in Jackson's body, that killed him instantly when he took the propofol after Dr Murray had left the room.
Jurors also heard a tape recording of MJ's voice, recorded by Murray on his iPhone a month before the singer's death, in which he slurred his words and appeared to be heavily sedated. This, the prosecution claimed, showed that Jackson was, 'heavily under the influence,' and that Dr Murray was aware of this.
Jackson's sister La Toya said: 'Murray knows exactly what happened and who else is behind all of this. It sickens me to see what they did to my brother.'
MICHAEL JACKSON: A RETROSPECTIVE
Dr Murray would spend six nights a week with Jackson as his personal doctor. On the night of the star's death, Dr Murray was making phone calls instead of monitoring the singer after administering him with sedatives, the court heard.
Phone records show that Murray was on the phone to his Texan cocktail waitress girlfriend, Sade Anding, when he discovered that the singer had stopped breathing.
Dr Murray later told police he had been monitoring Jackson, but went to the bathroom and was 'stunned' to find the singer not breathing upon his return.
The trial continues.
Celebrity news, beauty, fashion advice, and fascinating features, delivered straight to your inbox!