Migrants must prove they can make Britain better
Migrants seeking permission to live in Britain must prove they can add to the quality of life and not become dependent on benefits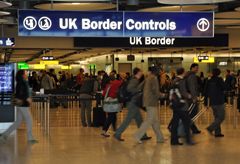 (Image credit: REX)
Migrants seeking permission to live in Britain must prove they can add to the quality of life and not become dependent on benefits
Immigration minister Damian Green says it is time to overhaul the system, insisting migrants seeking asylum in Britain will have to contribute to the welfare of our country.
Mr Green has criticised the idea of migrants coming to Britain to claim benefits and maintains that importing economic dependency on the State is unacceptable.
'We need to know not just that the right number of people are coming here, but that the right people are coming here,' he says. 'People who will benefit Britain, not just those who will benefit by Britain.'
He condemned the system left behind by the Labour government, insisting that bringing people in who can play no role in the life of this country is equally unacceptable.
Mr Green will set out the case for becoming more selective about which non-EU citizens are granted a visa to work, study or marry.
He will tell the Policy Exchange think-tank: 'What we need is a national consensus on how we can make immigration work for Britain.'
New guidelines will encourage immigrants to be less reliant on government benefits, with spouses of immigrants required to prove they can speak some English and have a household income of up to £26,000 a year.
In a separate move, foreign workers will not be permitted to remain unless they have special skills or investment capital.
Celebrity news, beauty, fashion advice, and fascinating features, delivered straight to your inbox!