Paris Fashion Week: The stand-out moments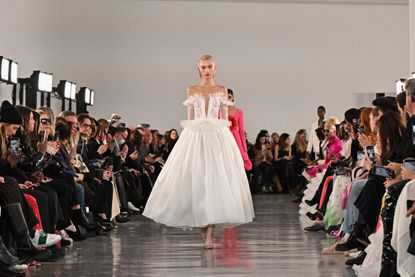 (Image credit: STEPHANE CARDINALE)
Giambattista Valli
Taking place at Le Musée d'Art Moderne, Valli's autumn/winter 22 collection served us some couture looks that emphasises the house's codes. There were tulle ballgowns of course, as well as plenty of bows, floral details and pops of pastel. There were also some more demure looks such as culottes and cropped cardigans, and prim mini dresses team with thigh-high boots.
Givenchy AW22
There was nothing ordinary about the daily sartorial essentials at Givenchy. Creative Director Matthew M. Williams put his own spin on the white t-shirt, ripped jeans, bombers, trenches and leather trousers, instantly making them the most covetable items you could own. That said, he stayed true to the classic codes of the brand, with showstopper looks including a pearl-encrusted mini dress and a leather evening gown.
'I really wanted to create a synthesis of powerful, sophisticated femininity, with an interplay of multiple American and Parisian influences, sports and craftsmanship. Next to her stands a contemporary man with an instinct for chic nonchalance. On the runway, both are grounded by a sense of reality,' says Matthew M. Williams, Creative Director of Givenchy.
Balenciaga AW22
Balenciaga's Demna - who was born in Georgia - paid tribute to the Ukraine with his PFW show, which he admitted to almost cancelling. In a statement, he said, '
The war in Ukraine has triggered the pain of a past trauma I have carried in me since 1993, when the same thing happened in my home country and I became a forever refugee. Forever, because that's something that stays in you. The fear, the desperation, the realization that no one wants you. But I also realized what really matters in life, the most important things, like life itself and human love and compassion.
This is why working on this show this week was so incredibly hard for me. Because in a time like this, fashion loses its relevance and its actual right to exist. Fashion week feels like some kind of an absurdity. I thought for a moment about cancelling the show that I and my team worked hard on and were all looking forward to. But then I realized that cancelling this show would mean giving in, surrendering to the evil that has already hurt me so much for almost 30 years. I decided that I can no longer sacrifice parts of me to that senseless, heartless war of ego.
This show needs to explanation. It is a dedication to fearlessness, to resistance, and to the victory of love and peace.'
The collection itself was more muted than usual, though standout looks included a packing tape catsuit as worn by Kim Kardashian. The most poignant looks were the two final ones: a yellow tracksuit, followed by a blue gown, a tribute to the resilience of the Ukrainian people.
Lanvin AW22
The Lanvin AW22 collection by Bruno Sialelli is a celebration of the paradox and contradiction of fashion, and of the contrasting themes that energised the work of Jeanne Lanvin. Plays of opacity and transparency, of hard and soft, of nostalgia and modernism - of a house both distinctly Parisian, yet with a universal outlook. This collection is a reflection of Lanvin's heritage - yet, with all reflections, it is refracted, reinvented, itself an illusion - a modern reconfiguration of the codes of Jeanne Lanvin.
Chloé AW22
For the Chloé Autumn-Winter 2022 collection, Creative Director Gabriela Hearst focuses on a specific climate solution, known as Rewilding, in tandem with her creative flair. This progressive approach to conservation centres on allowing nature to take care of itself, by enabling natural processes to repair damaged ecosystems and restore degraded landscapes.
So, the collection depicts landscapes as climate catastrophes (forest fires, melting glaciers, droughts) contrasted with landscapes visualised as climate successes. These images are depicted on clothing in prints and intarsia knits in recycled cashmere, and hand-painted onto accessories. The Climate Success range is in aid of the Indigenous Women Fellowship program launched by Conservation International 1, which supports Indigenous women's autonomy and leadership in securing the conservation of their territories and forests across the Amazon.
Cecilie Bahnsen AW22
Cecilie Bahnsen stunned with her AW22 collection, her first showing at Paris Fashion Week, away from her usual stomping ground of Copenhagen. We saw her structural and romantic silhouettes against the backdrop of the Palais de Tokyo, inspired by Tove Ditlevsens "Night Wandering", transcending the real and the unreal.
Dior AW22
When 16th century high fashion meets 21st century high tech. For her Dior AW22 collection, Maria Grazia Chiuri chose a backdrop of The Next Era, a gallery of paintings signed Mariella Bettineschi and composed of large female portraits borrowed from the history of painting from the 16th to the 19th century.
Corsets and flowing gowns are re-constructed for the woman of today, a beautiful exploration of past, present and future. The iconic Bar jacket is reinvented and dressed with technically innovative inserts created by the Italian start-up D-Air lab. Skirts are reimagined thanks to fabrics borrowed from the men's wardrobe, embroidery adorns technical knitwear, waterproof materials, nylon and cashmere. A nod to the house's codes, but with a touch of rebellion.
Off-White AW22
It was an emotional start to Paris Fashion Week last night, with Off-White's runway show presenting the late Virgil Abloh's final collection for the label, after his sudden passing in November.
Celebrities including Rihanna, Serena Williams, Cindy Crawford and Naomi Campbell either watched or walked the show, which, despite the tragic circumstances, was more a celebration of Virgil's talent than a tribute.
The collection, 𝚂𝚙𝚊𝚌𝚎𝚜𝚑𝚒𝚙 𝙴𝚊𝚛𝚝𝚑: 𝚊𝚗 "𝙸𝚖𝚊𝚐𝚒𝚗𝚊𝚛𝚢 𝙴𝚡𝚙𝚎𝚛𝚒𝚎𝚗𝚌𝚎", was teased as a 'cultural reinterpretation, disruption and transformation open the door to future dialogues and formats. No expectations, no stereotypes, no status quo'.
It was a showcase of Virgil's AW22 collection, which featured his signature flare for mixing high and low items such as oversized hoodies, sequin tops, tailoring and tongue-in-cheek t-shirts and logos, as well as unexpected accessories, this time a riding hat.
But it was also the opportunity to to introduce his latest project, a couture fashion line without the pretentiousness of haute couture. He sadly didn't get to finish it, so it was completed by his team and collaborators.
Naomi walked in crushed velvet skirt and a top made of necklaces, while Cindy showcased a tulle skirt and a bag emblazoned with 'More Life', perhaps a nod to Virgil's health struggles, and Bella Hadid showed off a puff-sleeved wedding dress.
It'll be a difficult show to follow for sure, though we're excited to see what the likes of Dior, Chanel and Valentino have to offer. Keep scrolling for the best runway looks the AW22 collections shown at Paris Fashion Week, and here's a recap of New York Fashion Week, London and Milan Fashion Week in case you missed them.
Chanel AW22
Chanel AW22
Giambattista Valli AW22
Giambattista Valli AW22
Akris AW22
Akris AW22
Stella McCartney AW22
Stella McCartney AW22
Louis Vuitton AW22
Louis Vuitton AW22
Sacai AW22
Sacai AW22
MÔNOT AW22
Maje AW22
Schiaparelli AW22
Schiaparelli AW22
Valentino AW22
Still frame of a moment, frozen in a monochrome sign that pervades everything: Creative Director Pierpaolo Piccioli conceives the new Valentino collection following the experimental urge of a radical gesture. Stripping the palette down to a single hue, relentlessly, he does more with less, maximizing expressive possibilities in the apparent lack of possibilities. Pink is rampant everywhere, in a total estrangement that includes the set and that is reiterated by the occasional total black and total white intermissions. Pink as a manifestation of the unconscious and a liberation from the need for realism.
Valentino AW22
Givenchy AW22
Givenchy AW22
Elie Saab AW22
Elie Saab AW22
Lanvin AW22
Lanvin AW22
Loewe : Runway - Paris Fashion Week - Womenswear F/W 2022-2023
Loewe AW22
VTMNTS AW22
VTMNTS AW22
Chloe AW22
Chloe AW22
Maison Cleo AW22