This is apparently the luckiest colour dress at the Oscars
And it's probably not what you'd think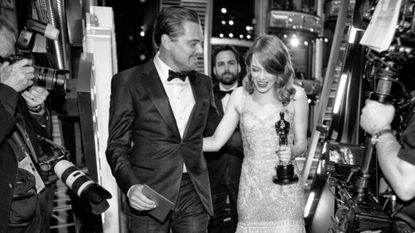 (Image credit: Getty Images)
The Oscars are back on Sunday night, and we can't wait to see Hollywood's finest hit the red carpet in all of their finery. Every year we eagerly await outfit choices to see who makes it into our compressive list of the best Oscar dresses of all time. And frankly, wonder whether anyone outdo the most expensive Oscar dress ever worn. We already know what happens when a star borrows diamonds for the Oscars, but the experts at Accessorize have done one better with their fashion analysis.
Using 40 year's of Oscars' fashion for Best Actress and Best Supporting Actress nominees, they've worked out what's the luckiest colour for nominees to wear on the night.
So what is it? Think Emma Stone in 2017 for La La Land, Liza Minelli in 1973 for Cabaret (over 40 years ago, but what a look by Halston) or Hillary Swank in 2000 for Boys Don't Cry. The award goes to yellow, with 43% of all Best Actress nominees who wore it going on to win.
Surprisingly, the result is exactly the same for the Best Supporting Actress, but this time combine it with an asymmetric neckline for extra luck. The best designer for our potential Best Supporting Actresses? Giorgio Armani, as demonstrated by the incredible Viola Davis, who took home the award in 2017 for her role in Fences wearing his haute couture Armani Privé line.
The winner takes it all, so what colours should nominees avoid if they want to take home the coveted figurine? For the actresses going for the night's biggest prize, it's green that's the unluckiest, with 14 women having worn it over the past 40 years and only one winning. We like to look on the bright side, so here's statistical anomaly and thespian extraordinaire, Emma Thompson, with her 1993 Best Actress Oscar for Howards End.
And the colour to avoid for Best Supporting Actress? Grey… in fact all actresses who have worn this colour to the Oscars have sadly gone on to miss out on the awards for which they were nominated.
Is it a creepy conspiracy or just a coincidence? Let's wait and see what this year's ceremony brings... and with news just in that 33% of Best Actress winners have worn Chanel, we wouldn't be surprised if the nominees were making urgent calls to their stylists.
How to watch the Oscars 2023 in the UK?
The Oscars will air in the UK in the early hours of Sunday 12th March from midnight until 3am into Monday morning.
You can watch the ceremony via Sky Showcase or NOW (there is a 7 day free trialif you've never tried NOW before.)
Here at Marie Claire, we'll be bringing you all the best red carpet live as they arrive. Make sure to follow our Instagram for the latest updates.
Check out the Oscars Academy Awards Nominees 2023 too while you're here.
Celebrity news, beauty, fashion advice, and fascinating features, delivered straight to your inbox!