Pregnant Natalie Portman's gushing Oscar acceptance speech
After accepting her Best Actress award the blooming mum-to-be revealed she'll now concentrate on her most important job to date: becoming a mum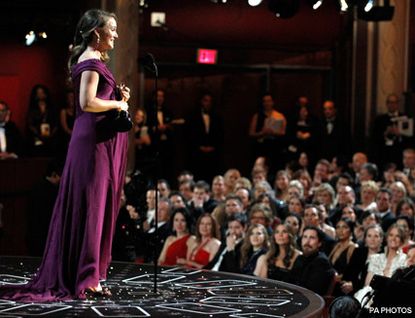 (Image credit: PA Photos)
After accepting her Best Actress award the blooming mum-to-be revealed she'll now concentrate on her most important job to date: becoming a mum
Pregnant actress Natalie Portman paid tribute to her fiancée Benjamin Millepied and spoke of her growing bump at Hollywood's glittering Academy Awards last night, after winning the prestigious prize for Best Actress.
SEE NATALIE'S PREGNANCY STYLE PARADE HERE!
The blooming mum-to-be – who got her pregnancy styling spot on once again, in a sweeping plum Rodate gown – wiped away tears as she was announced as an Oscar winner, for her role in ballet thriller, Black Swan.
In a gushing speech, the emotional actress thanked her family, before paying tribute to her 'beautiful love,' dancer fiancée Benjamin Millipied, who has given her 'the most important role of my life.'
'Thank you. Thank you so much. This is insane!' Natalie said as she took to the stage. 'I truly and sincerely wish that the prize tonight was to get to work with my fellow nominees.'
The starlet mentioned Black Swan director Darren Aronofsky and 'everyone who's ever hired me,' before continuing: 'I want to thank my parents for giving me the opportunity to work from such an early age.'
Saving her biggest thanks until last, Natalie paid tribute to friends, and hubby-to-be Benjamin. 'My beautiful love, Benjamin, who has now given me my most important role of my life,' she said, adding: 'Most importantly, my family, my friends, and my love, thank you so much.'
After stepping off stage, Natalie said she was still 'in a dream-like state,' before joking that her baby had been kicking through the nomination songs.
Speaking after the ceremony, the glowing actress revealed the pregnancy has kept her 'centered' during the hectic award season.
'[Pregnancy] has sort of been a protection against all of the hoopla, and the part that keeps you centered,' she told Entertainment Weekly. '[It reminds you] what is actually important in the midst of a lot of shiny stuff that is more superficial.'
After attending the ceremony, Natalie and her doting beau Benjamin continued their celebration – along with Colin Firth, Christian Bale and Melissa Leo – at the glittering Governor's Ball.
Following her Oscar night success, Natalie revealed she'll be moving straight on to her next role – of becoming a mother.
'It's one of the most exciting things of being pregnant,' she told reporters at the ceremony. 'I'm just accepting that I have no idea, it's accepting what people go through every day.'
Natalie's not the only A-lister to accept an award while pregnant. Meryl Streep, Catherine Zeta-Jones and Rachel Weisz all won Academy Awards while expecting.
ALL THE RED CARPET STARS AND STYLE!
SEE NATALIE'S PREGNANCY STYLE PARADE
OSCARS 2011: THE AFTER-PARTIES
Celebrity news, beauty, fashion advice, and fascinating features, delivered straight to your inbox!