Peter Andre breaks down in tears 10 times in one show
One-off TV special reveals Peter Andre's emotional turmoil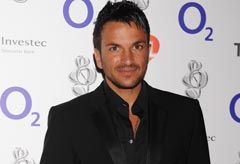 (Image credit: Rex Features)
One-off TV special reveals Peter Andre's emotional turmoil
Peter Andre has revealed his emotional turmoil following his marriage split with Katie Price, breaking down in tears ten times in a one-off TV special.
In the programme, Peter Andre: Going It Alone, set to air on screens tomorrow night, the Aussie singer lets his guard down for the cameras a month after the TV reality pair went their separate ways.
While Andre shops for furniture for his new bachelor home, he admits: 'I've honestly never felt so low in my life. Ever.'
However, the 36-year-old remains tight-lipped as ever on the reason behind the marriage breakdown.
'I know there's people saying snap out of it and you left her, so why are you feeling this.
'Thing is, nobody knows why I left her. I know why I left her. And if people knew, they'd understand why I'm so upset.'
While Peter keeps schtum about the reason for the split, he doesn't hold back on his view of Katie's partying ways.
'People handle things differently. Some people go out and party when they break up, not mentioning any names. But me? I'm just trying to deal with it the best I can for the sake of the kids.'
The cameras follow Andre at son Junior's fourth birthday party and the father of two explains how he refuses to let them see how the split has dragged him down.
'I don't want these kids to be affected,' he says. 'I'm always laughing and smiling and telling them Mummy loves them and it's important to spend time with Mummy.'
And as for any communication with his estranged ex-wife, it seems there is zero radio contact between the pair. Peter does, however, admit he still misses Katie.
'I do miss her. I hate missing her, I hate it. Funny thing is, I don't even know what I miss, because there was so much bad.'
SEE KATIE AND PETER IN HAPPIER TIMES HERE
Celebrity news, beauty, fashion advice, and fascinating features, delivered straight to your inbox!