Michael Jackson's Son Prince Testifies In AEG Court Case
16-year-old Prince Jackson has appeared in court to describe the 'tense' relationship between his late father and concert promoter AEG Live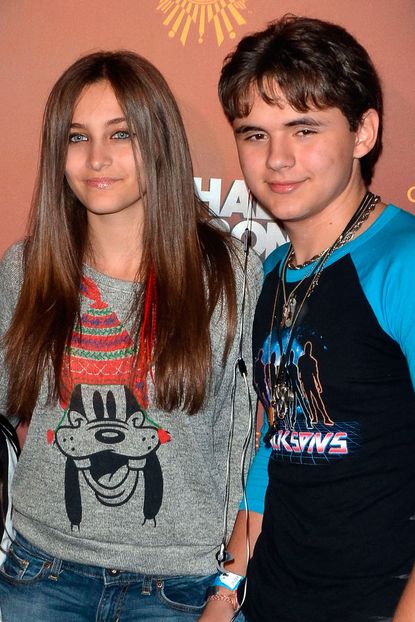 (Image credit: Rex)
16-year-old Prince Jackson has appeared in court to describe the 'tense' relationship between his late father and concert promoter AEG Live
Michael Jackson's 16-year-old son has appeared in court to testify against concert promoters AEG in the most talked-about court case in recent years.
Prince Jackson was the first – and possibly the last – of the late singer's children to stand in court on the Los Angeles trial. It's the first time the teen has spoke about his father's death, since he died four years ago.
Prince described Michael Jackson's relationship with the concert promoter as he prepared for his series of This Is It shows at the O2 Arena, and explained that their conversations would sometimes result in Michael crying.
He said: 'After he got off the phone, he would cry. He would say 'They're going to kill me, they're going to kill me'.'
Katherine Jackson is suing AEG Live for $40bn (£26bn) over her son's death. The company has denied any wrongdoing, but the Jackson family claim that AEG Live failed to properly investigate Dr Conrad Murray – the cardiologist who was convicted of manslaughter in 2011.
Prince described the moment that he and his siblings discovered their father had passed away. He told the court room: 'I ran upstairs and I saw Dr Conrad doing CPR on my dad on the bed. My dad was hanging halfway off the bed, and his eyes were rolled back in his head.'
He added: 'My sister was screaming the whole time, saying she wants her daddy. I was waiting at the bottom of the stairs, crying, waiting for the ambulance.'
Paris, 15, was also expected to testify, but it's unclear whether she'll appear in court after she was admitted to hospital following an apparent suicide attempt last month. 11-year-old Blanket will not testify.
Prince added that he and his siblings didn't know their father was a global star until they watched him perform in a video. He said: 'We always listened to his music, but we never knew how famous he was.'
The case continues.
MICHAEL JACKSON NEWS AND PICS
PARIS JACKSON 'PHYSICALLY FINE' AFTER SUICIDE ATTEMPT
Got a tablet? You can now download Marie Claire magazine straight to your iPad, Kindle (just search the store for 'marie claire magazine'), Nook or Google Nexus.
Celebrity news, beauty, fashion advice, and fascinating features, delivered straight to your inbox!