Melissa Leo apologises for X Rated Oscar speech
The excited starlet accidentally turned the airwaves blue after swearing during her acceptance speech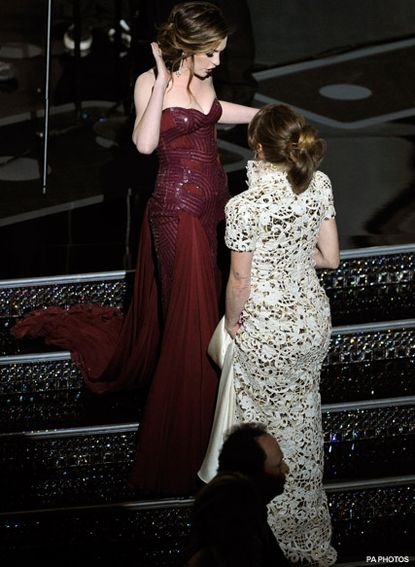 (Image credit: PA Photos)
The excited starlet accidentally turned the airwaves blue after swearing during her acceptance speech
Best Supporting Actress winner Melissa Leo has apologised for her X Rated Oscar speech, after accidentally turning the airwaves blue during her award acceptance.
SEE ALL THE OSCAR ON STAGE ACTION!
In her excitement, the actress – who picked up a golden gong for her role in Christian Bale hit The Fighter – forgot the ceremony was being broadcast live across America, and swore during her speech.
Earning herself the only bleep of the night, Melissa set frantic producers racing to cover up her mistake, in time for the slightly delayed showing on television.
'When I watched Kate [Winslet win the same award] two years ago, it looked so f**ing easy!' Melissa said during the speech.
Realising her mistake, the sheepish actress clapped a hand to her mouth in horror, as host Anne Hathaway joked: 'Wow, I thought the 'F' stood for 'The Fighter.' It's the young and hip Oscars!'
'Oh my god! Oh wow!' Melissa managed to carry on. 'Really, really, really truly wow. I know there have been a lot of people saying some real, real nice things to me for several months now. But I am just shaking in my boots here.'
The actress later apologised for her use of the expletive, explaining she got caught up in the moment, and didn't mean to offend.
'I apologise to anyone they offend,' Melissa told reports. 'There is a great deal of the English language that is in my vernacular. I did not mean to offend, and [it was] a very inappropriate place to use that particular word,' Leo told journalists.
Meanwhile, pregnant star Natalie Portman gave a gushing acceptance speech when she collected her Best Actress Award for Black Swan, thanking her family, and fiancé Benjamin Millipied.
What are your thoughts on last night's Oscar action? Did the right people take home awards? Let us know in the comments box below.
ALL THE RED CARPET STARS AND STYLE!
SEE ALL THE OSCAR ON STAGE ACTION!
OSCARS 2011: THE AFTER-PARTIES
Celebrity news, beauty, fashion advice, and fascinating features, delivered straight to your inbox!