Megan Fox slams botox rumours with Facebook pictures
The star posted an album entitled Things You Can't Do with Your Face when You Have Botox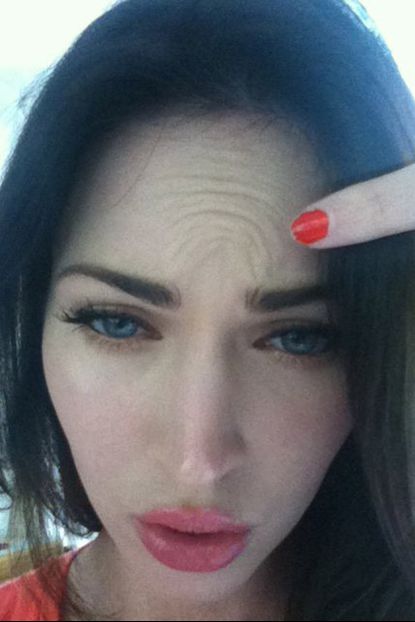 (Image credit: Facebook)
The star posted an album entitled Things You Can't Do with Your Face when You Have Botox
She's firmly denied using botox, but the rumours have just refused to go away. And now it seems Megan Fox has decided to take matters into her own hands, slamming critics with an album of pictures on Facbook, entitled: Things You Can't Do with Your Face when You Have Botox.
SEE MEGAN'S SIZZLING STYLE TRANSFORMATION!
The series sultry snaps show the actress striking a series of different facial expressions for the camera.
Proving her facial muscles aren't frozen – a side effect of having the cosmetic injections – the star raises her eyebrows to create wrinkles on her forehead.
In another shot, the 25-year-old starlet frowns for the shot, before putting on a shocked face and suggestively raising an eyebrow to the camera.
This isn't the first time Megan has had tried to fend off plastic surgery rumuors.
Last year she told American magazine Allure she doesn't encourage the use of cosmetic procedures, instead suggesting women should use to a therapist to help deal with their insecurities.
'My lips are my lips,' she said, denying the use of botox to create her perfect pout.
'I would encourage anyone to first speak with a therapist, to try and figure out where this want comes from, because a lot of times it's not related to your teeth or your nose or your chin - the surgery is not going to alleviate that insecurity for you.
She added: 'If, then, you feel, "This is something that I want to do," then do it. It's amazing that we have the technology to do the stuff that we do.'
What do YOU think of Megan's Facebook album? Let us know in the comments box below.
SEE MEGAN'S SIZZLING STYLE TRANSFORMATION!
Celebrity news, beauty, fashion advice, and fascinating features, delivered straight to your inbox!