Madonna: 'I'm attracted to creative men'
The musician-turned-director attributes her success to ex-husband's Guy Ritchie and Sean Penn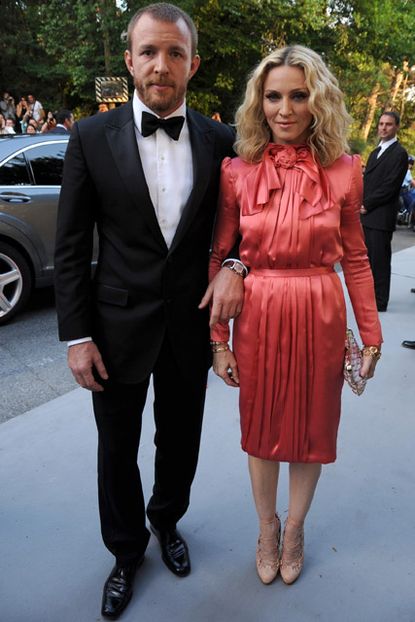 (Image credit: Rex Features)
The musician-turned-director attributes her success to ex-husband's Guy Ritchie and Sean Penn
Musician-turned-director and all-round Hollywood super-power Madonna has credited ex-husband's Guy Ritchie and Sean Penn with helping her achieve success.
SEE MADONNA HIT THE VENICE RED CARPET HERE!
Speaking at the prestigious Venice Film Festival, where she's premiering much talked about movie W.E., the singer paid tribute to her 'talented' ex-husbands, who she says both encouraged her career.
'I am and was attracted to very creative people which is why I married Sean Penn and Guy Ritchie, two very talented directors,' the singer said during a press conference at the famous film event.
'They both encouraged me as a director and as a creative person to do what I did, and they were both very supportive.'
Madonna also opened up on her historical flick – a look at the romance between Wallis Simpson and Prince Edward - and how she identified with the American divorcee.
'I identified with her in that I think it's very common when people become celebrities or public figures or icons that we are often reduced to a soundbite and that you're given a few attributes and then you're not allowed to have anything more than that,' she said.
She added: 'Wallis Simpson was much maligned in history books. I think people didn't understand the choice the King made to give up his position and it changed English history - it changed the history of the world in many ways.
'Often people greet unfamiliar circumstances with fear and they tried to diminish her as a human being because they didn't understand this choice.'
So far Madonna's movie has received mixed reviews, with the Guardian branding it 'a primped and simpering folly,' the Independent praising it's 'sheer zest and craftsmanship' and the Telegraph comparing the film's shooting style to 'high-end cosmetics commercials'.
Will YOU be going to see Madonna's new movie? Let us know in the comments box below.
SEE MADONNA HIT THE VENICE RED CARPET HERE!
Celebrity news, beauty, fashion advice, and fascinating features, delivered straight to your inbox!