Kate Middleton's secret visit to her wedding dress makers
The Duchess of Cambridge took time out of her schedule to personally thank the embroiders of her wedding dress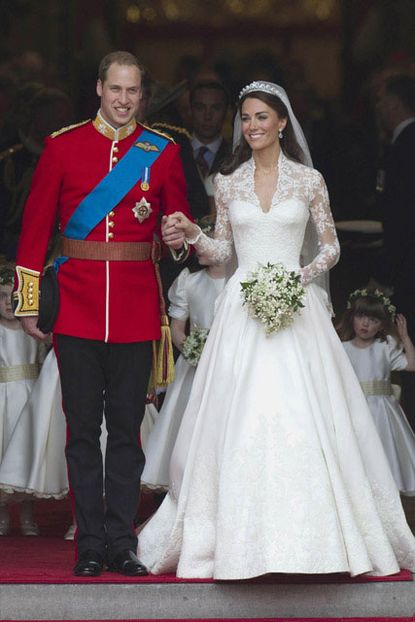 (Image credit: Rex Features)
The Duchess of Cambridge took time out of her schedule to personally thank the embroiders of her wedding dress
The Duchess of Cambridge has once again demonstrated her thoughtfulness by making a secret visit to personally thank the people who embroidered her royal wedding dress.
Without any fuss or media attention, Kate Middleton made the trip to the Royal School of Needlework at Hampton Court Palace this week.
A friend told the Telegraph: 'Catherine was keen to express her gratitude in person to the women who worked so hard on her dress. She was very conscious of the pressure that they were under.'
KATE MIDDLETON'S WEDDING DRESS UP FOR DESIGN OF THE YEAR
The royal wedding dress project was so secret that the women who work at the South West London school, who incidentally were required to wash their hands every 30 minutes when making the beautiful hand-stitched lace, weren't told who the dress was for until the very last minute when it was revealed that it was for Sarah Burton on behalf of Alexander McQueen.
The school's chief executive, Susan Kay-Williams, said of Kate's visit: 'It was lovely to meet The Duchess of Cambridge and to show her what the Royal School of Needlework does.'
KATE MIDDLETON STYLE HIGHS & LOWS
Celebrity news, beauty, fashion advice, and fascinating features, delivered straight to your inbox!