Jude Law sues News International for hacking - new details
News Of The World hacked into Law's phone whilst on US soil, claims the actor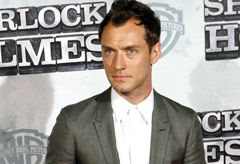 (Image credit: Rex Features)
News Of The World hacked into Law's phone whilst on US soil, claims the actor
Jude Law has filed a law suit against News International, alleging that while in New York his voicemail was hacked, paving the way for a potential trial on US soil.
The actor claims he was travelling through JFK airport when his mobile phone and that of his assistant, Ben Jackson, were targeted by News of the World journalists. As the phones were operating on an American network, News International is likely to face a federal trial in the US.
The FBI are currently also investigating reports that News of the World journalists hacked into the phones of 9/11 victims.
In the NOTW article, published on September 7, 2003, it was reported: 'The star... refused to leave the baggage reclaim hall until Ben had spent 20 minutes scouring the arrivals lounge. Ben rang Jude on his mobile to confirm the coast was clear.'
The story also gave details of Law's hotel room number and amount of money spent on room service, information the actor says was only obtainable from tapping his mobile phone.
The 38- year-old actor has also taken legal action against Britain's best-selling tabloid The Sun, which he claims hacked his voicemail for four articles published in 2005 and 2006.
Around 20 other celebrities, politicians and sports personalities are currently filling hacking lawsuits against News International, although more are expected to emerge.
Law's former girlfriend Sienna Miller accepted a £100,000 settlement from the News Of The World in May after they admitted hacking her phone.
Celebrity news, beauty, fashion advice, and fascinating features, delivered straight to your inbox!