Glee star Dianna Agron apologises for racy magazine shoot
'These photos do not represent who I am' the star said, after the steamy pics appeared in GQ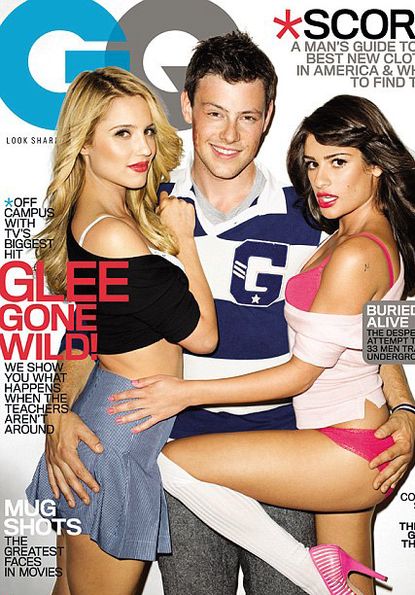 'These photos do not represent who I am' the star said, after the steamy pics appeared in GQ
Glee's Dianna Agron has apologised to fans after posing in a racy shoot for GQ magazine, revealing: 'These photos do not represent who I am'.
SEE OUR GORGEOUS LEA MICHELE COVER SHOOT HERE!
The star was caught up in controversy yesterday, after US parents groups complained about the racy snaps, which she posed for with fellow stars Lea Michele and Cory Monteith.
But following the outrage, Dianna has revealed she was never keen on the idea, and written a lenthy statement on her blog explaining her actions.
'I am sorry. If you are hurt or these photos make you uncomfortable, it was never our intention,' she wrote.
'At the time, it wasn't my favorite idea, but I did not walk away. Nobody is perfect, and these photos do not represent who I am.'
'Glee is a show that represents the underdogs, which is a feeling I have embraced much of my own life, and to those viewers, the photos in GQ don't give them that same feeling. I understand completely,' she added.
But her apology did question the complaints from parents, and what their children were doing with copies of GQ in the first place.
'If your eight-year-old has a copy of our GQ cover in hand, again I am sorry. But I would have to ask, how on earth did it get there?' the actress wrote.
'I understand that in today's world of advanced technology, the internet, our kids can be subject to very adult material at the click of a button. But there are parental locks, and ways to get around this.'
What are your thoughts on Dianna's GQ shoot? Did she need to apologise for her actions? Let us know your thoughts in the comments box below.
SEE OUR GORGEOUS LEA MICHELE COVER SHOOT HERE!
LEA MICHELE BEHIND THE SCENES VIDEO
Celebrity news, beauty, fashion advice, and fascinating features, delivered straight to your inbox!