FIRST LOOK! Gwyneth Paltrow on Glee
It's nearly time! The Country Strong star graced the McKinley High hallways as Hollie Holiday, and we have a sneak preview here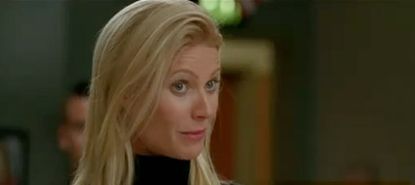 It's nearly time! The Country Strong star graced the McKinley High hallways as Hollie Holiday, and we have a sneak preview here
Get excited Gleeks! We could hardly believe our ears when we heard Gwyneth Paltrow would be making a guest appearance on Glee, but now we've got our hands on the very first sneak peak of the star in the show.
SEE ALL THE LATEST GLEE PICS HERE!
The Country Strong singer is set to step on into the Glee spotlight at McKinley High, as substitute teacher Hollie Holiday, in an exciting two-episode-long episode.
The star is forced to step in when the sickly school is struck down with the flu, and Mr Schu takes time off to recover.
And it looks hilarious.
Director Ryan Murphy has already gushed about Gwynnie's singing talents, revealing she's 'great' in her new role.
'Gwyneth is a great singer,' he told the BBC last month. 'She's done it a little bit but but now we can show everyone how great she is,' he added.
WATCH a sneak peak of Gwyneth's Glee cameo here…
Gwyneth's Glee episode hits screens in the US next week, and will be broadcast in the UK in January next year.
Are you looking forward to Gwynnie's Glee cameo? Let us know in the comments box below
SEE ALL THE LATEST GLEE PICS HERE!
Celebrity news, beauty, fashion advice, and fascinating features, delivered straight to your inbox!