Danyl Johnson's X Factor dream in tatters as Olly, Stacey and Joe make it through to the 2009 final
And then there were three. Favourite to win, Danyl Johnson is the latest to be voted out in the X Factor showdown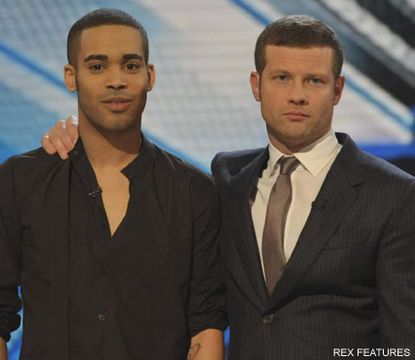 And then there were three. Favourite to win, Danyl Johnson is the latest to be voted out in the X Factor showdown
In a shock exit last night that had mentor Simon Cowell reeling, favourite to win Danyl Johnson was the latest contestant to be voted out of the X Factor.
The suspense this week has been killing us, but now we finally know that Stacey Solomon, Olly Murs and Joe McElderry will all go on to face the final showdown.
SEE ALL THE X FACTOR FASHION HERE
Hotly tipped to go all the way, Danyl looked crushed on hearing the news, but took his defeat gracefully.
'Simon has been amazing and I have made some of my best friends for life here,' he said. 'I'm looking forward to seeing friends and family and just do a couple of gigs. I'm going to see what happens.'
Meanwhile Simon Cowell couldn't hide his shock on hearing the public's verdict.
'There is nothing I would have changed, nothing more he could have done,' he told host Dermott O'Leary in a rare emotional moment.
'It is just one of those things. He has gone out on a high. He is a graceful loser. I am genuinely, genuinely firstly upset and secondly I have to say it has been a pleasure working with you.'
Controversial star Danyl has certainly had his ups and downs. At one point his popularity took a nosedive after rumours of bullying in the house, and a bust-up with Simon over song choices.
But in recent weeks the newly humble star seemed to win the public back, sailing through the last few votes.
Although visably shocked, Danyl managed to hold it together for a final performance of Michael Jackson's Man in the Mirror.
It was also a dramatic night as far as the celebrity performers were concerned.
In one of her weirdest performances yet, Lady Gaga arrived on stage in a giant bathtub and dressed as a bat to belt out new hit, Bad Romance, while famous Jackson sister Janet danced her way through a medley of her favourite songs.
So with just one week left, the pressure is really on for the remaining contestants.
But who do you think will win the X Factor 2009? Let us know YOUR vote in the comments box below.
THE WEIRD AND WONDERFUL STYLE OF LADY GAGA
Celebrity news, beauty, fashion advice, and fascinating features, delivered straight to your inbox!