Ashton Kutcher quits Twitter
Ashton Kutcher has handed control of his Twitter account over to management after struggling to cope with a backlash from followers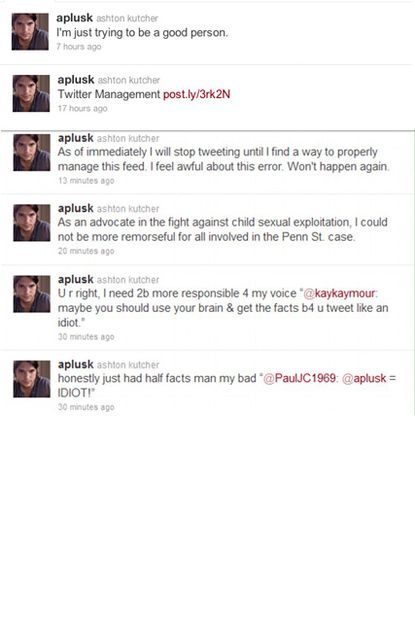 (Image credit: Rex)
Ashton Kutcher has handed control of his Twitter account over to management after struggling to cope with a backlash from followers
Ashton Kutcher has handed control of his Twitter account over to management, after struggling to cope with a backlash from followers.
He was famously the first person to pass one million followers on Twitter, and he and wife Demi Moore's tweets and twitpics have become favourites with fans on the social networking site.
But earlier this week Ashton recieved a backlash of tweets, when he was seen to be supporting a football coach involved in a child abuse scandal - and he decided to stop tweeting and hand his feed over to his PR team.
Ashton wrote, 'As of immediately I will stop tweeting until I find a way to properly manage this feed. I feel awful about this error. Won't happen again.'
This came after he tweeted at 12.30am this morning, 'How do you fire Jo Pa? #insult #noclass as a hawkeye [the University of Iowa football team] fan I find it in poor taste.'
Within minutes the term Jo Pa, a nickname of the football coach, was trending on Twitter as thousands of users ripped into the Two and a Half Men star, for what seemed to be a distasteful remark.
His inappropriate tweet came after news that Joe Paterno, the University of Iowa's head coach for 46 years, had been fired for allegedly covering up sexual abuse at the school.
On his his blog, the 33-year-old actor offered a lengthy explanation to defend his offending tweet, writing, 'Last night after returning home from work I walked by the television and simply saw a headline that Joe Paterno had been fired. Having no more information than that, I assumed that he had been fired due to poor performance as an ageing coach.'
He later added, 'This is an insane story, I just heard paterno was fired, getting the rest of the story now... Wow.'
Ashton then tweeted to his eight million followers, 'Heard Joe was fired, fully recant previous tweet! Didn't have full story. #admitwhenYoumakemistakes'
The incident comes after an eventful fews weeks of Ashton in the headlines, over rumours that he allegedly had an affair with Sarah Leal in September.
Perhaps Ashton's Twitter break can help him have some time out with his family, especially as wife Demi Moore celebrates her birthday today.
Celebrity news, beauty, fashion advice, and fascinating features, delivered straight to your inbox!