Angelina Jolie Releases Heartwarming Picture To Promote Her New Movie
Angelina Jolie is currently directing her new movie project, which will tell the incredible real-life story of Louis Zamperini (pictured)...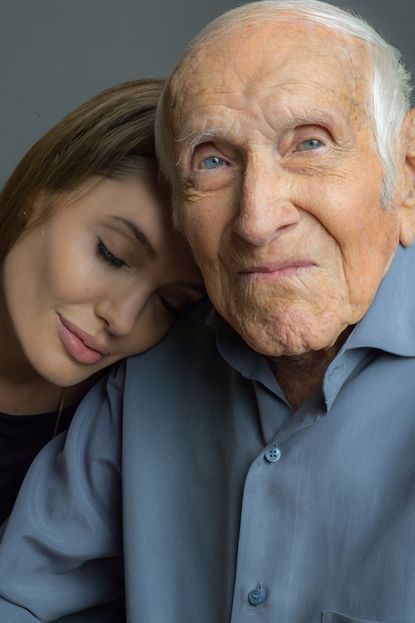 (Image credit: Universal)
Angelina Jolie is currently directing her new movie project, which will tell the incredible real-life story of Louis Zamperini (pictured)...
Angelina Jolie has a new friend, and their story is enough to melt your heart on this cold Friday morning. The A-list actress has released a heartwarming image to promote her new movie, Unbroken, which hits UK cinemas in January 2015.
Unbroken is Angelina's second stint in the director's chair, and this time she's telling the real-life story of Louis 'Louie' Zamperini, her friend, Hollywood Hills neighbour – and a World War II hero.
She says: 'It will be hard to make a film worthy of this great man. I am deeply honoured to have the chance and will do all I can to bring Louie's inspiring story to life. Everyone involved in the film shares this deep responsibility. Like all readers of Laura's book and all people who love and admire Louie, I am a fan who has learned so much. He has made me a better person.'
The movie will be an adaptation of Laura Hillenbrand's bestselling 2010 book about Louis Zamperini. Louis (now 96-years-old) is a Los Angeles high school track star-turned-Olympian. He rose to fame in the 1936 Berlin Olympics – but in 1943, his Air Force plane crashed in the Pacific. He survived without food and water for an incredible 47 days enduring shark attacks, aerial attacks and hunger before arriving on a Japanese island behind enemy lines, where he was held as a prisoner of war for two years.
The role of Louis is being played by British Skins actor, Jack O'Connell. But if you're not an avid Skins viewer, you'll recognise Jack from his highly-publicised relationship with Tulisa Contostavlos. Though we're pretty sure it's his acting that will have caught Angelina's eye.
Jack recently spent several afternoons meeting with Louis at his home so he could learn about his story first-hand, and he's even tried on his World War II bomber jacket. Louis has also given Angelina a gold running shoe pendant as a gift.
Louis says: 'Angelina is a human dynamo, and I know she will tell this story in the right way. I've received so many letters and talked to so many people who say that Laura's book has helped them when they were going through hard times. I believe the movie will reach even more people with that message.'
We can't wait.
Angelina Jolie casts British Skins actor in World War II movie
Is Angelina Jolie relocating her family to Australia?
Got a tablet? You can now download Marie Claire magazine straight to your iPad, Kindle (just search the store for 'marie claire magazine'), Nook or Google Nexus.
Celebrity news, beauty, fashion advice, and fascinating features, delivered straight to your inbox!