What you need to know about using Coconut oil for hair–plus does it actually work for hair growth?
Your hair will seriously thank you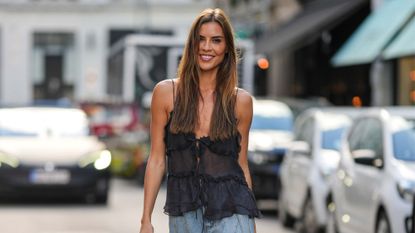 (Image credit: Getty Images)
Coconut oil for hair has been the beauty industry's favourite natural ingredient for years, with those in the know also using coconut oil for skin and oil pulling, but what can it do for your hair? We already know about castor oil for hair, and the 'liquid gold' argan oil, but coconut oil has people divided.
Hence over 900 million views on TikTok for coconut oil and counting. Forget using it for cooking, coconut oil for hair should have on your radar (and actually works). From hydrating dry locks to improving texture and adding shine, we spoke to industry experts on why coconut for hair deserves a place in your hair ritual.
Why are we obsessed with coconut oil for hair? "Coconut oil has been used traditionally for centuries in tropical regions as part of haircare rituals," says Dr. Catherine Leray, Head of Research and Development at THG LABS, where Grow Gorgeous products are made.
What are the benefits of coconut oil for hair?
"Hair oiling is something that has been done for hundreds or even thousands of years in some cultures and can be beneficial for helping your hair retain moisture, prevent dryness as well as stimulating growth," says Dr Furqan Raja, Leading Hair Transplant Surgeon of The Private Clinic.
"People use many different types of oil and I've known my patients to use olive oil or coconut oil to good effect - organic options without chemical content are preferable," Dr Raja explains.
"Coconut oil for hair can have several benefits as it can be used for repairing damaged hair and helping split ends to heal. It contains Lauric acid, which will make hair feel soft and smooth to touch and help get rid of any sebum buildup," the hair transplant surgeon tells us.
"Coconut oil can also help fight dandruff as it is hydrating and coconut oil has been shown to be anti-inflammatory too," Dr Raja explains.
Dr Leray explains the science behind exactly how coconut oil for hair works, and as Head Developer for Grow Gorgeous, she knows what she's talking about. "The composition of the coconut oil is what makes it particularly beneficial for hair health. It contains a high percentage of fatty acids such as lauric acid that have a low molecular weight, allowing them to penetrate the hair shaft and provide nourishment. Thanks to its protein and amino acids content, it contributes to hair strength, helping to reduce breakage," she explains. "In addition, coconut's oil hydrophobic nature helps to reduce water absorption by the hair, which is always a bonus if you have highly porous hair," she explains.
What to know before using coconut oil for hair
If you've scrolled through TikTok and seen hundreds of before and after hair oiling videos, then you'll probably be wondering if coconut oil for hair actually works. There are some things the experts want you to know.
"Its main downside is that, if used neat in its natural state, it remains a heavy oil and might not suit all hair types, especially fine and thin hair, where it could leave hair looking greasy and flat. For those hair types, it would be recommended to use expertly formulated products to reap the benefits of coconut oil without the downsides. Today, coconut oil continues to be widely used because of its versatility and undeniable effectiveness in haircare products to improve hair condition for smooth and shiny tresses. Grow Gorgeous Intense Thickening Mask contains coconut oil for a deep moisturisation and conditioning treatment to reveal supple, more manageable and glossy locks," Dr Leray tells Marie Claire UK.
"If you use too much coconut oil, it can cause a build-up, which will leave hair looking greasy and dull. If you have fine hair, I would recommend avoiding using it," says The Private Clinic's hair transplant surgeon.
"There are reports of people experiencing hair loss when using coconut oil. This isn't usually down to the coconut oil itself but rather because the oil helps hair already detached from the scalp to fall away," says Dr Raja. And that's the last thing we want. Which begs the question, does coconut oil help with hair growth?
How to use coconut oil for hair growth and thickness?
Claims on TikTok make it seem as though hair oiling with coconut oil will give you longer, thicker hair overnight. I hate to break it to you, but that just isn't the case. While it can help hair become healthier, there aren't many oils alone that will magically grow your hair, if anything, it's best to try an oil for hair growth, (no need to make a DIY mask either).
Dr Furqan Raja, of The Private Clinic says coconut oil will not be a miracle cure to help hair growth. "However, it could help your hair become healthier to prevent breakage. The vitamins in coconut oil may help nourish your scalp," the Dr explains.
How to use coconut oil for hair: One oil, five different uses...
As a relaxing pre-wash oiling treatment
The ancient tradition of hair oiling is all about taking the time to treat your hair, and yourself to moments of calm. Cover your hair in coconut oil before washing and your hair will feel smoother than ever.
"I suggest using it on the hair and scalp for about 20 minutes before washing it out. It's ideal to warm the oil before applying it on the hair to allow the molecules to penetrate the hair," says Dr Raja.
Coconut oil for hair growth
It's true – using super-moisturising coconut oil on your locks might make them grow longer by promoting healthy hair and scalp, or at least reduce breakage. "Coconut oil, known for its all-round use is said to aid in the promotion of hair growth. It is rich in vitamins and essential fatty acids which will moisturise the hair and scalp," says Allenby.
But remember, as Dr Raja told us, it is no miracle cure so don't expect overnight results.
A daily de-tangler
Because 100% natural, organic virgin coconut oil won't leave any residue in your locks, it makes a great smoothing de-tangling product. Melt your coconut oil over hot water and rub into any tricky tangles or through the ends of damp locks before combing through. Your hair will not only be tangle-free, it will smell great, too.
Dry, itchy scalp or dandruff? No more…
"Coconut is an excellent hair moisturiser but can be a little difficult to wash out in its raw form. Liquid coconut is easier to work with and better as a deep scalp moisturiser than a hair moisturiser" says Sally-Ann Tarver, Consultant Trichologist, The Cotswold Trichology Centre & Theradome.
A moisture-boosting hair mask
Using coconut oil as a hair mask is one of the best ways to feel its benefits. Using coconut oil in its pure form means there are no chemicals that can aggravate the scalp. Use it in place of conditioner, and rinse as usual. But personally, I love a hair mask with coconut oil infused in as pure oil can feel too heavy.
Vincent Allenby, creative director at Trevor Sorbie Manchester agrees: 'Left on for an hour or overnight, hair will feel softer. I'd recommend you shampoo with a gentle cleansing shampoo such as Redken or Pureology to continue your healthy hair maintenance.' Find the best shampoo for your hair with our round-up.
Get super soft strands by shopping our edit of the best coconut oil hair products
You can add this to food, or slather your body in it, but this is one of the best coconut oils for hair. It's, organic, extra virgin and cold pressed - so it's great if you want to use raw coconut oil in your hair.
ARKIVE The Future Youth Treatment Mask
If you forget to take your raw coconut oil with you into the shower, this treatment mask deserves a place on your hair roster. Made for super dry stands, infused with coconut oil, and castor oil, it will hydrate stands in less than five minutes.
Grow Gorgeous Intense Thickening Hair and Scalp Mask
A coconut oil mask is usually the best way to see instant results, but don't forget about using it as a scalp treatment. Made with coconut oil and shea butter, your stands will be super smooth. Pea peptides and keratin work to revitalize the hair, for your healthiest hair yet.
OGX Damage Remedy+ Coconut Miracle Oil Extra Strength Penetrating Oil
Using a coconut oil shampoo is the easiest way to incorporate the oil into your haircare routine. Celebrity hairstylist Michael Douglas, recommended this shampoo to me and it's one of the best drugstore shampoos I've tried.
Coconut Oil Brilliantly Nourishing Pre-Shampoo Hair Oil
A pre shampoo hair oil is the most popular way to use coconut oil for hair over on TikTok. While using pure coconut oil may feel like the best way to reap the benefits, if you end up over washing to ensure it's all out it can actually end up drying hair out instead. This pre wash shampoo hair oil has coconut oil and rosemary oil in its list of ingredients and can be massaged into hair before washing or left on overnight.
Sheamoisture 100% Virgin Coconut Oil Leave In Treatment
It can be hard to get the correct amount of pure coconut oil in your ends to make them look hydrated, and not greasy. This is a great alternative and is made with 100% virgin coconut oil, so your hair will still feel all the benefits. Use it on the ends of damp hair and blow dry in.
If you've read any of my hair articles, you know I am a big fan of Color Wow (although I don't have coloured hair). This dream cocktail is infused with coconut, to hydrate and protect hair.
Revlon Smoothstay Coconut Infused Hair Dryer
I know this may seem like taking it one step too far, but I love a hairdryer with an extra touch. Infused with coconut oil and ceramic ionic technology, both work together to create smooth strands. As well as all the benefits of the coconut oil infusion, Revlon's smooth-stay protects against heat damage too.
Celebrity news, beauty, fashion advice, and fascinating features, delivered straight to your inbox!
Dionne Brighton is a writer at Marie Claire UK, specialising in all things shopping, beauty and fashion. Born and raised in North London, she studied Literature at the University of East Anglia before taking the leap into journalism. These days, you can find her testing out the latest TikTok beauty trends or finding out what the next full Moon means.