Yes, castor oil *can* lead to longer, thicker hair—here's how
Why you should consider adding castor oil to your hair routine, pronto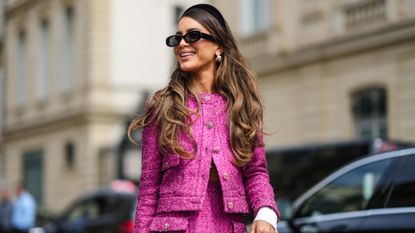 (Image credit: Getty Images)
Castor oil for hair has been used for centuries, claiming its place as one of the best hair oils for growth, shine and hydration. And with hair oils doing the rounds on social media as of late (TikTok's rosemary oil for hair growth, we're looking at you), it seems as though humble castor oil is destined for a popularity resurgence.
Slowly but surely, castor oil is finally getting the recognition it deserves. #Castoroil currently has over 725 million views on TikTok not only because of its nourishing skincare benefits, but also because it is considered to be one of the best oils for hair growth.
Similarly to argan oil, castor oil has so many supposed benefits for our scalp and strands that it's hard to know what is fact and what is TikTok fiction. So, in a bid to clear things up, we asked the experts to give us the lowdown on castor oil's benefits and the best way to use it—because I'm not trusting another TikTok hair-oiling video.
What are the benefits of castor oil for hair?
"Castor oil use dates back to ancient Egypt, where some of its various hair benefits were discovered. Rich in multiple fatty acids such as ricinoleic and omega 6 & 9, castor oil helps to replenish, nourish and condition the hair as well as lock moisture in," explains Dr. Catherine Leray, Head of Research and Development at THG LABS, where Grow Gorgeous products are developed.
Can castor oil help hair grow?
If you were to believe social media, content creators would have you believe that castor oil can make hair grow faster, longer and more healthily—but this isn't totally true. While castor oil can't lead to more hair growing on your hair, what it can do is create a good growing environment for existing follicles to produce hair, and help strengthen strands to prevent breakafe.
"Castor oil can improve the look of your eyelashes, hair and eyebrows. It hydrates moistures and prevents breakage. It has high levels of essential fatty acids that can help with the healing of hair and skin," explains Dr Nick Fisherman, trichologist at Watermans Hair.
But that's not to say it can kickstart hair growth. "Castor oil may be beneficial for hair, although there is very little evidence to suggest it helps with hair growth," says Leading Hair Transplant Surgeon, Dr Furqan Raja of The Private Clinic. "People do claim it can increase blood flow to the scalp to promote hair growth. I have seen little evidence for this, but I would say it can help moisturise a dry scalp, which can lead to healthier hair in the long run. It can help to soften the hair."
Dr Raja tells us if you do want to try using castor oil for hair, you would just need to rub a few drops into your scalp and you could try massaging a few drops into the ends of the hair to protect against breakage. "I wouldn't recommend using it more than once a week because it can cause a build-up of oil," he says.
"Hair loss itself is a very complicated issue and can be caused by a wide variety of things so if you are suffering with hair loss, it is best to see an expert who specialises in hair loss to come up with a scientific treatment plan. However, using a bit of castor oil for hair health won't do any harm," explains Dr Raja.
How to use castor oil for hair
Because castor oil can work its magic in so many ways, you might be tempted by TikTok to opt for castor oil in it raw form. Expert hairstylist, Vincent Allenby, warns that using the oil in its raw form (if you do manage to get hold of it) is not necessarily the best idea. "If using it on your hair make sure it is diluted with something such as argan oil or jojoba oil as on its own it's too heavy for the hair and could be a little troublesome rinsing," Allenby explains.
Our advice? Opt for nourishing hair products that have been formulated with just the right amount of castor oil for optimal results.
You can use castor oil for hair before washing, as a pre-wash hair oil, on ends after washing or lean on its benefits for sleek styling. Now we are wiser about the benefits of castor oil for hair, keep scrolling for our edit of the best hair masks and hair oils infused with castor oil.
The best castor oil hair products
Fable & Mane Holiroots Hair Oil
I use this as a pre-wash treatment before every wash and I swear by it for healthy strands. Made with the ancient tradition of hair oiling in mind, this oil is made to be a part of a self care routine, and it is simply perfect. Leave on for 10 minutes before you wash or overnight for stronger and smoother hair.
If less breakage is the aim, then this is the castor oil product for you. As recommended by Dr Fisherman, you can turn this into a multi-use product and use it on body as well as hair. Add a little bit into the ends for super smooth and hydrated hair.
Jamaican Black Castor Oil Intense Moisture Mask
If your hair is dehydrated, then this Jamaican black castor oil mask will hydrate and nourish your curls for more bounce and definition after just a single wash.
Grow Gorgeous Sensitive Ceramide Rich Hair and Scalp Mask
Dr Leray suggests using this as one of the best products infused with castor oil for hair. Apply it before bed and wake up with a calm, soothed scalp and healthier hair.
SheaMoisture Strengthen & Restore Shampoo Jamaican Black Castor Oil
A sulphate-free shampoo infused with Jamaican black castor oil, which gently cleanses while hydrating strands. Use it with the matching conditioner for your softest hair yet.
Augustinus Bader The Hair Oil
One of the best hair oils I've ever used, it's not just the Augustinus Bader patented TFC8 Complex that makes it great, it's infused with castor oil too, which explains why my strands are so silky. The only down side? That eye-watering price tag.
Amika water sign hydrating hair oil
This is an oil with all the oils. The Amika hydrating hair oil is infused with castor oil, jojoba oil, coconut oil and even more added goodness.
Jamaican Mango & Lime Black Castor Oil Original
Yes, this is the one you may have seen on TikTok, and it is one of the original castor oils for hair, so we know it's good. It's 100% pure castor oil, so if you were planning on making your own DIY castor oil mask, this is the one you need.
Celebrity news, beauty, fashion advice, and fascinating features, delivered straight to your inbox!
Dionne Brighton is a writer at Marie Claire UK, specialising in all things shopping, beauty and fashion. Born and raised in North London, she studied Literature at the University of East Anglia before taking the leap into journalism. These days, you can find her testing out the latest TikTok beauty trends or finding out what the next full Moon means.