15 Tips For Throwing The Most Epic Surprise Party Of All Actual Time
We've all been there. You want to throw a surprise party for your best mate, but you just can't keep your mouth shut. We caught up with the founders of bespoke event planners Hunter VIII Hunter to find out how to do it right...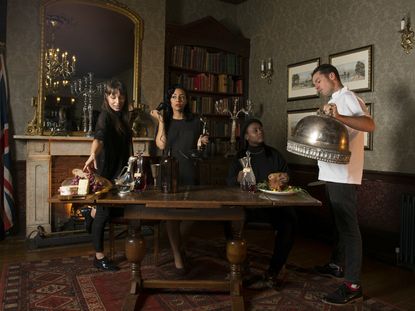 We've all been there. You want to throw a surprise party for your best mate, but you just can't keep your mouth shut. We caught up with the founders of bespoke event planners Hunter VIII Hunter to find out how to do it right...
If you haven't heard of Hunter VIII Hunter, we don't know where you've been hiding. The bespoke, luxury events planners have catered for anyone who's anyone - meaning there's nothing they don't know about throwing a party (and coping with the clear up afterwards).
Which is why, in a bid to soak up some of their wisdom, we caught up with Co-Founders Sheine Alexander (Head of Events Planning) and Nicole Richardson (Executive Chef) and begged them for their top tips on how to plan the most epic surprise party, ever.
GO DETECTIVE ON THEM 'If you are throwing a surprise party for someone then we would assume you know them pretty well already. However, it's important to find out what they would like without giving the game away. A good way to do this is to get them talking about other parties they have been to. Alternatively you can flip through magazines together and comment on celebrity events as they always mention the food and décor, making it easy to ask questions on their thoughts without seeming too obvious.'
PUT YOURSELF IN THEIR SHOES 'A great way to ensure that you think of everything for the party is to close your eyes and picture yourself walking through the event as a guest. What's the first thing you see, hear and smell? Who lets you in? When do you get served your first drink? Go all the way through to the end of the night. By doing this you'll get a good idea of what you need for the party, so you can start a list and you'll have an idea of how things will flow through the evening.'
DELEGATE, DELEGATE, DELEGATE Once you have a date in mind, write a list of everything that needs to be done, bought and made for the event and then allocate roles. Planning a party can be a lot of fun, but it can also be a lot of work and often other people will want to help so let them as it takes some of the pressure off you on the night and helps everyone get into the party spirit
LOOK AROUND YOU 'If you are having trouble with a colour scheme, start with something you know that the guest of honour likes, be it a particular colour they often wear or have decorated their room in. Another tip is to take inspiration from nature, which has already matched colours perfectly. Take inspiration from flowers, which are also great for pops of colour and adding drama, as they really help bring a room to life.'
USE SOCIAL MEDIA TO YOUR ADVANTAGE 'Once you have assembled your team of surprise party planners, create a private Facebook group or use a group chat on WhatsApp to communicate and plan without the risk of the secret being revealed. Also on a practical level, you have all of the information shared in one place and can invite as many people as you need.'
DON'T RELY ON INVITATIONS 'When it comes to inviting guests, a formal event will require formal invitations, but you should allow people to RSVP via email or a phone call depending on how close you are. Remember to keep it simple so you don't have people contacting you in too many ways as it will get confusing and you will lose count. If the event is small and more informal, a phone call or message will do and for larger informal events, a private Facebook event invite will suffice but do remember not everyone is on Facebook and guests won't feel as special. Whichever option you choose for RSVPs, make sure you keep track of who is coming and then remember at least a tenth of those won't show.'
INVOLVE EVERYONE IN THE MUSIC 'Music is a huge part of an event as it's so emotive. Decide early on whether you want a DJ or if you are going to create your own playlist. Whichever option you choose, think about the person who the party is for – what is their favourite song and style of music? Make sure to include this within the event as it will always be a winner! Another nice touch is to get everyone to dedicate a song that means something to them and the person. Also, make sure you keep an eye on the noise levels, as unless it's a rave, people will want to talk and not have to shout across to one another.'
DON'T FORGET THE SMELL 'Another important point to remember is smell. If it's safe to do so, use scented candles with natural wax and then you get the added effect of beautiful lighting. Or if candles aren't quite right, diffusers are a good choice as many are discreet and every time a guest walks past they will naturally help waft the scent through the venue. An energetic or warming atmosphere is simple to create with the right scent.'
FOOD MIGHT JUST BE THE MOST IMPORTANT THING... 'When it comes to food we think the most important person you have to consider is the person who the party is for. After all, if they don't like it, you have a major problem. So do your research when planning the party and get an idea of likes and dislikes. Think about the style of party you are having as this will determine the type of food you have. If you want guests to be free to dance and mingle, have a buffet with light food that can be held in one hand with one hand free to hold a glass. If there is some seating, and have guests who like to chat, a buffet where you can fill up your plate, take a seat and catch up with old friends is a great environment to be in. Food is there to be enjoyed so don't ever leave it as an afterthought. Even if it's tiny canapés they should look too good to eat.'
...BUT BE WILLING TO SHARE IT 'Unless you know everyone's dietary requirements and there is nothing too complicated, we would advise going with the option of sharing platters or buffets to keep everyone happy. Try keeping spicy food to sides and condiments so that guests can add as much or as little as they like. Do not pick boring vegetarian dishes as there will most likely be at least one vegetarian guest and they will have had endless goat cheese tarts! If you choose to use a caterer ensure they have an array of great vegetarian, vegan and gluten free options so no one feels left out. If you are making the food, look to recipes from Ottelenghi or Nigel Slater for inspiration.'
STOCK UP! 'When in doubt always over order! You can buy alcohol on a sale or return basis meaning that you won't have to worry about running out and can return anything you don't use. With food, it will all get eaten at some point so it's never really a waste, but not having enough will be stressful and embarrassing. After all, if even if everyone keep saying they're full, they don't mean it. They're hungry!'
DON'T BE AFRAID TO BUDGET 'For those on a limited budget, there are a few ways to save money without spoiling the experience. The biggest outlay will often come from the venue and the alcohol, so if you can use someone's home that's always great and creates a warm atmosphere. Similarly, think about asking everyone to bring a bottle. With food you could get everyone to bring a dish but it depends on the event and the people cooking. You could hire a caterer in, meaning that once you have picked your menu you have very little to worry about and it frees up the day of the event from added stress in a hot kitchen.'
COME UP WITH A WAY TO SNEAK THE GUESTS IN 'The day before the party, send a reminder to everyone who has RSVP'd - you'll be surprised how many may have forgotten that they said they would come. In this reminder make sure you highlight the time that everyone will need to be assembled for the surprise, and give details of an alternative time or entrance to the venue for guests who turn up late or have stated that they may be delayed.'
REMEMBER TO PICK THE RIGHT DAY 'When it comes to getting a good turnout, Thursdays, Fridays and Saturdays are always good days to throw a party as people are more inclined to go out. However, bear in mind Friday night and Saturday night you are more likely to be competing with other events so send a Save the Date early. The worst thing that could happen at a surprise party is there being no one to shout surprise!'
DON'T FORGET THE PERSON YOU'RE CELEBRATING 'One thing that should never be forgotten when treating someone to a surprise party is to make sure they have the opportunity to look great for the event. Let them get dressed up thinking they are being taken out, maybe take them for a day of pampering beforehand, otherwise they might feel underdressed at their own party and you want them to feel comfortable and have a great time. After all wasn't that what all the hard work was for?'
Find out more about Hunter VIII Hunter at their website or on facebook.
Celebrity news, beauty, fashion advice, and fascinating features, delivered straight to your inbox!
The leading destination for fashion, beauty, shopping and finger-on-the-pulse views on the latest issues. Marie Claire's travel content helps you delight in discovering new destinations around the globe, offering a unique – and sometimes unchartered – travel experience. From new hotel openings to the destinations tipped to take over our travel calendars, this iconic name has it covered.