Just in: these are the 100+ best sustainable brands in the world, according to experts
Meet the winners of the Marie Claire UK Sustainability Awards 2023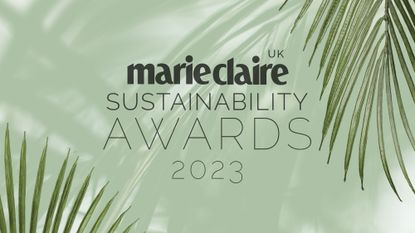 (Image credit: Future)
It's that time of the year again when we roll out the red carpet to celebrate the winners of our third annual Sustainability Awards.
Our mission here at Marie Claire UK is not just to bring you the latest fashion trends and beauty tips, but to empower you with knowledge that drives positive change for planet and people – and this year's awards are a testament to that commitment.
We've scoured hundreds of brands, organisations, and products to find companies that are truly leading the charge in sustainability and laying the foundation for a better tomorrow. This year, we also teamed up with the sustainability gurus at Seismic (more on this below) to dig a little deeper into the social and sustainable efforts of each application, ensuring a rigorous process that awards the very best in each category.
In a world where every headline seems to be dominated by wildfires and floods ripping through countries across the globe, it's crucial to acknowledge and applaud the brands that are embracing their environmental and ethical obligations. After all, these are the brands that guide us, as consumers, to make wiser choices when it comes to shopping smarter and buying better.
As climate-justice writer Mary Annaïse Heglar asserts, "You can [either] be overwhelmed by the complexity of the problem or fall in love with the creativity of solutions."
Meet the Marie Claire UK Sustainability Awards winners 2023
This year – for our third Sustainability Awards – we asked environmental and social-impact powerhouse Seismic to support us in assessing the entries and selecting our winners.
Seismic stood out as our go-to sustainability partner because of its expertise across various sectors and business models. Indeed, with a global team of professionals, Seismic's mission is to empower businesses to become driving forces for positive change, uniting B Corp experts, Net Zero advisors, and sustainability strategists to steer companies toward a greener future.
We asked every business to back up its sustainability claims with evidence before brands were presented to our diverse panel of more than 50 big-name sustainability experts, company founders, thought leaders, consultants, and activists in the field. Then, they dug deep to thoroughly review and validate these claims. It's this meticulous process that ensures we can genuinely applaud these game-changing, sustainable innovations and brands that are genuinely dedicated to making a change.
Ready to dive in? Click the categories below to get up close and personal with this year's standout winners:
Of course, the Marie Claire Sustainability Awards aren't just about congratulating the winners – they're about acknowledging the ripple effect they create, too. By embracing sustainable practices, they're inspiring others to follow suit, proving that even small steps can lead to monumental change.
So, get ready to meet the trailblazers who are making waves in the world of sustainability. These are the visionaries who are redefining everyday products while keeping our planet at the forefront of their endeavours. We're excited to share their stories, their passion, and their innovations with you.
An insight into last year's awards...
See who won in 2022 here and watch some of our past judges below.
Ready to celebrate the editor – and expert-approved – brands going that extra mile in working towards a more sustainable future for our planet? So are we – because we truly believe that we can all #StartSomewhere by making better individual choices that can kick-start meaningful, collective change.
Marie Claire UK has determined the award winners in accordance with the judging criteria and with the information provided by the entrants. All information provided by the winning brands is published in good faith.
Celebrity news, beauty, fashion advice, and fascinating features, delivered straight to your inbox!
Alice is a contributing lifestyle journalist with over seven years of industry experience and has worked for the likes of The Telegraph, The Independent, Women's Health, Stylist, Glamour, Grazia, Glorious Sport and more. Specialising in health and fitness, Alice covers everything from the latest product launches to interviewing some of the most inspiring female sports stars of our time.