From eco-friendly cleaning products to minimal-waste paint, these are the 25 best sustainable home brands to have on your radar
Lauded in this year's Marie Claire UK Sustainability Awards, these lifestyle brands are on a mission to help you be more eco-friendly at home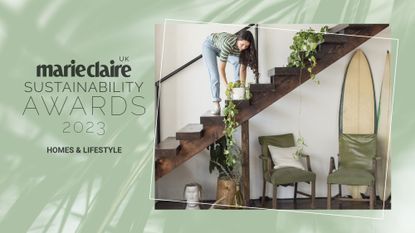 (Image credit: Future)
According to the Committee on Climate Change (CCC), 40% of the UK's greenhouse-gas emissions come directly from households. So, when it comes to living a little more sustainably, the best place to start is often at home. But we're not just talking about replacing your lightbulbs with energy-efficient LED lights; think seriously about everything from the paint you use, to upcycling furniture and buying eco-friendly cleaning products.
Indeed, while investing in solar panels or elevated insulation delivers on the environment front, you don't have to remortgage to create positive change. In fact, you can still have an impact with smaller, less expensive home improvements. And the following home and lifestyle brands are paving the way, helping consumers to reduce their ecological footprint and make better choices when it comes to creating a happy home that's kinder to the planet.
Meet the winners of this year's Marie Claire UK Sustainability Awards in the Homes & Lifestyle category...
Marie Claire UK Sustainability Awards 2023: Homes & Lifestyle
Children's brand
Who? Selling everything from pre-school scooters and balance bikes, to three-wheelers for children over 5 and foldable two-wheel scooters for kids over 12, Micro Scooters is a company on a mission "to make everyday journeys better". Sounds fun? Fear not: adults can also get their hands on a stylish scooter.
Why? Engineered to last multiple generations, Micro Scooters ensures each and every product is crafted to the highest quality, ensuring models can be revamped and rehomed after even decades of use. The company also transports scooters using next-generation, planet-friendly fuel and works tirelessly to champion behavioural change to reduce our reliance on cars for short journeys.
Partnered with Carbon Neutral Britain, Micro Scooters became B-Corp certified in 2022, and is now championed as the first carbon-neutral scooter firm. Through initiatives like 1% for the Planet, it also donates a portion of its eco-product sales to vetted environmental non-profits. In short, this is a brand that's continually striving to improve daily journeys for both people and planet.
"An innovative brand dedicated to encouraging consumers to be more sustainable," says Andrea Thompson, Editor in Chief at Marie Claire UK. "An excellent holistic approach to sustainability at every level."
Eco-friendly cleaning
Who? Bower Collective produces eco-friendly household cleaning products that help people to create a more sustainable home with natural household products in reusable packaging – so you never have to compromise on cleanliness.
Why? Bower Collective is a certified B-Corp company deeply committed to sustainability. Its range of effective, natural household and personal-care products are crafted using non-toxic, naturally derived ingredients, encased in considered materials to reduce plastic waste.
Being carbon neutral, the company sources 90% of its products in the UK and employs closed-loop reusable packaging, BowerPack, to significantly reduce carbon emissions.
The brand has also partnered with CleanHub to support waste-picking communities in rural India, making a commitment to remove 10,000kg of ocean-bound plastic waste in 2023. Cue an annual 'Bower Beach Clean' to collect plastic waste from the beach, provide data to the Marine Conservation Society, and aid environmental protection.
"Great to see the impressive loop offer, attention to detail and transparency on ingredients and chemicals, combined with a broader reach into community initiatives. [Bower Collective is] truly ticking all the eco boxes," says Rob Green, co-founder of COAT Paints, and our Sustainability Awards judge.
HIGHLY COMMENDED: YOKUU
Eco-friendly decorating (wallpaper, paint)
Who? Painting its way to a greener future, Lick is a "colour-centric home decor brand" that aims to inspire decorators to discover and develop their interior style, while supporting them to find colours that feel like a reflection of their personality.
Why? Lick offers eco peel-and-stick samples with significantly reduced paint and CO2 emissions, as well as pigment-rich, low-VOC paints for improved indoor air quality. It also curates FSC-certified wallpapers printed with environmentally friendly inks, and offers a range of professional decorating tools made from sustainably sourced, biodegradable materials.
Lick's circular approach involves using excess cut-offs in the packaging process in a bid to avoid wasting materials. It also participates in a Paint Care scheme, working towards reusing or re-manufacturing a significant portion of paint waste.
On top of this, the company collaborates with charities to extend its positive impact beyond products. Projects include helping to remove plastic from the ocean, planting trees, donating water to communities in need, and offsetting CO2 emissions through community initiatives.
"A certified B Corp, Lick upholds rigorous eco-credentials and should be commended. I applaud that their tins can be infinitely recycled and that they provide customers with a circular economy for surplus paint," says Marie Claire UK Sustainability Editor, Ally Head.
Eco-friendly laundry
Who? Wilton London creates sustainably produced, formulated, locally manufactured cleaning products, filled with premium fragrances packed with essential oils.
Why? Wilton London's dedication to crafting environmentally responsible, plastic-free laundry products and fully recyclable refill bulk boxes is commendable. But its the B-Corp certification, commitment to fair practices, charitable involvement (partnering with the Hygiene Bank), and focus on reducing its environmental footprint that make it a standout sustainable brand in the household-cleaning sector.
"I was blown away by Wilton London's commitment to its sustainable mission," says Marie Claire UK Features Editor Jenny Proudfoot. "From its plant and mineral-based formulas and biodegradable ingredients to its plastic-free packaging, the brand's eco laundry capsules are truly innovative.
"Crucially, they are also effective, providing a premium wash with results that rival age-old (and unsustainable) household favourite brands. I was most impressed with Wilton London as a company and their all-round mission, becoming B-Corps certified in 2020. These eco-credentials are certainly well-deserved, with Wilton London working hard to ensure that every aspect of its company is evolving and becoming ever more sustainable, from allocated charity days to their recent move to be carbon neutral."
HIGHLY COMMENDED: eco-mate
Eco-friendly materials and design
Who? Goldfinger is a design studio and social enterprise that specialises in crafting bespoke furniture for homes and businesses using responsibly sourced timber.
Why? Yes, bespoke products are created using locally sourced timber and repurposed waste materials, but, as a certified social enterprise, Goldfinger also reinvests profits back into community-focused initiatives (hello, Goldfinger Academy and People's Kitchen) to help tackle inequalities and food poverty.
Showcasing its commitment to sustainability, the studio is currently pursuing B-Corp and Cradle to Cradle accreditations. In the meantime, its craftsmanship is acknowledged through partnerships with esteemed retailers and hospitality brands, including Selfridges, Soho Home, Gail's Bakery, Tom Dixon, Whistles, Inhabit Hotels and more.
"The company has remained focussed on the tree/carbon capture element of their business but been clear about translating their mission throughout their supply chain and workforce – this is impressive and has guided them in good design, good people manifesto values and working with good organisations to certify their work. I really like the People's Kitchen and Academy work," says Sustainability Awards judge and CEO of Bags of Ethics and Supreme Creations, Smruti Sriram.
Eco-friendly pet brand
Who? Grub Club Pets creates nutritional superfoods that are great for your pet and the planet.
Why? Grub Club Pets tackles the environmental pawprint of pet food by offering a sustainable swap: replacing traditional protein sources with insect protein. This revolutionary approach drastically reduces CO2 emissions and land use, with insects offering abundant nutrition.
Approved by the British Veterinary Association, this insect-based pet food can save up to 1.5 tonnes of CO2 per dog each year, contributing to net-zero goals. And Grub Club Pets is on a mission to educate consumers, placing emphasis on the fact that its product is comparable – and often cheaper – than existing high-quality dry and raw diets.
"A highly innovative product taking on a challenging category of big players," says Ele Ward, the CMO of Ctrl Alt and a sustainability expert. "This company not only provides innovation via accrual offering, but also challenges an industry that is often not thought about regarding sustainability."
Ethical brand/retailer
Who? Founded in 1996, ProCook was the first company to sell cookware by direct mail in the UK. Today, it is a B-Corp accredited, publicly listed British success story with 58 stores and a cookery school. The mission? To provide its customers with all the tools to enjoy everyday cooking.
Why? Advocating against fast homewares, ProCook crafts cookware designed to last a lifetime – often including a substantial 25-year guarantee, minimising the need for frequent replacements.
HQ is eco-friendly, and the brand is committed to plastic-free packaging. On the path to net-zero emissions, it has also partnered with the Woodland Trust, planting trees to offset carbon emissions, and collaborated with Life's a Beach, to help combat single-use plastics through education and beach cleans.
"ProCook has clearly gone above and beyond to make their kitchenware business as sustainable as possible. They have achieved great things by partnering with Ecologi, The Woodland Trust and Life's a Beach and, I also commend the work they have done locally with Young Gloucestershire to improve young people's employability skills," says Sustainability Awards judge and Business Development Manager for Non-Food at Soil Association Certification, Paige Tracey.
"The principle of making kitchenwear that is designed to last, so less of it goes to waste is excellent and a no-brainer when it comes to sustainability in this industry. They've also taken steps to make packaging recyclable and improve recyclability on site. To make them even more sustainable in the future, I would like to see them start phasing out plastic pieces, including plastic cutting boards that can release microplastics. For now though, very impressive!"
HIGHLY COMMENDED: Kaldewei
Green innovation for home/garden
Who? Founded in Copenhagen in 2006, Mater is a sustainable design company that combines circular production with timeless design.
Why? Using innovative technology to transform waste into furniture, while also minimising materials and carbon emissions, Mater creates future classics in a sustainable, responsible fashion that pay homage to the richness of Denmark's design heritage.
Collaborating with Space Copenhagen, Mater's Matek technology creates furniture from post-consumer or post-industrial waste, designed for disassembly and recycling. Pieces like the Compound chair and Ocean OC2 Chair, which upcycles three beer kegs per piece, further demonstrate its commitment to disrupting waste streams.
"Really impressive use of circular materials and end-of-life design thinking," says Georgina Wilson-Powell, sustainable living author, journalist and speaker.
"Brilliant, innovative ideas with an amazing client roster," adds Jo Swift, Managing Director of Greenhouse Communications.
HIGHLY COMMENDED: Sofology
HIGHLY COMMENDED: Miele
Progress towards circularity
Who? Yodomo is a social venture dedicated to promoting the understanding of material reuse through creative making and crafts. In short, it gathers textile waste from businesses and provides it to individuals for crafting.
Why? Yodomo addresses pre-consumer textile waste from the interior design industry by redistributing it to maker and craft communities, fostering circular solutions. It began this initiative in collaboration with the London Borough of Hackney, diverting more than four tonnes of textile waste to be creatively repurposed. This approach promotes repurposing, raises material awareness, builds communities, offers skills training, and creates new markets for upcycled goods. Yodomo connects with local businesses and receives funding to extend its goal: prevent textile waste and reduce carbon footprint.
"Wow, what an amazing organisation. From people to the planet, this business is tackling sustainability from every angle and shows the importance of grassroots work, from employee engagement to working with volunteers," says Ward.
"Yodomo is a business whose journey I look forward to following very closely as have no doubt there's more to come."
HIGHLY COMMENDED: FibreLab
Small business
Who? Fill Refill is a family-run business in Northamptonshire that creates refillable, eco-friendly household cleaning products. The mission? To be the most eco-responsible household and personal-care products supplier out there.
Why? Certified as a B Corp, the company donates 1% of its turnover to environmental causes and is part of 1% for the Planet. Also impressive: it uses 500ml refillable bottles made of recycled glass with reusable aluminium caps, promoting circularity; zero-waste bulk refills feature FSC-certified 10L/5L bag-in-boxes; it facilitates home refills through Milk & More's doorstep delivery and supply 20L PCR or 200L bulk drums to over 500 UK stores; chemical-free products are delivered plastic-free, and its collaborates to challenge waste streams and develop eco-friendly alternatives.
"I was impressed by Fill Refill's commitment across the board to sustainability from donations to recycled glass and, of course, their refillable approach. What put them above other contenders though is their approach to traceability within their supply chain and ensuring refills are available to consumers wherever they are. One of the biggest barriers to sustainable behaviour change is the lack of ease of action. Fill Refill appears to be taking this into account. However, it would be interesting to know how many of the individual units purchased were actually returned through Milk & More," says Charlotte Horler, founder of Nula, and our Sustainability Awards judge.
Sustainable homes & lifestyle retailer
Who? Rehome is a platform that offers an imaginative and sustainable approach to home interiors. Drawing from years of experience in the interiors industry, Rehome offers a marketplace where individuals can find their dream home interior for significantly less than its high-street value. Rehome also facilitates the valuation, selling, and removal of existing home interiors.
Why? Quality interiors are built to last, but often these will be replaced long before they're out of fashion. Showrooms all over the UK have amazing ex-display kitchens, bedrooms and bathrooms that need to be removed and replaced to keep up with the latest trends in design.
B-Corp certified, Rehome champions re-use, offering new, pre-loved, and ex-display home interiors. For every kitchen sold, its re-use saves, on average, 5,000 kgs of carbon. That's around one year of being carbon neutral for a family of four.
"I love that Rehome is making planet and purse-friendly home renovation an option," says Head. "They're doing what all sustainable businesses should do – that is, making shopping secondhand the simpler, more cost-effective option. A certified B Corp, I applaud them for cutting the carbon footprint of home renovation, not to mention reducing deforestation by reusing household items that have already been made. An inventive and clever business model."
Sustainable lifestyle/home accessories
Who? Woolroom is a family-run business established in 2008 with a legacy of 150 years in sourcing top-quality wool and textiles. Recognising the untapped potential of wool for better sleep, Woolroom's mission was to transform this natural fibre into exceptional bedding and mattresses, while also benefiting British farmers and animals.
Why? Since wool – a natural, renewable, biodegradable fibre – forms the foundation of all sleep-related items from Woolroom, its products are naturally sustainable. Not only are they chemical-free and compostable/recyclable at the end of their lifespan, but they're designed to appeal to consumers with features like machine washability.
Woolroom sources wool from UK farms and introduced a Wool ID traceability programme, allowing customers to trace the wool in their products back to the source farm. The company has also pushed boundaries by creating the world's first Global Organic Textile Standard (GOTS)-certified, machine-washable organic wool bedding range.
"Woolroom's communication and transparency of its material and supply chain show their clear environmental operational practices in its company," says Sujata Burman, editor at London Design Festival & London Design Biennale, and our Sustainability Awards Judge.
HIGHLY COMMENDED: LIGA
Sustainable stationery
Who? Coffeenotes is a sustainable stationery company aiming to change the way people source, design, manufacture, purchase and recycle stationery.
Why? Offering a genuinely sustainable alternative to traditional stationery, Coffeenotes products are designed and manufactured with a carbon-neutral approach and a commitment to the UN's definition of sustainability. The company utilises paper made from recycled coffee cups in the UK for more than 95% of its products, and the remaining 5% is sourced from European mills using repurposed waste and recycled pulp – all FSC certified.
This holistic approach considers the entire lifecycle of its stationery (notebooks, notepads and planners), from materials and production methods to end-of-life disposal.
"Coffeenotes should be commended for their thorough approach to building a business that does good and I love the ingenuity – recycling otherwise waste products and creating something new. It would be great to see them achieve B-Corp certification in the coming years," says Head.
Marie Claire UK has determined the award winners in accordance with the judging criteria and with the information provided by the entrants. All information provided by the winning brands is published in good faith.
Celebrity news, beauty, fashion advice, and fascinating features, delivered straight to your inbox!
Alice is a contributing lifestyle journalist with over seven years of industry experience and has worked for the likes of The Telegraph, The Independent, Women's Health, Stylist, Glamour, Grazia, Glorious Sport and more. Specialising in health and fitness, Alice covers everything from the latest product launches to interviewing some of the most inspiring female sports stars of our time.