It's official - these are the only sustainable food and drink brands worth your money
The winners of our 2023 Sustainability Awards serve up options that are both delicious and planet-friendly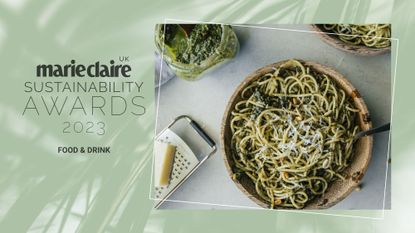 (Image credit: Future)
In a perfect world, we'd all eat organic produce, moderate our intake of animal productsand make responsible seafood choices– while avoiding wasteful packaging and eating seasonallyfrom local producers, of course. But planet-friendly eating often comes with a price tag and, in today's cost-of-living crisis, eating ethically can feel both unaffordable and overwhelming.
According to the World Wildlife Fund, the food you choose to eat is responsible for approximately a quarter of your individual carbon footprint. By choosing brands that prioritise ethical sourcing and sustainable packaging, you can actually reduce your environmental impact and actively contribute to mitigating the impact of climate change. Small changes, such as reducing food waste and choosing products with lower carbon footprints can collectively make a significant difference.
So, from embracing planet-friendly supply chains to spearheading zero-waste initiatives, the following brands are paving the way for a more environmentally conscious industry one bite at a time.
Cue the winners of this year's Marie Claire UK Sustainability Awards 2023 in the Food & Drink category...
Marie Claire UK Sustainability Awards 2023: Food & Drink winners
Alcohol brand
Who? Multi-award-winning rosé brand Maison Mirabeau is co-founded by husband and wife Stephen and Jeany Cronk, who moved from England to Provence, France, to live their dream of making the best rosé wine around.
Why? In addition to achieving B-Corp certification, the luxury wine brand is rewilding its vineyards, regenerating the soils, and rebuilding biodiversity – the maison even co-founded the Regenerative Viticulture Foundation (RVF), promoting soil health and biodiversity, and signed up to the Science Based Targets initiative (SBTi).
"Maison Mirabeau's commitment to sustainability is truly commendable," says Sustainability Awards judge and drinks-brand strategy consultant, Alex Layton. "They state that they 'strive to have a purpose beyond the bottom line' – and this is abundantly clear.
"Since their establishment in 2009, they have gone from strength to strength with their sustainability initiatives. They are a co-founder of the Regenerative Viticulture Foundation, a vital organisation promoting sustainability and biodiversity in viticulture. They have also signed up to the Science Based Targets initiative (SBTi) on their path to Net Zero and have recently received their B-Corp status with an impressive score of 83.1. Their rigorous and impactful approach to sustainability makes them well-worthy winners of this incredibly competitive category."
HIGHLY COMMENDED: Telmont
Carbon footprint
Who? London-based catering company Fooditude is all about bringing company culture to life through healthy, delicious and sustainable workplace food.
Why? From tracking water, waste, and GHG emissions to holding the Planet Mark certification for four consecutive years and meeting 5% CO2 reduction targets annually, Fooditude is on a mission to slash its carbon footprint. Local sourcing, circular solutions, and regenerative farming further underline its commitment.
"Fooditude's approach to overall sustainability for both people and planet is very impressive, all the way from the way it trains its staff, to engaging with its supply chains to working and supporting its communities," says Sustainability Awards judge and Director of Corporate Affairs at the Rainforest Alliance, Alexandra Dawe.
"This was an incredibly thorough application that scored highly on numerous accounts. From high levels of vegetarian and vegan meals to a kitchen powered by renewable energy, Granuldisk dishwashers, and partnerships with zero-waste organisations, including The Ferm. What's more, its commitment to community demonstrates a holistic approach to sustainability. It was exciting to read about its future plans, such as solar panels, electric fleets and 100% reusable packaging by 2025, but proof of impact is required to score positively in these areas," adds judge Charlotte Horler, founder of sustainability engagement agency, Nula.
Drink brand
Who? Belu is a drinks business that puts people and the environment first. Encouraging everyone to use less by choosing tap or filtered water wherever they can, the company's purpose is to change the way the world sees water.
Why? Focusing on carbon reductions, a circular economy and its partnership with WaterAid, Belu has been carbon neutral since 2006, and made a 69% reduction in its carbon intensity since 2010. What's more, its products have allowed more than 90 million bottles to be made into new Belu bottles, keeping glass and plastic out of landfill and our oceans.
Alarmingly, statistics show that 1 in 10 people lack clean drinking water, and 1 in 4 lack access to decent sanitation. That's why, since 2011, Belu has partnered with WaterAid, directing 100% of its net profit towards making clean water, proper sanitation, and hygiene a reality for all. By reinvesting profits into people and the planet, Belu has contributed £5.5 million to the cause, enhancing more than 366,808 lives.
"Belu has consistently led the market. They are a genuinely transformative brand trying to move the sector. Excellent," says founder of Good Business and Sustainability Awards judge, Giles Gibbons.
HIGHLY COMMENDED: Twinings
Ethical brand/retailer
Who? When Mindful Chef was founded, the aim was clear: to simplify healthy eating. The brand sought to provide wider access to high-quality, local produce, offering customers the means to create well-balanced dishes that leave them feeling nourished while minimising food's environmental impact.
Why? Mindful Chef's commitment to sustainability earned them a B Corp score of 107.3 (which makes it one of the highest-rated food B Corps in the UK) – reaffirming and supporting its commitment to pursuing purpose, not just profit. The company has also partnered exclusively with like-minded suppliers and fostered a Regenerative Farming Program to help suppliers reduce their own impact.
Mindful Chef has also donated more than 17 million meals to school children living in poverty through its charity partner One Feeds Two, and delivered more than 1.9 million discounted meals.
"The Mindful Chef is a very impressive company – both socially and environmentally. This is very difficult to achieve," says Dawe. "It is trying to balance being a community-minded service, with sustainability – which also demands support from its clients with their behaviour. Engaging with its external community to improve and adjust its service? I think this is very smart. I would be interested to see if they can scale up and maintain this level of dedication to both people and the planet. Excellent work."
HIGHLY COMMENDED: Pow Food
Food brand
Who? Beyond crafting delicious chocolate, Hotel Chocolat has taken a sustainable approach to growing cacao in a way that benefits farmers and communities.
Why? Having bought a cacao farm in St Lucia almost two decades ago to better understand what it takes to grow sustainable cacao, Hotel Chocolat has worked closely with St Lucian communities through initiatives including the Island Growers Programme, which aids 75 cacao growers, and supports, empowers, educates and rewards them for engaging in farming methods that are nature-positive. The company has now extended these principles to Ghana, paying farmers above market rates and encouraging sustainable practices.
Today, Hotel Chocolat reinvests profits into "gentle farming," supporting 2,500 Ghanaian farmers, promoting education, preventing deforestation, and nurturing climate resilience – ensuring cacao farming is friendly to our planet.
"Excellent progress on all fronts," says Jo Swift, Managing Director of Greenhouse Communications and our Sustainability Awards judge.
Small business
Who? Did you know that 44% of UK bread goes to waste? This was the stat that drove husband-and-wife duo Morgan and Elaine Arnell to create Crumbs Brewing in 2017. Collaborating with a local baker, Chalk Hills, they developed a range of beers using leftover loaves, reducing waste while crafting unique brews.
Why? From small market beginnings, they've supplied major retailers like Waitrose and John Lewis, repurposing nearly 40,000 loaves and saving more than 4.2 tonnes of CO2e. Sustainability underpins their ethos, and this is reflected in green energy-powered brewing, electric delivery vehicles, planting a tree for every purchase from their online shop and B-Corp certification.
"Their passion shines through not only in brewing but also in eliminating food, and specifically bread waste. They have recently and successfully gained B-Corp certification and are very open about the fact that this is the beginning of their sustainability journey, rather than the end," says Layton.
"Their mission is clear: they want to 'make waste wonderful' by fighting food waste and turning unsold bread into delicious beer. There is an emphasis on reducing their carbon footprint, and they are specific about aiming to be carbon neutral by 2030 (and ultimately carbon negative).
"There is also a clear progress towards circularity," he adds. "A very impressive enterprise and a worthy winner of this award. Bravo!"
HIGHLY COMMENDED: CLUBZERØ
Snack brand
Who? Whole Earth's mission is to create healthy, great-tasting food products with sustainably sourced, natural ingredients and recyclable packaging.
Why? Partnering with the Sumatran Orangutan Society (SOS) since 2018, Whole Earth has helped conserve rainforests, pledging 25% of profits from its Golden Rainforest Edition to SOS, resulting in more than 34,000 trees planted. Committed to sustainability, Whole Earth offers recyclable packaging and introduced Drizzler, a squeezable peanut butter in recycled plastic bottles, which embodies its eco-conscious journey.
"Making nutritious food that is kinder to our planet through addressing problems throughout the supply chain – from labour, to using natural ingredients and better packaging that is recyclable," says Amy Tsang, Sustainability Awards judge.
"Excellent work on packaging and with its support of the ecological work in the Sumatran Rainforest, the soil association and B-Corp certification, it's clearly keeping up the forward-thinking ideal it was founded with," adds actress, producer and Sustainability Awards judge Charity Wakefield.
HIGHLY COMMENDED: Prodigy
Subscription/meal delivery service
Who? A double win for the Mindful Chef, which has taken the prize for best ethical brand as well as the best subscription/meal-delivery service, too. Beginning with the mission to make healthy eating accessible and environmentally friendly, the brand has expanded beyond recipe boxes to include frozen meals, breakfasts, and more.
Why? Collaborating solely with like-minded suppliers and designing recipes adhering to planetary health guidelines, its commitment to sustainability is reflected in the new goal of becoming a regenerative business; one that's good for people but also truly good for the planet, too.
"A great example of circular sustainability within the whole business from investing in suppliers/regenerative farming. Waste management by communicating with customers. Impressive commitment to the planet – not just profit," says Bettina Campolucci Bordi, plant-based and sustainable chef, founder of Bettina´s Kitchen and Sustainability Awards judge.
HIGHLY COMMENDED: Grubby
Sustainable restaurant
Who? Aiming to have a net positive impact on the environment, people, and profit, Apricity offers plant-based menus with regeneratively sourced ingredients, low-intervention wines and collaborative circular partnerships with suppliers.
Why? Apricity's commitment to sustainability is further recognised through its participation in the Food Flagship Initiative and substantial donations to social-impact charities.
"This is a company that is very clearly and unapologetically purpose-driven, and carries that purpose through to the core of its operations," says Myriam Sidibé, chief mission officer and founder of Brands on a Mission.
"In the case of Apricity, it isn't just the food itself that is sustainable – it's centring the well-being of staff through real changes in how they compensate, and rethinking their entire supply chain and how to lower the footprint of their suppliers, not just their own restaurant operations. Critically, Apricity also seeks to provide a very public and industry-facing proof of concept for how other restaurants can do better, and do things differently. Finally, I appreciated the practical, pragmatic approach that Apricity has taken to its sustainability work. They do not shy away from the fact that they are constantly learning, changing, and improving, and that there simply is no silver bullet – so until there is, they're going to keep at it."
Vegan brand
Who? Ombar is on a mission to change the way you think about chocolate. The company challenges the industry norm by championing an ethical supply chain, paying 66% above Fair Trade prices for cacao.
Why? A B-Corp since 2021, innovation is driven by sustainability, as seen in its Oat M'lk range, which uses British-grown oats to significantly lower its emissions and 100% recyclable packaging. Vegan, palm oil-free, and organic, Ombar is also passionate about raising awareness about important environmental and social issues through its branding and communication, even becoming the first chocolate-bar brand to feature the product's climate footprint on its packaging.
"Really inspiring – especially the B-Corp commitment and climate information on the packaging. Plus, it does taste great," says sustainability author, journalist, speaker and Sustainability Awards judge, Georgina Wilson-Powell.
Marie Claire UK has determined the award winners in accordance with the judging criteria and with the information provided by the entrants. All information provided by the winning brands is published in good faith.
Celebrity news, beauty, fashion advice, and fascinating features, delivered straight to your inbox!
Alice is a contributing lifestyle journalist with over seven years of industry experience and has worked for the likes of The Telegraph, The Independent, Women's Health, Stylist, Glamour, Grazia, Glorious Sport and more. Specialising in health and fitness, Alice covers everything from the latest product launches to interviewing some of the most inspiring female sports stars of our time.