Eager to shop sustainable beauty, health and wellness brands? These 35 are the best
As voted for by Marie Claire UK's Sustainability Award judges for 2023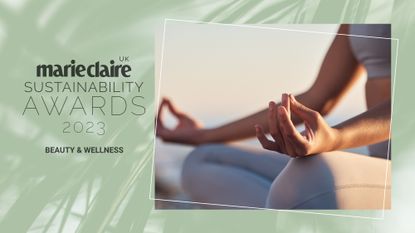 (Image credit: Future)
With an estimated 120 billion units of packaging generated by the cosmetics industry every single year – and much of it non-recyclable – the urgency for change is real.
Now, more than ever before, consumers expect beauty brands to place as much importance on a product's impact on the environment as it does on our skin, hair and wellbeing.
From carbon-neutral certifications and innovative packaging that significantly reduces waste, to cruelty-free formulas and brands banishing animal ingredients from their products, the time when ethics in beauty products came at the expense of efficacy is truly over.
Here, then, are some of the world's most innovative, progressive and effective cult beauty, health and wellness brands – and winners of our Marie Claire UK Sustainability Awards 2023.
Marie Claire UK Sustainability Awards 2023: Beauty & Wellness winners
Candle
Who? STORIES Parfums is a beauty brand that mixes luxury and sustainability, creating perfumes and candles in a way that's good for the planet. "STORIES creates beautiful and functional products through a sustainability lens every step of the way," says Sustainability Awards judge and Marie Claire UK Editor, Sunil Makan.
Why? The candles are vegan, animal-friendly, and made without any synthetic stuff. And the brand is all about reusing and recycling, ensuring almost 98% of its production waste gets a new life.
"This is the sort of thing we want to see in the candle category," says Sustainability Awards judge and Acting Senior Beauty Editor at Marie Claire UK, Shannon Lawlor. "A fully tracked manufacturing process with waste recycling as they go, it should be about thinking carefully at every stage rather than quick packaging wins."
Carbon footprint
Who? Italian hair care brand Davines have shown it's committed to sustainability through impactful projects, including its participation with 1% for the Planet.
Why? From using 100% virgin plastic in 2014, to slashing fossil virgin plastic use by nearly 63% through recycled and renewable alternatives, Davines packaging game is strong and focuses on eco-design for lighter, greener solutions that curtail CO2 emissions. With carbon-neutral offices and a dedicated team for packaging research, Davines isn't just a hair brand beloved by discerning A-listers and beauty buffs, it's rewriting the rules for a greener, brighter future.
"Davines is clearly one of the leaders within the sustainability beauty industry and it was great to see their approach to plastic reduction noted in the application," says Charlotte Horler, Sustainability Awards judge and founder of Nula, a sustainability engagement agency.
Cruelty free
Who? Fable & Mane, founded by Akash and Nikita Mehta, champions cruelty-free beauty with a purpose. PETA-certified, it pledges never to test on animals, and aims to safeguard wild tigers in India through solar-panelled water holes, safety awareness, and community education.
Why? Fable & Mane products are paraben-, silicone-, and sulphate-free, with a focus on using upcycled and recyclable materials. Its cruelty-free approach resonates through every aspect of the brand, too, with mindful choices ensuring beauty is rooted in compassion.
"PETA-certified, FSC, Vegan: Fable & Mane Fable Fund has donated more than $100,000 to wildlife protection charities and helped 50+ communities, in which they provide education, employment and training to support their tiger conservation mission. Additionally, with the money raised by the Fable Fund, Fable & Mane bought a school bus to teach children about human conflict and living in harmony with the forest. For a small brand, this is an outstanding contribution to animals," says Sustainability Awards judge and Marie Claire UK's Beauty & Style Director, Lisa Oxenham.
Deodorant
Who? Susanne Kaufmann is a brand committed to leaving a lighter footprint on the planet – a goal evidenced through its intelligent refillable packaging, use of organically-grown ingredients, and dedication to sustainable manufacturing.
Why? Typical of the brand, Susanne Kaufmann's roll-on deodorant isn't just about smelling good: it's about fighting odours without a trace of harmful chemicals. The botanical blend is kind to your skin, thanks to sage's antibacterial benefits and soothing up-cycled barley. But the best part? The packaging is eco-friendly – a chic glass bottle that's 100% recyclable.
"I love the brand ethos and what they stand for," says Sustainability Awards judge and CEO of WUKA Period Pants, Ruby Raut. "Clearly they are switched on as a brand and have sustainability in their DNA – from production to packaging. I was also super impressed with the amount of information on sustainability on their page, too. Keep up the great work."
Ethical brand/retailer
Who? Founded by Dame Anita Roddick, The Body Shop exists – in its own words – "to fight for a fairer, more beautiful world." With a history of challenging norms, The Body Shop drives change through innovative projects, including its Open Hiring initiative, which offers jobs based on skills, regardless of background, and Community Fair Trade shea project, which helps to empower women in Ghana.
Why? "The Body Shop is the ethical brand winner for its mission and the scale of its impact across all areas of the business. From its Open Hiring scheme and commitment to empowering local communities (I was particularly impressed by its work with Farmer's Voice Radio platforming women's voices in shea butter production), to its transparent and sustainable supply chain, reducing carbon footprint and moving to 100% electric," says Sustainability Awards judge and Marie Claire UK Features Editor, Jenny Proudfoot.
"Crucially, The Body Shop is transparent about the work to come, constantly evolving its practices, and making major commitments – for example, its packaging materials to be reusable, recyclable or compostable by 2030. It's no surprise that The Body Shop is Fair Trade, Fair Wage, FSC, Vegan, Cruelty-free and B-Corps certified."
Fragrance brand
Who? British fragrance brand Floral Street is leading the way in the industry with its responsible packaging innovations, partnering with like-minded organisations such as the Royal Horticultural Society and the Van Gogh Museum Amsterdam to support greener initiatives.
Why? The founder's "less is more" philosophy drives the brand's approach, focusing on reduce, reuse, recycle, regenerate, and refuse. Also good: it offers an immersive scent-school experience to educate consumers about ethical fragrance choices, and works with distribution channels that share their values.
"With Floral Street, every single step of the process has been meticulously looked at, dissected and adapted to make a successful, sustainable and desirable brand – which at this scale, should be applauded," says Makan. "This fastidious approach to creation is second to none. The products look and smell good, too."
HIGHLY COMMENDED: Guerlain
HIGHLY COMMENDED: Nissaba
Innovation
Who? Led by 28-year-old Natassia Nicolao, a sustainable supply chain expert, Conserving Beauty is revolutionising the beauty industry.
Why? For starters, the company has introduced waterless innovations, such as the world's first dissolving cleansing wipe and upcoming dissolvable pimple patches using nano-technology. Its commitment to sustainability goes beyond products, too, as it actively manages water and carbon footprints, partners with non-profits, such as SeaTrees for mangrove restoration, and uses responsible packaging. Plus, it has published reports on its own carbon and waste footprints for complete transparency.
But that's not all: Conserving Beauty's ethical practices extend to partnerships with farmers and manufacturers, making it the first beauty brand with environmental impact funds as investors and an all-female board, including supermodel Elle Macpherson.
"I think this is real sustainability innovation," says Lawlor.
"I like the concept and how they are looking to change the wipes industry," adds Amarjit Sahota, founder and president of Ecovia Intelligence.
Ocean-friendly
Who? Inspired by the sea's feel-good sensation, French brand Phytomer is a skincare brand deeply immersed in marine beauty. Whether harvesting algae from the wild or cultivating it in laboratories, sustainability is at its core. The eco-friendly packaging choices champion recyclable plant-based materials, too, from tubes to glass jars. Meanwhile, the prestigious Ecovadis Gold certification and collaboration with non-profit Time For The Ocean highlights Phytomer's dedication to ocean preservation.
Why? "This is a really great application," says Sustainability Awards judge and Head of Ocean Advocacy and Engagement at the Ocean Conservation Trust, Nicola Bridge. "Covering a wide range of sustainability issues, Phytomer clearly spends profits on environmentally friendly innovations. Their meaningful mission statement and artistic collaborations bring the ocean to life through art. I believe this brand!"
Judge Oxenham describes the company's manufacturing plant – a natural and organic place to filter wastewater from the production site by leaning on the power of local plants – as "amazing". Indeed, the quality of the water is so good, the brand is permitted to release it back into the local environment afterwards.
HIGHLY COMMENDED: Voya
Oral care
Who? PÄRLA is the oral care brand on a mission to transform your smile while saving the planet. Founded by dentists with a vision for cleaner teeth and a greener earth, PÄRLA is disrupting the dental industry with its eco-conscious approach.
Why? Traditional toothpaste tubes linger for 500 years in landfills and oceans, but PÄRLA's game-changing toothpaste tablets and compostable brushes provide an eco-friendly solution. With 20 billion tubes discarded annually and predictions of more plastic than fish in oceans by 2050, PÄRLA uses 100% plastic-free packaging – and the strategy is simple: introduce eco-friendly alternatives.
"Great product," says Bridge. "They have thought about the supply chain as well as the subscription option to reduce the requirement to purchase further glass packaging."
Organic
Who? Neal's Yard Remedies, born in Covent Garden, has been a beacon of sustainability in the beauty industry for more than four decades. As the inaugural brand certified by the Soil Association in 1991, it continues to lead with one of the widest arrays of certified organic health and beauty products on the high street.
Why? "Neal's Yard Remedies have always gone above and beyond to have the most positive environmental impact, in addition to the traceability and assurance that comes from being COSMOS Organic certified by the Soil Association. This is clearly demonstrated by their lobbying of the UK Government not to remove the ban on neonicotinoids, and the call to arms they brought around this with the "Save the Bees" campaign," says Business Development Manager for Non-Food at Soil Association Certification, and our Sustainability Awards judge, Paige Tracey.
"In the 'Organic' category, there is no better brand that represents the all encompassing ethos of what the word means. They have given evidence of supporting local communities where ingredients are grown, and growing some ingredients in the UK at their Peacemarsh Factory helps to reduce their carbon footprint even further," adds Tracey.
Period brand
Who? As the UK's top period underwear brand, WUKA – which stands for Wake Up Kick Ass – has a clear mission: shatter taboos, offer access to sustainable period products, and liberate individuals from period-related constraints.
Why? In a $52 billion global period product market dominated by non-biodegradable products, such as tampons and pads, WUKA offers an eco-friendly solution. Its triple bottom line prioritises "Planet, People, and Profit", eliminating 2 million metric tonnes of annual disposable waste. A B Corp-certified brand, it uses organic cotton, Tencel, and a closed-loop production process – and believes that periods shouldn't cost the earth.
"I'm a fan of WUKA," says Sustainability Awards judge and Marie Claire UK's Health and Sustainability Editor, Ally Head. "Not only are they minimising wastage by offering a reusable period product, but they produce their pants using a closed-loop production process that minimises waste and reduces environmental impact."
HIGHLY COMMENDED: Modibodi
Progress towards circularity
Who? New Zealand-based brand Emma Lewisham isn't just another skincare brand – it's a leading a skincare revolution that's great for your skin and the planet. Designed by physiologists, products use up to 30 cutting-edge ingredients to address the complex physiology of the skin.
Why? The brand has introduced a groundbreaking circular beauty model – called the Emma Lewisham Beauty Circle – which ensures packaging doesn't end up as waste. Instead, by focusing on recycling and refilling, Emma Lewisham produces less trash and fewer carbon emissions.
"When so much of what we put out to be recycled doesn't get recycled, it's clear that the only truly circular system is one which has refill and reuse at its very heart," says Tessa Clarke, Sustainability Awards judge and CEO of Olio – an app tackling the climate crisis by solving the problem of waste in the home and local community.
"Emma Lewisham has clearly worked incredibly hard to develop their reuse system, and, as a result, every reuse item has 74% lower carbon emissions than if a customer had brought brand new. It's no surprise that the wider industry is seeking out Emma Lewisham's expertise in circularity."
Small business
Who? BAV TAiLOR, founded in 2013 by conscious creative Bav Tailor, is a London-born holistic luxury brand – self-described as a "holistic metasphere" – with a mission to educate and inspire individuals to embrace responsible living and sustainability. The brand offers conscious luxury wellness clothing and accessories ethically made in Italy, along with collaborative artisanal collections supporting global artisans.
Why? Proudly holding certifications like the Butterfly Mark for its sustainability commitment, BAV TAiLOR aligns with the UN Sustainable Development Goals, supports Fairtrade practices through its Artisanal Lab platform, and is actively working on expanding its commitment to climate action by investing in energy-efficient retail and production facilities, and collaborating with key suppliers to offset emissions.
"BAV TAiLOR has a strong mission statement, holistic sustainability efforts, good evidence of tracking impacts and a good mix of third-party verification," says Harriet Vocking, Sustainability Awards judge and CEO of Eco-Age.
HIGHLY COMMENDED: Hoopsy
Supplement
Who? As the UK's sole B-Corp certified supplement brand, Form Nutrition goes beyond post-workout shakes.
Why? Carbon neutral, Form Nutrition also supports the Form Feeding Fund that helps those in need at Bansang Hospital in The Gambia. Other eco-friendly initiatives, such as compostable pouches and being entirely vegan, showcase the brand's commitment to sustainability. Now, it's on a mission to cut down on greenhouse-gas emissions, aligning with the Paris Agreement's 2030 net-zero target.
"What I love about Form Nutrition is, first it's a B-Corp brand – and, from my personal experience, it's a lot of evidence-based work that needs submission to get B-corp verified – and I love their nutrition project in The Gambia. From recollection, Gambia doesn't get much NGO support, so it's great to see a business reaching and supporting a country where support doesn't go far and wide. Great business ethics and sustainable credentials, Form Nutrition is a winner in my eyes; great values and ethos," says Sustainable Awards judge and CEO of WUKA Period Pants, Ruby Raut.
Vegan
Who? Facetheory is a skincare brand that champions affordable, clean, and cruelty-free products, certified by Leaping Bunny, Peta, and B-Corp certification.
Why? Its focus on creating products that respect both skin and the environment is evident through recyclable packaging and a reduced carbon footprint. Products are made using vegan and sustainably sourced ingredients, and the brand is super-inclusive, ensuring products cater for individual concerns.
"Good sustainability practices throughout the manufacturing process and packaging," says CEO of Immaculate Vegan, and our Sustainability Awards judge, Annick Ireland.
Who? Committed to cruelty-free beauty, Fable & Mane products are entirely plant-based, putting animals and the environment first.
Why? PETA-certified, the brand doesn't incorporate animal testing into the development phase or at production level. It won't retail in any country that requires animal testing on formulas, either. What's more, products are devoid of animal-derived ingredients, ensuring its hair products align with a vegan lifestyle.
"This company is available online and in store at Sephora locations. They sell a wide range of hair care products that will appeal to a broad consumer base. And no animals were harmed!" says Ingrid Newkirk, Sustainability Awards judge and founder of PETA.
WINNER (Make-up): delilah
Who? PETA-certified as vegan and cruelty-free, delilah's ethos – "simple to wear and easy to love" – spans its makeup, packaging, and even brushes, maintaining the FSC 'tick tree' logo for eco-friendly materials.
Why? Since its inception in 2014, the cosmetics brand has remained cruelty-free, embracing people-tested validation over animal trials. And it's not just about makeup – it's into helping the environment, too, with carbon offset schemes demonstrating its holistic approach to ethical and sustainable beauty.
Their products are available online, at Sephora, LookFanstastic, Beauty and the Boutique and in the beauty hall in London's Fortnum & Masons, too. They're also stocked in over 200 leading spas and salons around the UK.
"This company has a wide range of products for face, cheeks, eyes, lips, as well as accessories such as brushes. Most importantly, the products are cruelty-free – vegan and non-animal tested," says Newkirk.
Zero-waste
Who? Ethique's zero-waste policy aims to counter the staggering 120 billion units of packaging discarded yearly by offering sustainable alternatives. Its top-selling shampoo and conditioner bars, with compostable packaging, have already saved 28 million plastic bottles from landfills.
Why? It's not just about sustainability: its haircare bars have earned more than 40,000 five-star reviews, proving the brand is loved by the eco-conscious community. And for those who love liquid haircare, its innovative powder concentrates offer the same plastic-free goodness.
"Ethique set out to do business differently – and they've shown that it can also be done better too," says Clarke. "Innovating with shampoo bars and dry powder – in place of conventional shampoo – prevents not only plastic waste but also all the water waste that's used in shampoos. And there has been zero compromises in performance: Ethique really has demonstrated that zero waste is the future."
"Ethique has been a key business challenging the status quo of the beauty industry and it's great to see them continue to innovate. Looking forward to seeing what they do next," adds sustainability expert and Sustainability Awards judge, Ele Ward.
Marie Claire UK has determined the award winners in accordance with the judging criteria and with the information provided by the entrants. All information provided by the winning brands is published in good faith.
Celebrity news, beauty, fashion advice, and fascinating features, delivered straight to your inbox!
Alice is a contributing lifestyle journalist with over seven years of industry experience and has worked for the likes of The Telegraph, The Independent, Women's Health, Stylist, Glamour, Grazia, Glorious Sport and more. Specialising in health and fitness, Alice covers everything from the latest product launches to interviewing some of the most inspiring female sports stars of our time.