Looking for a sustainable travel option? These are the best eco-friendly holiday destinations in the world
Get away guilt-free with the Marie Claire UK Sustainability Award Travel winners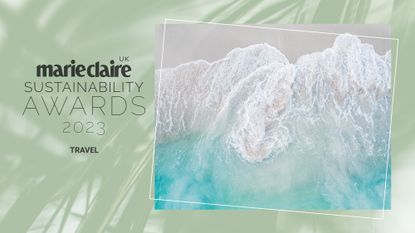 (Image credit: Future)
While more of us are trying to make environmentally responsible travel choices – and swapping flights for trains where possible – discovering genuinely eco-friendly hotels (beyond just ditching plastic bottles of shampoo and encouraging guests to reuse their towels) can be a challenge.
However, some hotels and resorts have started to ramp up efforts to reduce or eliminate their carbon emissions and energy consumption. From organising beach cleanups for guests to take part in, eliminating single-use plastics and switching to energy, we've scoured through the applications for this year's Marie Claire UK Sustainability Awards in the Travel category to help make choosing where to stay a little easier.
These are the top sustainable destinations, plus hotels and resorts that nurture nature, maximise their positive impact on the environment, and deliver a more eco-conscious stay...
Marie Claire UK Sustainability Awards 2023: Travel winners
Destination
Who? Sani Resort is a luxurious collection of five hotels – Sani Beach, Sani Asterias, Porto Sani, Sani Dunes and Sani Club – based in northern Greece's Halkidiki region.
The resort's bay location is surrounded by pine forests and wetlands, with access to seven pristine beaches. Offering high-end amenities, including its own marina with shops, it's a self-contained haven.
Why? Recognised as Greece's first certified carbon-neutral resort, it boasts a 1,000-acre ecological reserve with 7km of blue-flag beaches, forest trails, and wetlands. The Sani Green program focuses on energy efficiency, renewable energy, water conservation, and sustainable procurement. The resort is powered by 100% renewable electricity, recycles materials extensively, and eliminates single-use plastics.
What's more, Sani is aiming for triple zero goals: net zero by 2030, zero plastic, and zero waste by 2024. It emphasises local sourcing, offers eco-activities, supports biodiversity projects, collaborates on marine life monitoring, and aids local communities. The resort also promotes sustainability, while providing guests with immersive nature experiences and various outdoor activities.
"A really strong application with a clear plan of action, focus on the priority areas and positive progress on the key markers. Sustainability is truly embedded in the ethos and that comes across," says Charlotte Keesing, Director at Walpole and our Sustainability Awards Judge.
Eco-friendly travel
Who? A pioneering sustainable tourism company for more than 33 years, Intrepid Travel combines purpose and profit – and is the world's largest travel B Corp. The main aim? To create positive change through the joy of travel.
Why? By prioritising impact beyond profit, committing to science-based Emission Reduction Targets, and transparently calculating trip emissions, Intrepid Travel's commitment to sustainability is front and centre – and being consistently amped up via various initiatives. Cue partnering with Byway for flight-free travel options, supporting more than 1,000 global suppliers in decarbonising business, and aiming for 50% of tourism suppliers to sign the Glasgow Declaration by 2025. Intrepid Travel has also partnered with USAID to help regenerate Bosnia and Herzegovina through tourism.
On top of this, the Intrepid Foundation aids communities in times of crisis. After earthquakes hit Turkey and Syria, for example, it launched an appeal and matched donations, while also donating all profits made on Turkish trips.
Offering more than 100 Indigenous-led experiences and ethical wildlife encounters, the company's actions showcase a strong commitment to environmental care, community aid, and responsible travel practices, too.
"It is almost impossible to fault anything these guys are doing; they seem to have it nailed in nearly every way possible. It is deeply impressive," says Sustainability Awards judge and sustainability expert, Mary Fellowes.
Holiday with kids
Who? Often described as Europe's most family friendly holiday destination, Sani Resort is set on Halkidiki's sun-soaked Kassandra peninsula and has five hotels, each to suit a different budget or style of traveller.
Why? As previously mentioned, Sani Resort is the first carbon-neutral resort in Greece and offers a 1,000-acre ecological haven with blue-flag beaches, forests, and wetlands. The resort's commitment to sustainability includes zero waste goals.
Families benefit from nature-immersive eco-activities like wetlands exploration, birdwatching, and forest walks. Specifically designed eco-activities for little ones are also available at its kids' and teens' clubs. Also good: the resort collaborates on bee conservation, dolphin monitoring, and biodiversity projects.
"Sani is establishing itself as the leader in sustainable resorts, acting as an inspiration to others in the sector," says Ilona Alcock, co-founder of Elevate, and our Sustainability Awards judge.
HIGHLY COMMENDED: Sunlife
Honeymoon
Who? A favourite among honeymooners and couples, JA Manafaru is an idyllic, five-star private island in the Maldives.
Why? From partnering with Swimsol to install a solar field that generates power using clean energy to producing drinking water through a sustainable, filtered-seawater desalination process to minimise plastic waste, JA Manafaru showcases its commitment to sustainability through a number of genius initiatives.
By collaborating with Ocean Bottle, for example, JA Manafaru promotes reusable bottles made partly from ocean-bound plastic, offers refilling stations around the resort, and funds plastic collection. It also collects used batteries from local communities so that guests can pack them off to countries where recycling programs are available.
On top of this, organic gardens support the garden-to-table concept, reducing carbon emissions. Biodigesters manage food waste and channel the resulting liquid for eco-friendly purposes. And the Coral Regeneration project, led by 'Best Dives', involves guests planting coral frames to help enhance reef growth.
"A complex and thorough sustainability infrastructure here. I particularly like that the guests are invited to participate in the recycling of batteries. This is a brave thing to ask, but engaging a paying guest in not only considering their own environmental impact, but helping others do the same where they cannot is an inspired and inspiring idea. So many things to be proud of at this resort – it's deeply encouraging," says Sustainability Awards judge, actress and producer, Charity Wakefield.
Hotel – global group
Who? Iberostar Group is a global tourism company and hotel group with more than 100 four- and five-star hotels across 16 countries.
Why? Its circular economy strategy focuses on becoming waste-free by 2025, carbon neutral by 2030, and ensuring responsible seafood supply by 2025. The company collaborates with entities like the Ellen MacArthur Foundation, UNWTO, and UNEP, committing to global initiatives such as the Global Tourism Plastics Initiative and the Glasgow Declaration. Meanwhile, achievements include eliminating single-use plastics across the group, reducing its carbon footprint by 10% in 2022, and employing AI to curb food waste.
"A very strong application across all of the key markers, both internally with the business and wider impact in their environments and communities. Strong strategic plan, clear on their actions and good progress so far across the business. The work to educate and engage their consumers, particularly the next generation is an added feature," says Keesing.
Hotel – independent
Who? Volcanoes Safaris is the only company in the world to focus exclusively on the gorilla and chimpanzee parks of Uganda and Rwanda. Indeed, it has been at the forefront of reviving gorilla and chimpanzee tourism in the region for more than 25 years.
Why? Since 1997, Volcanoes Safaris has been at the forefront of gorilla and chimpanzee ecotourism in Uganda and Rwanda, and its lodges continue to connect local cultures, communities, and conservation. Sustainable efforts, such as utilising solar power, treating rainwater, and upcycling materials to minimise environmental impact also contribute to the company's green ethos.
What's more, over 85% of lodge staff come from neighbouring communities, and Volcanoes Safaris Partnership Trust (VSPT) furthers its local impact by devising projects that enrich livelihoods, conserve great apes, and reduce conflicts. Notable initiatives include the Kyambura Gorge Eco-tourism Project, Bwindi Bar's community training, and the Gahinga Batwa Village.
"This is an excellent business leading the way in eco-tourism. We need sustainable tourism to get funds to support the planet's natural ecosystem – and this project shows the way," says Giles Gibbons, founder of Good Business, and our Sustainability Awards judge.
Hotel – national group
Who? Founded in 2015 by the Lamington Group, room2 is a unique concept that blends home-style living with hotel amenities, known as 'hometels'. The group currently has locations in Chiswick, Hammersmith and Southampton, with a new site opening in Belfast this autumn.
Why? room2 Chiswick is London's first 'whole-life net-zero' hotel, which means sustainability is at the forefront of business and design decision made – and always will be.
From generating renewable power from both above and below the ground to being ultra energy efficient (water-saving measures include low-flow pressure showers and a blue roof for rainwater discharge), room2 boasts some innovative sustainability measures. It even produces honey on the roof, aiding biodiversity and supporting 75,000 bees to pollinate flowers.
"room2 is paving the way when it comes to innovating in this sphere. I commend the fact that low-carbon and circular materials and products have been used throughout, and that they're committed to net zero by 2030," says Marie Claire UK Sustainability Editor, Ally Head.
Spa
Who? Jamaica Inn is a beloved family-owned luxury hotel located on a secluded cove east of Ocho Rios. Offering breathtaking sea views, a private beach, and personalised service, it has been leading the way in green luxury for more than 65 years.
What? The Ocean Spa at Jamaica Inn exemplifies sustainability by adopting a holistic approach that minimises its carbon footprint.
Constructed from locally sourced materials, the spa operates without electric equipment or sound systems to preserve the uninterrupted natural ambience.
Look to the 'Farm to Skin Foraging' experience, where guests sustainably gather ingredients from the tropical gardens for spa treatments, or the numerous CBD-based products sourced from a nearby sustainable farm for further evidence of its eco credentials.
Elsewhere, the property's sustainable practices include a waste-water system, hydroponic garden, solar panels, and a goal of carbon neutrality by 2025, earning a Green-Globe certification.
"With a sustainable wastewater system, hydroponic garden, solar panels and in balance with nature philosophy, Jamaica Inn Spa [delivers] luxury, with respect for the environment," says Wakefield.
Marie Claire UK has determined the award winners in accordance with the judging criteria and with the information provided by the entrants. All information provided by the winning brands is published in good faith.
Celebrity news, beauty, fashion advice, and fascinating features, delivered straight to your inbox!
Alice is a contributing lifestyle journalist with over seven years of industry experience and has worked for the likes of The Telegraph, The Independent, Women's Health, Stylist, Glamour, Grazia, Glorious Sport and more. Specialising in health and fitness, Alice covers everything from the latest product launches to interviewing some of the most inspiring female sports stars of our time.