Keen to invest in fashion brands that put people and planet before profit? These 25 are the best
Introducing the Marie Claire UK Sustainability Awards 2023 Fashion winners. Considered clothing never looked so good…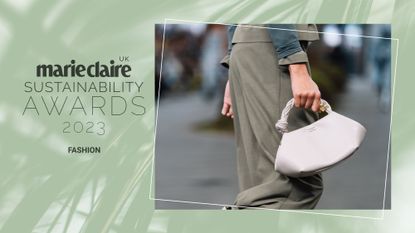 (Image credit: Future)
Did you know that, on average, shoppers only wear each item of clothing in their wardrobe seven times before discarding it? Or that the world already has enough clothes to dress the next six generations?
Consumer spending on clothing and footwear in the UK has more than doubled in the past 20 years, reaching £73 million in 2022. Every day, millions of us buy clothes without so much as a second thought about the consequences of those purchases – the factory workers being paid pennies, the hazardous pesticides used to grow cotton, the landfill poisoning the earth and water...
It paints a bleak picture.
But there are reasons to remain hopeful. There are brands, creators, designers, innovators and entrepreneurs doing their best to steer consumers into a world of buying less and buying better.
Meet the change-makers shaking up the industry – and the Marie Claire UK Sustainability Awards 2023Fashion winners leading the way...
Marie Claire UK Sustainability Awards 2023: Fashion winners
Accessories
Who? Elvis & Kresse, established in 2005, rescues decommissioned fire hoses that would otherwise end up in landfills, and transforms them into stunning bags and homeware.
Why? As a certified Social Enterprise and B Corp, Elvis & Kresse is dedicated to redefining luxury. It has donated more than £350,000 to charitable partners – including The Fire Fighters Charity and Barefoot College International – saved 307.6 tonnes of materials that would otherwise have gone to landfill, and established eco-conscious manufacturing sites. Simply put: it's making things better.
"A great concept and solid initiatives from a small business that were born sustainability. Very credible," says Amy Nelson-Bennett, Managing Director of Positive Luxury, and our Sustainability Awards judge.
Bridalwear
Who? Sabina Motasem is a responsible, eco-friendly bridalwear and fashion brand that aims to create beautifully designed and cut pieces that feel incredible to wear.
Why? Since the label's creation in 2007, it has been dressing a cult following of chic brides who appreciate its design-conscience ethos and modern, minimalist style. Sabina Motasem dresses are expertly crafted from natural silks in London factories, minimising its carbon footprint and packaging impact through strategic fabric sourcing and eco-friendly packaging.
Sabina Motasem also engages in charitable initiatives, repurposing fabric remnants for women's empowerment charities, creating baby clothes for refugees, and donating dresses to help prevent child marriage. During lockdown, when all weddings stopped, they were one of only a handful of bridal brands that pivoted to make NHS scrubs. This is a brand clearly dedicated to making a positive impact without compromising on quality or design.
"Short of not producing anything, I don't see many other ways at this point in time that a bridalwear company can be any more responsible or sustainable. Highly impressed by the 360-degree approach they have. They have left no stone unturned," says Mary Fellowes, fashion sustainability expert and our Sustainability Awards judge.
Designer brand
Who? Based and designed in London, Mood Of Thought is a high-end British fashion brand that creates inclusive and interchangeable capsule collections crafted from sustainable materials.
Why? Mood Of Thought's ecosystem-based sustainability approach focuses on long-term responsibility and innovation in the fashion industry. The brand sources materials from certified organic, recycled, and surplus materials from LVMH (Moët Hennessy Louis Vuitton) fashion houses, minimising resource consumption.
Digital printing reduces its carbon footprint, with non-toxic inks and minimal water usage, while Innovative 3D knitting creates products without seams, making them compostable.
AI software optimises material usage, reducing waste, while the brand's partnerships with eco-conscious organisations – like Ecologi, Thrift+, SOJO, and BLANC – support transparent, responsible customer aftercare.
Production in England minimises transportation emissions. Plus, the company promotes circularity by ensuring product recyclability, upcycling, or biodegradability.
Ethical brand/retailer
Who? Established in London in 2006, DEPLOY is a fashion brand who's mission is to 'deploy' expertise in customisation to make fashion more sustainable – and less wasteful.
Why? A certified B Corp with an exceptionally high score of 149.5, DEPLOY actively contributes towards 12 of the 17 UN Sustainable Development Goals and prides itself on designing thoughtfully, sourcing environmentally, producing prudently, upcycling creatively and giving directly to humanitarian charity partners.
"Points were given for the company's B-Corp membership and their high score within the B Corp assessment framework," says Layla Sargent, founder and CEO of The Seam, and our Sustainability Awards judge.
"Their thoughtful approach to both local manufacturing and post-purchase services is impressive. Their low return rate also feels like a point of difference with regard to minimising waste."
HIGHLY COMMENDED: Aspiga
Fabric innovation
WINNER: BAM
Who? BAM – Bamboo clothing – is a sustainable activewear brand committed to lowering its footprint and eliminating conventional synthetics from its range.
Why? BAM introduced five innovative fabrics in 2022, aiming to deliver high performance with lower impact. As 69% of textiles are virgin synthetics cast from unsustainable crude oil, the brand seeks nature-based alternatives. BAM's goal is to be impact-positive by 2030, and its styles include designs made from degradable options, like Flexa; nature-based performance fabric Novea; lower-impact Yak wool Sila; PFC-free water repellent Agallea; and the alternative yoga legging, Mallea. With more than 95% organic, recycled, or nature-based fibre usage and continuous innovation, BAM aims to minimise its environmental footprint in the fashion industry and curb polyester emissions.
"Bamboo clothing is not just using sustainable fabrics, they are innovating sustainable technical fabrics – so difficult to do. They are taking huge leaps forward for the activewear market in this textile innovation. Very few companies have been able to innovate sustainable textile fabrics, and sell them at scale, but Bamboo is! It's brilliant. Plus, they are actually using 95% organic or recycled fabrics, which is amazing," says Sara Simmonds, CEO of The Conscious Innovator and our Sustainability Awards judge.
Footwear
Who? Hilos is the first commercially scaled and tested use of 3D printing technology for on-demand footwear – freeing brands from traditional supply chains and allowing them to make circular products.
Why? With 24 billion shoes produced yearly, 48 trillion gallons of water are used, and a fifth are discarded. Hilos enables brands to create 3D-printed shoe lines without excess inventory, cutting development time from 18 months to 90 days and reducing upfront costs by sidestepping moulds and tools. Using just five parts and 12 steps, its 3D printing streamlines production, while engineered disassembly ensures recycling. This flexible technology facilitates various styles and seasons, preventing stock shortages and boosting sell-through, fostering a sustainable, low-waste, global supply chain.
"Hilos is giving solutions to an industry issue that is too often overlooked. The footwear industry poses a huge problem for sustainable production. Hilos are tackling waste issues, and toxicity and designing truly desirable products to demand, for circularity and low impact," says Emma Slade Edmondson, a sustainability and behaviour-change consultant, and our Sustainability Awards judge.
Jewellery
Who? Ethica Diamonds is a luxury Cornish jewellery brand that specialises in diamonds grown above ground – not mined from the earth – and only uses metals that are recycled or responsibly mined (in the case of platinum).
Why? Awarded the Feefo Platinum Trusted Service Award for the past four years, (following three successful years of being awarded the Feefo Gold standard), Ethica Diamonds' five-star rating attests to its excellence in customer care. What's more, the brand only works with suppliers that adhere to sustainable sourcing and manufacturing processes, avoiding conflict materials and prioritising ethical accountability.
Ethica Diamonds exclusively uses lab-grown diamonds, gemstones, and 100% recycled precious metals. It supports local communities, prohibits child labour, ensures safe working conditions, and is a member of 1% for the Planet, pledging a portion of its sales towards environmental preservation.
"The brand has, over the last 12 years, displayed a commitment to staying up to date with how to be more sustainable and environmentally responsible – and, crucially, put it into action [with] recycled gold, lab-grown diamonds and more," says Eshita Kabra-Davies, founder and CEO of By Rotation, and our Sustainability Awards judge.
Kids' clothing & accessories
Who? Zedify – the UK's largest cargo bike courier network – is on a mission to help fashion and beauty retailers slash carbon emissions. Now partnering with circular children's fashion business Or Collective, which curates stylish kids' clothing collections, together, the brands are helping to minimise the environmental impact of the fashion industry by delivering a rotational wardrobe.
Why? Zedify uses electric cargo bikes to deliver packages from Or Collective, saving up to 97% of carbon emissions per parcel compared to diesel vans. Once kids outgrow the clothes, Zedify collects them (again, using electric cargo bikes), and the items are cleaned sustainably. Cargo bikes provide speed, flexibility, and a real Living Wage-employed rider. They're 60% faster and more cost-effective than vans, making them an eco-friendly alternative for retailers at any sustainability stage. With expansion supported by a £5m funding round, Zedify aims to continue reducing inefficiencies, costs, and carbon emissions across the UK.
"This is a business I really want to see do well. A simple but effective concept, particularly scaleable for urban environments. I was very impressed with their treatment of their employees – compensation and benefits above and beyond the delivery industry norm. Their impact may not yet be as large as some other contenders for this award, but as a born sustainability business they are ahead of many in the broader fashion industry in terms of proposition, potential demand and thoughtful/sustainable set-up," says Nelson-Bennett.
Progress towards circularity
Who? Troubadour is a certified B Corp and London-based brand specialising in minimalist bags and accessories designed for maximum performance.
Why? The Orbis Circular Collection is the brand's first zero-waste bag collection made from recycled polyester, and, because the bags are made from just one material, the entire product can be recycled at the end of its lifetime. However, this completely circular line of products came from a simple aspiration: to minimise waste. Troubadour staff believe products shouldn't end up in landfill, and instead champion circularity and inspire other brands to adopt similar practices.
"Great to see this brand has created a fully circular Orbis Collection," says fashion editor Zoe Anastasiou.
Re-commerce
Who? Advanced Clothing Solutions – also known as ACS – is the EU's largest Circular Fashion Hub, based in Glasgow. Its mission? To be the leading enabler of the fashion industry's circular economy in the UK and Europe, transforming the fashion industry away from a make-dispose model.
Why? As Europe's largest circular fashion hub, ACS facilitates rental, resale, renewal, and returns, recovering value from unsellable inventory. This approach reduces waste, carbon emissions, and water consumption. By promoting a 'Zero-Carbon Circular Borrow-Use-Return' model, the company extends garment lifespans, significantly reducing their ecological footprint. Its comprehensive sustainability goals and workplace safety measures also demonstrate a commitment to environmental and social responsibility. What's more, transparent reporting and B-Corp certification reinforce its holistic sustainability approach, paving the way for a greener fashion future.
"It is clear ACS is tackling a range of sustainability issues comprehensively. The range of initiatives to tackle waste – of food, clothing, water, etc – is impressive and the solutions to achieve their goals adopt some great innovation," says Mandeep Soor, co-founder at Bendi, and our Sustainability Awards judge.
HIGHLY COMMENDED: The Seam
HIGHLY COMMENDED: Vinted
Small business
Who? Love Hero is a fashion brand dedicated to transparency and sustainability. It describes itself as providing "planet-conscious clothing for ordinary people living extraordinary lives".
Why? Love Hero emphasises traceability by using known suppliers and collecting documents to reveal the entire garment production process. Its approach is rooted in climate consciousness, encompassing design, production, distribution, and lifecycle. From sustainable fibres and eco-friendly printing to compostable packaging and biodegradable trims, Love Hero aspires to create positive change, celebrating diversity and encouraging an open-source attitude for the industry's transformation in the process.
"So wonderful to get a strong sense of community and care from this brand," says Slade Edmondson. "A good level of transparency and sharing of knowledge of the supply chain. Looking forward to seeing the brand address the elimination of the use of recycled polyester down the line."
HIGHLY COMMENDED: CERCLE
Supply chain
WINNER: BAM
Who? As previously mentioned, BAM is a sustainable activewear brand aiming to create a fully circular range of activewear by 2030.
Why? BAM is focusing on its supply chain to reduce its environmental impact and provide transparency to customers. Collaborating with Life Cycle Analysis experts, Green Story, it has traced 86% of its supply chain and uses analysis to understand the impact of its clothing. This information guides BAM's strategy, revealing that shipping accounts for 9% of the carbon footprint, while product manufacturing makes up 54%. Meanwhile, fibre production and dyeing contributes to more than 60% of product manufacturing impact, leading to a focus on energy-efficient processing.
Also good: BAM is piloting real-time impact forecasting to make informed supply choices before orders are placed. Plus, the brand has launched BAM DNA, a service that allows customers to see the impact of garments compared to conventional options, providing supply chain details for transparency and aiding informed decisions.

"A very data-led approach to sustainability, which is 100% necessary for credibility and for true positive impact. They have good partnerships in place to help them create and deliver a strong [service], reducing their adverse impact and seeking innovation. Impressed by their supply chain visibility, mapping and collaborative approach. Clear measurements, targets and progress against them. Thumbs up," says Nelson-Bennett.
Underwear
Who? Nudea is a thoughtful curation of underwear and sleepwear, created from natural and recycled materials. Each piece is purposefully designed with the perfect fit in mind.
Why? Not only are Nudea's products made from natural and recycled materials, the brand also collaborates with factories to source sustainable materials and educate customers to make responsible choices. The aim? To help prevent landfill and deliver a successful bra-recycling programme.
Passionate about leaving a better world, Nudea promotes small steps for a sustainable future. With thoughtfully designed products, fitting tools, fair wages, and eco-friendly packaging that reflects its dedication to sustainability, the brand also boasts carbon-neutral status, B Corp certification, and a commitment to sourcing from recycled materials.
"To say Nudea is an industry leader is spot on – not only is the brand carbon neutral, but carbon positive. B-Corp certified since last year, other brands should follow suit in using responsible suppliers and producing their products in a GOTS and SLCP fully certified factories," says Marie Claire Sustainability Editor Ally Head.
Vegan
Who? Mela is a fashion brand that produces vegan handbags from discarded apple waste. Based in New York, Mela focuses on transforming apple waste into a high-quality, stylish, sustainable material that's perfect for crafting high-quality products.
Why? Mela's sustainability efforts are centred around its use of Melatex, a bio-based material made from apple waste. Mela rescues discarded apple waste from the food industry, converting it into a powder. This process contributes to reducing water and energy consumption and prevents waste from ending up in landfills. This apple 'leather' is then produced without harmful dyes or chemicals, and hardware is carefully sourced to ensure that it's also free from harmful components.
What's more, the brand uses recycled paper for packaging to minimise waste and maximise its eco-friendly ethos. This commitment to circularity extends beyond materials, too: the brand is launching a pre-loved programme with retailers by the end of 2023.
"This is the best in the category," says Sustainability Awards judge and co-founder of Good On You, Sandra Capponi. "Mela has a high level of supply chain traceability, sources materials close to manufacturing operations, uses apple 'leather', and demonstrates knowledge of production process."
Marie Claire UK has determined the award winners in accordance with the judging criteria and with the information provided by the entrants. All information provided by the winning brands is published in good faith.
Celebrity news, beauty, fashion advice, and fascinating features, delivered straight to your inbox!
Alice is a contributing lifestyle journalist with over seven years of industry experience and has worked for the likes of The Telegraph, The Independent, Women's Health, Stylist, Glamour, Grazia, Glorious Sport and more. Specialising in health and fitness, Alice covers everything from the latest product launches to interviewing some of the most inspiring female sports stars of our time.