Look no further - these are the most sustainable tech companies to invest in, according to top experts
Pioneering a greener future for both people and planet, the Tech winners of the Marie Claire UK Sustainability Awards 2023 should be hot on your radar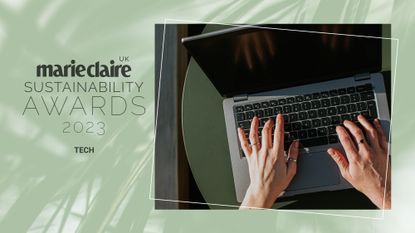 (Image credit: Future)
While lots of us are trying to do be more eco-friendly by recycling, using less plastic, and skipping fast fashion, sometimes it's hard to know which everyday choices are truly sustainable.
Thankfully, that's where sustainable technology or "green" apps come in, with tips on how to reduce, reuse and recycle becoming instantly accessible on your smartphone.
Now, trying to be more eco-friendly is a little easier. From apps that aim to tackle food waste by helping you plan meals and clothing-alteration services at the click of a button, to platforms supporting global efforts to address climate change by connecting providers and seekers of environmentally friendly technologies, the digital sphere and sustainability are becoming inextricably linked.
Here are the standout companies doing their bit for our planet in the technology industry – and this year's winners of the Marie Claire UK Sustainability Awards...
Marie Claire UK Sustainability Awards 2023: Tech winners
Who? Net Zero Now exists to provide a simple, credible and affordable route to Net Zero for small- or medium-sized enterprises – and to celebrate and promote those that achieve this vitally important goal.
Why? Developed by Net Zero Now and L'Oréal, the Net Zero Salon Initiative assists salons in calculating, tracking, and reducing greenhouse-gas emissions to become certified "Net Zero Salons".
The pilot program, involving 17 L'Oréal Salon Partners, indicated that the average salon appointment produces 3.2kg of emissions, and the initiative aims to lower this benchmark to 2kg per appointment, potentially reducing the professional hair industry's greenhouse-gas emissions by 33%. Ultimately, the initiative empowers salons to make environmentally conscious changes while meeting customer demands for sustainability.
"This B2B service is a clever platform with a specific focus and measurable impact," says our judge and TechRadar's Managing Editor, Josephine Watson.
HIGHLY COMMENDED: SOJO
Who? SOJO is a clothing repairs and alterations collection and delivery app. The aim? To "revolutionise clothing alterations and repairs for brands and people, making it accessible and effortless to love your clothes for longer".
Why? Tackling issues of waste, pollution, and unfair labour practices by providing end-to-end solutions, SOJO offers repair and alteration services while also supporting B2B partnerships and promoting awareness of ethical fashion. The company's growth and expansion plans emphasise making sustainable fashion accessible and affordable across the UK.
"While there are a few repair apps on the market, SOJO is going above and beyond to tackle issues of waste, pollution, and unfair labour practices," says Marie Claire UK Sustainability Editor Ally Head. "I love that they're making sustainable fashion not only accessible but affordable, too – more of this, please."
Who? Go Jauntly's mission is to become the world's leading urban walking and nature-connection platform. By harnessing tech for good, it aims to ensure the benefits of walking and nature-access are equitable – making millions more people happier and healthier in the process.
Why? Go Jauntly prioritises sustainability by promoting walking, active travel, and connecting with nature as effective solutions to global challenges like physical inactivity, poor mental health, pollution, climate breakdown, and biodiversity loss. Its platform aims to improve health, reduce vehicle emissions, enhance our relationship with the natural world, and offer a preventive tool for social prescribers.
"Go Jauntly is a brilliant, accessible and driven company that focuses on combining the social with the environmental in the sustainability conversation. It is clear that this company is committed to sustainability, with awards and partnerships to prove it. Tackling local issues, like inactivity and pollution, is as important as global ones, and Go Jauntly addresses the common lack of focus sustainability initiatives have on individual people and communities. I'm excited to see what they do next!" says Mandeep Soor, Sustainability Awards judge and co-founder at Bendi.
Marie Claire UK has determined the award winners in accordance with the judging criteria and with the information provided by the entrants. All information provided by the winning brands is published in good faith.
Celebrity news, beauty, fashion advice, and fascinating features, delivered straight to your inbox!
Alice is a contributing lifestyle journalist with over seven years of industry experience and has worked for the likes of The Telegraph, The Independent, Women's Health, Stylist, Glamour, Grazia, Glorious Sport and more. Specialising in health and fitness, Alice covers everything from the latest product launches to interviewing some of the most inspiring female sports stars of our time.