The 7 best sustainable transport companies in the world, as chosen by our Sustainability Awards judges
Meet the winners of the Marie Claire UK Sustainability Awards 2023 – and the transportation brands steering us to a cleaner, greener world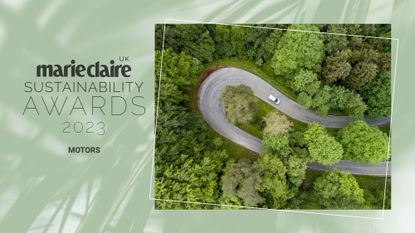 (Image credit: Future)
Transport is the UK's number-one contributor to carbon emissions and a key climate challenge, but there's hope on the horizon.
From introducing e-scooters and e-bikes to slash carbon emissions, to offering innovative apps that map out eco-friendly routes with charging points for electric vehicles, these are the brands (literally) driving positive change.
Meet the Marie Claire UK Sustainability Awards winners in the Motors category…
Marie Claire UK Sustainability Awards 2023 Motor winners
Sustainable interior
Who? Bridge of Weir Leather, part of the family-owned business Scottish Leather Group, stands out for its unwavering commitment to sustainability: "We take a waste product and turn it into a beautiful product in a circular and sustainable way that allows our customers to reduce their carbon impact on the planet."
Why? Renowned for transforming waste into exquisite automotive leather, it leads the way in reducing carbon intensity, pioneering circular manufacturing, and employing renewable-energy sources. With an impressive 90% reduction in leather's carbon intensity since 2003, the company set a global benchmark with its Life Cycle Analysis (LCA) value of 8kg CO2 e/m2 – the lowest published level in the world.
Its transparency, ethical standards, and gender-equality practices also highlight its dedication to responsible business. "They're leading the way in sustainable interiors for motors," says Sustainability Awards judge and Marie Claire UK's Editor in Chief, Andrea Thompson.
Green emission initiative
Who? Polestar, a Swedish automotive brand, is an exciting car label that's doing some seriously cool stuff to help the planet. Its mission? "We're determined to improve the society we live in by accelerating the change to a fully electric, climate-neutral future."
Why? From designing the Polestar 2 – a car that uses 80% recycled aluminium (cutting 1.7 tonnes of CO2e since its launch in 2020), to publishing Life Cycle Assessment (LCA) reports, providing transparency about raw materials and emissions, Polestar is committed to reducing the carbon footprint and overall environmental impact of its vehicles. Most notably, however, it's also striving to produce a zero-impact car by 2030.
"Polestar's Project 0 is so far ahead of the curve in its thinking that it's out of sight of any competition," says Sustainability Awards judge and automotive journalist Erin Baker. "The brand's media communications on sustainability is also impressive. Its honesty and hard work around the supply chain are to be commended; using blockchain to trace materials back to the mine is brilliant, as is its work with [sustainable magnet metal supply chain company] Pensana."
Who? Trainline, the UK's largest aggregator of train-operating companies, serves as a one-stop platform for seamless rail travel. Its "I Came By Train" initiative tackles climate concerns by encouraging travellers to switch just one car or plane journey to the train, collectively reducing CO2 emissions.
Why? In a nation where only 17% recognise the emission savings, Trainline wants to use its unique position to promote green travel, and through the "I Came By Train" campaign – which saw it partner with singer-songwriter Craig David – Trainline is reported to have influenced more than 89% of those who engaged with its content to consider using more rail travel in the future.
"This is a very smart and psychologically well-informed initiative and campaign, aimed at the (as yet) unconverted and directly reducing high-emission travel with much lower-emission travel in a way that would not happen otherwise," says Sustainability Awards Judge and Managing Director of The Carbon Literacy Project, Dave Coleman. "Worthy of an award for its positivity, its smart thinking, its inclusiveness, and the recognition that reducing emissions is not all about technology, but fundamentally about people like you and me."
Eco city travel
Who? Nissan has been conducting autonomous driving trials with an electric vehicle in London as part of ServCity, a project that aims to cut congestion, reduce emissions, improve air quality, and enhance road safety.
Why? The research looks at how self-driving cars can promote a more inclusive society by improving access to transport for underserved populations – for example, the elderly, disabled people, and those who live in remote areas without links to public transport.
Indeed, ServCity perfectly aligns with Nissan's long-term vision, Ambition 2030, which aims to create a greener, more inclusive world.
"[With] innovation, and a zero-carbon ambition being delivered rapidly and at scale, Nissan is showing that huge organisations can be nimble and transform the sustainability of their business," says Coleman. "Nissan has a strong track record of sustainability innovation, particularly in the field of EVs (electric vehicles), but innovation alone is not enough and, vitally, Nissan is now implementing those innovations rapidly and at scale. As a result, it is making a really significant contribution to society's drive to reduce emissions and protect our economy, our people and our planet."
HIGHLY COMMENDED: Lime
Who? Lime, the world's largest shared electric vehicle company, is on a mission to build a future where transportation is shared, affordable and carbon-free.
Why? With more than 400 million rides taken, Lime has already replaced nearly 100 million car trips, preventing more than 30 million kg of carbon. Users emit around 80% less carbon than comparable car trips, reinforced by renewable energy use. Plus, the company's influence spans the UK, recording 1.5 million riders since 2018 and a 317% year-on-year growth in trips.
"I'm impressed by the holistic approach to sustainability chosen by Lime, touching every area of the company's e-mobility strategy, from its hardware to its energy provider," says Baker.
"[This is] a really useful service and product that encourages the switch away from car and vehicle usage, reducing emissions, cost and congestion and improving environmental footprint. The organisation is clearly taking its environmental impact seriously and displaying enviable levels of environmental responsibility and sustainability," adds Coleman.
Eco car app
Who? Zapmap, founded by Dr Ben Lane and Melanie Shufflebotham in 2014, is on a mission to help people and businesses make the switch to electric vehicles.
Why? Ahead of the EV surge, they crafted an app that enables drivers to locate charging points and embark on longer journeys confidently. Evolving from a spreadsheet to a leading app, Zapmap pinpoints more than 40,000 charge points and boasts more than a million downloads. Meanwhile, innovations like live-status updates, smart-route planning, and integrated payment systems serve to further enhance usability.
"Privately developed, the Zapmap app is a vital resource for EV owners, offering them confidence and convenience, and helping them use their vehicles more efficiently and enjoyably," says Coleman. "As a result, Zapmap is contributing to the surge in popularity of EVs and accelerating the transition away from fossil-fuelled vehicles, reducing the carbon emissions of motorised travel and making a real contribution to societal sustainability for us all. As a result, it fully deserves to be recognised with a Marie Claire UK Sustainability Award."

HIGHLY COMMENDED: Ohme
Who? Ohme is the UK's fastest-growing EV-charging company. Its technology allows electric vehicle drivers to utilise off-peak charging hours and maximise renewable energy availability.
Why? Ohme's real-time integration with the National Grid not only balances the energy supply but also reduces costs for drivers. "Ohme's ability to… use surplus energy is a real help to the charging network," says Baker. "The company is proactively engaged in a range of panel discussions and marketing initiatives to do more to be sustainable and part of the conversation."
Marie Claire UK has determined the award winners in accordance with the judging criteria and with the information provided by the entrants. All information provided by the winning brands is published in good faith.
Celebrity news, beauty, fashion advice, and fascinating features, delivered straight to your inbox!
Alice is a contributing lifestyle journalist with over seven years of industry experience and has worked for the likes of The Telegraph, The Independent, Women's Health, Stylist, Glamour, Grazia, Glorious Sport and more. Specialising in health and fitness, Alice covers everything from the latest product launches to interviewing some of the most inspiring female sports stars of our time.