Dame Eva review: "This world-first hands-free sex toy works serious magic."
Fun fact for you: it's designed to sit on your clitoris and is wearable without being held in place or inserted.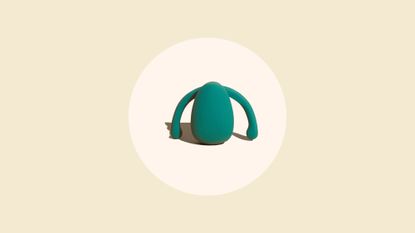 (Image credit: Future)
Ever tried a hands-free vibrator before? You likely haven't - which is where my Dame Eva review comes in. Fun fact for you: the toy, from sexual wellness brand Dame, is designed to sit on your clitoris and is wearable without being held in place by your underwear or, better still, insertion. Wondering how it works? Well, it uses gentle silicone arms that clip between your labia, meaning that the vibrator stays in place sans hands. You can wear it during solo masturbation or couples play in various sex positions including penetration. Promising to lead to new sex-plorations and pleasure adventures that weren't possible with other hands-free vibes, it even made me feel sensations I'd never felt before. Keep scrolling for my full review...
Reasons to buy
+

Solo or couples sex toy

+

Hands-free

+

External vibrator

+

Use during various sex positions

+

Great for those not into penetration

+

Three vibration intensities

+

Travel lock

+

Flexible arms can slip over fingers nicely for external massage

+

Arms can clip onto some underwear for a panty vibe experience

+

USB rechargeable

+

Charging and storage case combi
Reasons to avoid
-

Long charge time (Four hours for one-hour of play!)

-

Doesn't fit all vulvas

-

May fall off during some sex positions

-

Can get in the way of larger penetration

-

Can ache when worn too long

-

Loud vibrations.
If you've landed on this Dame Eva Review, chances are, you're as intrigued as me by the myth that sexual wellness brand have finally created a legitimately effective hands-free sex toy.
Ever even heard of a wearable sex toy before that doesn't involve penetration or pants? Well, that's where the Dame Eva comes in - the first ever sex toy designed to be held in place by your labia alone. This sex toy doesn't need to be inserted or clipped on to stay put, even allowing space for a partner or sex toy to penetrate your vagina at the same time too.
Yep - it's certainly different, which is why I, Ness Cooper, a sex expert trained in various fields of sexology from psychosexuality to ecosexuality, have been putting it to the test for you.
This is the first time I've ever seen such a unique product come from the sex tech sphere, so I was excited to try it, having heard it's one of the best sex toys for couples out there. Keep scrolling for my review, and don't miss my Womanizer OG review, We-Vibe Tango X review, and Satisfyer Heated Thrill review, while you're here.
Dame Eva Review "A game changer for orgasms during sex - it's magical"
As above, the Dame Eva is pretty one-of-a-kind in that it promises to be hands-free.
The clitoral vibrator allows you to explore three powerful vibrations in various sex positions, either solo or as a couple. Because it sits neatly over your clitoris, you can enjoy penetration at the same time (double trouble).
Other need-to-knows: it's the first fully hands-free sex toy out there that doesn't require insertion into the vagina or attaching to underwear.
Special features and what sets it apart from competitors
First things first - the fact that it's the world's first totally hands-free sex toy is pretty amazing. So, how does it work? Well, the flexible arms on the Eva apply a small amount of pressure between the inner labia, stabilising the sex toy and keeping it in position.
This means you're free to add additional sex toys, if you fancy. As the Dame Eva rests over the clitoris, you can easily use a vibrator or dildo at the same time (best sex toys for penetration at the ready).
Not to mention the fact that it's multi-faceted - you can wear it in a whole range of different sex positions and it promises to stay in place (gone are the days of no clit stimulation during sex).
We all know that most women reach orgasm via clitoral stimulation, which means this toy significantly ups the likelihood of you reaching orgasm.
It's also an option for those who want to try sex toys but aren't looking for penetration (read my Lovehoney Vibrating Love Egg review, here - another great non-penetrative option).
How to use the Dame Eva and how it was
First things first, a little how-to position: you need to fully spread and hold both your inner and outer labia apart. Then, press the arms of the Dame Eva close to the toy's body and place it over your clitoris. Next, release your labia and the folds of your vulva (this should press your labia against the toy's arms and hold it in place).
While it took some getting used to, I found that the Dame Eva stayed in position better when further upwards.
So, how did it actually feel when testing? Good question. Once you've gotten use to the placement of the Dame Eva, it's really fun to explore with (simply press the single button on the top to get things started).
My first time using the sex toy, I decided it would be best to explore using it solo. I found that I was able to insert other sex toys when the Eva was positioned over my clitoris but larger penetrative sex toys and those with extremely strong vibrations moved the Dame Eva out of place.
When using the toy during penile to vaginal sex, some sex positions made the vibrator fall out. The more forceful the sex with my partner, the more likely it was to be thrown out of place - not to mention that in certain positions, the toy made some very loud buzzing noises despite the vibrations being on the weaker side.
We found so many positions that it did work well in, though - I'd just recommend experimenting and working out what works for you.
The Eva definitely upped my chances of experiencing orgasm during penetrative sex, and the toy's arms stimulated more areas of my vulva than a standard clitoral sex toy.
Bored of using it hands-free? It's multi-faceted and can be used as a finger vibrator or underwear vibrator, too (for the latter, the arms hook around your underwear). This means you can take your sexual exploration up a notch, both solo or with a partner.
How to keep it maintained and clean
The Dame Eva is waterproof and fairly easy to clean with warm water and your standard sex toy cleaner.
That said, once it's dry I recommend popping it back into its storage bag with it's charging pod. It's important to remember to charge, too, as the toy only has an hour's battery life after four full hours of charging.
About the brand Dame
Since 2014 the founder of Dame, a sexologist called Alex Fine, has been on a mission - to close the pleasure gap and encourage all women to feel empowered in the bedroom.
Made by women, for women, while they're known for their unique and innovative sex toy designs, their advertising turns heads, too. It's widely regarded as some of the most successful and creative in the sex tech space and might be the reason why they're one of the only sex toy companies ever to be able to advertise on the New York subway.
Dame also explores their customer needs and desires around sex tech more than other brands. They run a research lab called Dame Lab which listens to feedback from over 10,000 sex toy users.
Should I buy it?
When the Dame Eva works and stays in place it feels pretty liberating and magical - as I pointed out, it can stay in position during various types of erotic play. Plus, I loved the fact that you could use it in lots of different ways, meaning the fun doesn't end if it doesn't fit your vulva.
Sure, it took some getting used to, but it's a genius bit of kit that's definitely worth your patience. It gets my seal of approval, that's for sure...
Celebrity news, beauty, fashion advice, and fascinating features, delivered straight to your inbox!
Ness Cooper is a Sex and Relationship Expert and Writer. She's been a freelance writer for over 10 years, knowledgeable in all areas of human sexuality and has a special interest in sex toys and tech.
Ness has been nominated for many awards during her career. From ETO's Best Erotic Journalist, to Best Sexologist at the 2022 Sexual freedom Awards.
Her first published pieces were theatre reviews, written for her local paper when she was 13. I think we can all agree that she now reviews more fun items.
Not only does she write down-to-earth sex and relationship articles, she tests sex toys, including prototypes. She knows what works and what doesn't with sex tech and sexual pleasure!
Ness is always training and trying to expand her skills. This has led her to train in Pelvic Floor Biomechanics and Pilates. Her pursuit of knowledge has also taken her to the Kinsey Institute in the US, where she studied human sexuality.
With a background in sex and relationship therapy, coaching, and education, she's one of the UK's leading Sex and Relationship Coaches and Sexologists. She helps people to find their authentic sexuality and sexual happiness and teaches Sexology to other human sexuality professionals.
Ness also offers 1-2-1 coaching and group sessions.