Hyrox workouts promise to be the ultimate fitness test - here's why, plus how to try it for yourself
Challenging both your cardio and strength.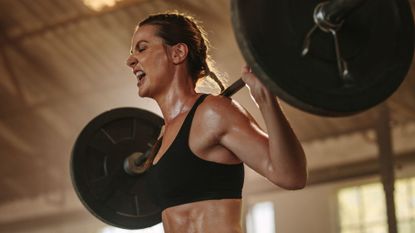 (Image credit: Getty Images)
It'd be hard not to have seen one or two Hyrox workouts flooding your social media feeds by now.
The indoor fitness competition was originally launched in Germany back in 2017 but just four years later, it launched in the UK, too. At that first London Hyrox event in 2021, just 600 athletes took part. Yet last year, that number grew to a total of 25,000 athletes participating in four sold-out events across the UK. Participation in Hyrox events has increased by more than 100% year-on-year, and, over the same period, Google searches for Hyrox leapt by 127%.
So yes, it's definitely having a moment. So, what does a Hyrox workout entail? It's slightly different to your regular home workout or gym session in that it's actually a mass-participation competition for those who consider "fitness" their sport.
Combining running with weight training moves like dumbbell exercises and kettlebell exercises, it's viewed by many as the ultimate fitness test, testing both your cardiovascular fitness, stamina and strength.
Since people are hungry for in-person events, they've surged in popularity - there was a waitlist of 1,500 people at the most recent Hyrox London event and a forecast of 90,000 people globally to complete a Hyrox in 2023/24. Keen to learn how it works, why it's being dubbed the ultimate fitness test, and whether you try your own Hyrox-style workout at home? Below, personal trainer and Head Coach at WIT-Fitness Jordan Shelley explains more.
Not sure where to start? Our guides to how much weight you should start lifting and strength training for beginners might come in handy.
Hyrox workouts are trending: your guide
What is a Hyrox workout?
Pegged as one of the toughest workouts around, Hyrox workouts consist of eight gruelling workout stations – including, 1,000m on the Ski Erg, a 50m sled push and 100m sandbag lunges – plus a spicy 1km run in between each exercise. There are four different entry categories to choose from, making it accessible for everybody, no matter what your fitness level or experience.
Promising to test your stamina, endurance, strength and speed, Hyrox workouts are the type of workouts that burn – leaving you on the ground gasping for air.
"A Hyrox workout is the ultimate combination of cardio, such as running, the ski erg, and the rower, with functional movements such as burpees, lunges and wall balls," explains head coach at WIT-Fitness, Jordan Shelley.
"Hyrox workouts are effective training methods as they're never too complex. The functional movements are straightforward and can be performed by anyone, proving different from the complex and technical movements you can find in weightlifting or CrossFit."
Where did the workout originate?
Founded by race event organiser Christian Toetzke and Olympic medallist Moritz Furste, Hyrox originally launched in Hamburg, Germany in 2017.
The idea? To create an event which gave the everyday athlete the opportunity to train for something. Athletes from around the world would then compete in the same race, each hosted in atmospheric indoor arenas, to earn a place at the annual World Championships.
Who's a fan of the workout?
Hyrox is a fitness race for everybody – you just have to be over the age of 16 years old. With no time limits and no qualification required to participate, you can choose which race format to opt for. This means Hyrox attracts everyone and anyone. From personal trainers and IronMan athletes, to mums, friends and those up for a challenge.
A few names you may recognise who are fans of Hyrox workouts include Outlander actor Sam Heughan, Welsh rugby player Gethin Jones, Love Island's Adam Collard, Chris Hemsworth's nutritionist Dan Churchill and nutritionist Dr Hazel Wallace.
Benefits of Hyrox workouts
Combining both aerobic and anaerobic exercise means the benefits of Hyrox workouts are plentiful. Strength training helps to maintain muscle mass and mobility, while cardio helps improve our metabolic and cardiovascular health.
"The benefits of Hyrox workouts are that they're designed to help you build an engine as well as develop your full-body strength, enabling you to become an effective hybrid athlete," continues Shelley.
A Hyrox workout to try tonight:
Fancy taking part in a Hyrox workout? This sweat session will challenge both your endurance and strength.
This Hyrox workout – created by Shelley – takes 36 minutes and is split into six workout stations, each of which takes six minutes.
Each section starts with a 400m run. The aim? Try to complete as many rounds as possible (AMRAP) in the six minutes, before moving on to the next station. Good luck and enjoy.
Station 1: 400m run followed by a 10m sled push and one broad jump
Station 2: 400m run followed by 10 wall-balls and 5 burpees
Station 3: 400m run followed by a max effort ski/row
Station 4: 400m run followed by 5 sandbag cleans and 10 sandbag lunges
Station 5: 400m run: followed by a 50ft kettlebell farmers carry and 10 hops over a kettlebell.
Station 6: 400m run AMRAP followed by 5 rope rows and 10 sit-ups.
Confused by the jargon or after a more beginner-friendly session? The following four moves are four of the most effective Hyrox moves you can do.
While you will need a gym membership as they require equipment, they're beginner-level friendly.
1. Ski erg
What? A move that mimics cross-country skiing.
Why? A simple but spicy move that boosts cardiovascular fitness - and fast.
How to:
1. Stand with feet hip-width apart on the rear third of the platform.
2. Take both handles, with your arms extended and initiate the movement.
3. Pull the handles downward and use your upper body for support while hinging with a neutral spine, into a quarter squat. Finish the pull with both arms extended alongside the thighs.
4. Initiate a new pull by extending the arms back up and driving the handles down.
2. Farmer's Carry
What? A Farmer's Carry is a strength and conditioning move that requires you to hold a heavy kettlebell in each hand and walk a certain distance.
Why? It's a full-body move that promises to get the majority of your muscle groups working.
How to:
1. Stand in between a pair of heavy kettlebells (make sure to talk to a qualified personal trainer if you're not sure what heavy looks like for you).
2. Hinge forward with your back straight, to pick up the kettlebells.
3. Then use your legs with a straight back to lift them off the floor.
4. Keep your lats and core tight, and walk with small steps.
3. Sandbag Lunges
What? A sandbag lunge is - yep, you guessed it - a lunge where you place a sandbag across your shoulders.
Why? We all know lunges are a seriously effective bodyweight move, but adding the weighted sandbag makes it all the more spicy, targeting your glutes, hip flexors, calves and hamstrings.
How to:
1. First, lift the sandbag up without assistance and place it over your shoulders.
2. Start in an upright standing position.
3. One leg steps forward and initiates the lunge. Lower yourself until your back knee touches the floor.
4. You can either lunge continuously or stop after each lunge, but be sure to alternate.
5. Your knees and hips must be extended before switching legs.
4. Wallballs
What? Essentially a wall squat while holding a weighted ball.
Why? This one will really work out your lower body, not to mention your upper body as you push the ball upwards.
How to:
1. Start in an upright standing position with feet hip-width apart, approx. one arm length from the wall or rig.
2. Pick up the ball from the floor, return to an upright position, and then initiate the movement by lowering into a squat.
3. At the bottom position of the squat, your hips must descend lower than your knees.
4. Keep your arms at head height, avoiding collapsing at the chest and use momentum and throw the ball against the target.
5. Catch the ball afterwards and repeat the movement.
"I can honestly say competing at Hyrox has changed my life."
Emma Pudge started competing at Hyrox just a few years ago and feels the sport has changed her life, boosting her self esteem, self confidence, and self love.
"I started competing in Hyrox events having dabbled in both running races and CrossFit competitions, and Hyrox seemed the perfect marriage of the two. No more choosing between endurance vs. strength – Hyrox demands and celebrates versatility as an athlete. I loved that Hyrox offered the chance to take part in a global competition with equal opportunities to compete in my home city or abroad and that it is designed to be inclusive – of age, gender, abilities, and experience levels, with individual, pairs and team relay options. Plus, the set race format gives everyone an equal chance to prepare and the workout can be replicated anywhere."
"I have competed twice in Mixed Doubles and it's one of the few events where men and women compete together and against each other, recognising that we will all bring different strengths and weaknesses without making that an obstacle."
"As a young woman on the petite side and still new to the support, I was thrilled to achieve a 5-minute PB with my race partner Dave, reducing our finish time from 1hr 13 mins to 1hr 8 mins over a few months. I entered London in November 2023 within a week of finishing my last race."
"I felt the fittest I've ever felt."
Sos Cox feels the same. Having taken on Hyrox to get back into fitness - now, she feels stronger than ever.
"I first signed up to Hyrox because I'd just come back from six months backpacking and wanted a challenge to get my fitness back. I used to be a runner but now focus mainly on CrossFit, so Hyrox was a perfect mix for me."
"The event was so well organised and had such a great vibe to it. The range of physical strengths needed meant that training was super varied. I feel the fittest I've ever been. It's definitely changed the way I want to train. Being fit for Hyrox just means I felt so good in myself. It also means I can jump into CrossFit classes and feel strong."
Shop the best products for Hyrox workouts now
Lululemon Wunder Train Racerback Tank Top
MC UK Health Editor Ally Head has run several marathons in this tank top - it's a good length, sweat wicks well, and supports enough not to require a sports bra underneath.
Investing in the right shoes for strength training is essential for avoiding injury, and the Metcon's are a firm favourite amongst Hyrox die-hards.
Sweaty Betty Power UltraSculpt High Waist 6" Biker Shorts
Featured in our round up of the best running shorts for good reason, these sweat-wicking shorts and flattering and functional.
Is HYROX harder than CrossFit?
It'll depend on your fitness level and previous training experience, that said, the founders of the event are keen to frame Hyrox as the ultimate fitness test. It makes sense, as the workout combines elements of CrossFit, strength training, and cardio workouts (read: running) too.
That said, as there are several options for competition length, individuals of all fitness levels are encouraged to take part. Will you give it a go?
Celebrity news, beauty, fashion advice, and fascinating features, delivered straight to your inbox!
Alice is a contributing lifestyle journalist with over seven years of industry experience and has worked for the likes of The Telegraph, The Independent, Women's Health, Stylist, Glamour, Grazia, Glorious Sport and more. Specialising in health and fitness, Alice covers everything from the latest product launches to interviewing some of the most inspiring female sports stars of our time.