Call for more screenings during pregnancy
Mothers-to-be should be screened for thyroid disorders during pregnancy and monitored for hidden signs of the disease after the birth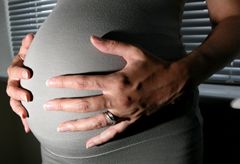 (Image credit: Katie Collins/PA Photos)
Mothers-to-be should be screened for thyroid disorders during pregnancy and monitored for hidden signs of the disease after the birth
One in seven new mothers should be closely monitored for symptoms of thyroid disorders shortly after giving birth, according to Czech researchers from Charles University in Prague.
The study found that one third of new mothers who experienced a common autoimmune response during pregnancy went on to develop thyroid problems after the birth.
Dr Potlukova says thyroid problems have major implications for the health of both mother and baby and effect tens of thousands of European women, but insists the symptoms could easily be detected earlier through a simple blood test.
'If a woman of childbearing age is thinking of getting pregnant she should visit her GP or gynaecologist to have her blood tested for thyroid function and thyroid auto-immunity,' she told the BBC.
In the USA, universal screening was rejected in 2006 on the grounds of a lack of evidence that it would improve outcomes for mothers and babies. Most countries, including the UK, only recommend screening high-risk women who have a family history of thyroid disease.
Sue Jacobs from the Royal College of Midwives says more evidence is needed for the benefits of universal screening. 'In the UK we have a comprehensive programme of antenatal care from as early as possible in pregnancy, giving us a good baseline to monitor women throughout pregnancy and immediately afterwards.'
She welcomed the research as a step in the right direction, but insisted more research was needed on a larger scale to justify the benefits.
Celebrity news, beauty, fashion advice, and fascinating features, delivered straight to your inbox!