8 best treadmills for home: Get a sweat on without leaving the house
Cold, dark mornings mean you're skipping the gym? We've got you covered with our edit of the best treadmills for home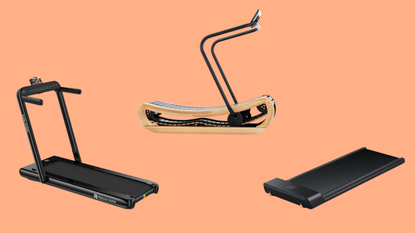 Cold, dark mornings mean you're skipping the gym? We've got you covered with our edit of the best treadmills for home
It's tough to workout in winter. In fact, new research from Women in Sport and Equal Play, Sports Direct's initiative to make sport fair and impartial for women, has found that two-thirds of women exercise less in cold weather, and it's not hard to see why. With the dark mornings and the drop in temperature, it doesn't exactly motivate us to put on our best gym leggings and head out the door for a run when we wake up.
But not to worry, as there is an easier way to get a sweat on, right from the comfort of your own home. That's right, investing in a treadmill may just be the step you need to make sure you're getting your steps in (see what we did there?) That's why we've rounded up the best treadmills for home.
Are treadmills worth it?
Due to their slightly higher price points, many people wonder if investing in a treadmill is actually worth it. In short, the answer is yes. If you are an avid runner or like working out but don't love going to the gym, then a treadmill is a worthy investment.
Not only do they have the obvious advantage of not having to leave your house, but running on a treadmill also makes it much easier to have control over your workout. You can easily adjust things such as speed and incline, and you can track things such as your heart rate or calories burned.
The best treadmills for home 2022:
Which treadmill should I buy?
When looking for the best treadmill to buy, there are a few things to consider. Firstly, how much space do you have? There are larger treadmills and more compact styles to suit everyone's needs. There are also treadmills that fold up to create more room, how cool? Once you've thought about that, it's time to consider what sort of workout you are looking for. Are you wanting a more intense incline workout? Or perhaps an at-home class that you can follow along?
We've rounded up our best treadmills to suit everyone, so give it a read, grab your running trainers and get ready to sweat...
Echelon Stride Auto-Fold Connected Treadmill, was £1599 now £1399 | Echelon
Best all rounder treadmill:
The Echelon Stride treadmill is a great choice for anyone looking to invest in their first running machine.
Pros:
This treadmill features an impact-absorbing running deck for performance, a metal safety bar and cool auto-folding technology to fit in any size space. You can also access thousands of on-demand or live fitness classes. Need we say more?
Cons:
It is a little bit more of an investment piece, but we believe it is worth every penny.
Reebok One GT40S Treadmill, was £599.99 now £449.99 | Argos
Best value for money:
You can currently save 25% on this Reebok treadmill, which has everything you need for a great workout.
Pros:
This treadmill allows you to keep track of things such as speed, time, distance, calories burned, pulse and incline thanks to the LCD console display.
Cons:
The only downside to this one is that you can't access any classes, so if that's your thing, we recommend checking out one of the other options.
JTX Sprint-3 Electric Treadmill, was £639 now £599 | JTX Fitness
Best compact treadmill:
The JTX Sprint-3 Electric Treadmill is a small treadmill with a robust frame, perfect for those with less space to store their running machine.
Pros:
Aside from the size, this treadmill comes with everything you could need, such as a fully automatic incline, a 5" high-visibility backlit display to keep track of your workout and a tablet holder, MP3 sockets and speakers so you can listen to music to keep you motivated.
Cons:
Due to the smaller size, this treadmill might not be for everyone. If you are looking for a larger, more complex design, keep scrolling...
Commercial X9i Treadmill, was £1999 now £1799 | Nordic Track
Best treadmill for intense workouts:
If a tough workout is what you're after, this Nordic Track treadmill is the one for you.
Pros:
This treadmill can reach a serious incline, helping you to really feel the burn. It also comes with reflex cushioning to protect your joints and a 7" smart HD touchscreen to explore a range of on-demand workouts.
Cons:
Again, this treadmill has a slightly higher price point, so if you aren't interested in all the amazing extras, we'd recommend going for a more entry-level piece of equipment.
The Peloton Tread, £2295 | One Peloton
Best treadmill for at-home classes:
You've all heard of Peloton spin bikes, but did you know that they do treadmills, too?
Pros:
The Peloton Tread is great for those of you who love doing an at-home class. With the 23.8" HD touchscreen, you can access thousands of live or on-demand classes to suit your workout needs.
Cons:
If you aren't into classes, then this treadmill might not be worth the investment. The bigger screen means it will also take up a bit more space, something to consider before buying.
WalkingPad A1 Pro Folding Treadmill, £549.99 | John Lewis
Best treadmill for easy storage:
Speaking of space, this WalkingPad A1 Pro Folding Treadmill is ideal if you are looking to save some room.
Pros:
This treadmill was designed with both walking and running in mind. You can pop it anywhere you like, whether you want to get your steps in from the lounge, kitchen or dining room. and it can be easily stored away. It also contains pressure sensors in the base, to precisely measure your preferred speed.
Cons:
Although great for storage, the treadmill doesn't come with any arm support, so may not be the best choice if you struggle with balance. It also has no screen, so you won't be able to track things like speed or heart rate.
Mobvoi Home Treadmill, was £399.99 now £349.99 | Amazon
Best treadmill on Amazon:
This Mobvoi treadmill has hundreds of five-star reviews.
Pros:
Not only is this treadmill highly rated, but it is also great value for money. It comes with two exercise modes, adjustable speed, a touch control panel, a built-in Bluetooth speaker and has a foldable design.
Cons:
This treadmill does not come with any at-home classes, but you could always load some up on your phone and follow along.
Sprintbok Ash Treadmill, £5,295 | Nohrd
Best stylish treadmill:
There is no denying that a standard treadmill isn't the most stylish home accessory, however the Sprintbok Ash Treadmill would beg to differ.
Pros:
This treadmill has a super sleek, stylish design, perfect for integrating into your home decor. The running machine's inward curve also helps to provide a more natural running feel.
Cons:
This curved style of treadmill can take a little getting used to, however, if you are looking for more of an intense workout, then this could be the one for you.
Celebrity news, beauty, fashion advice, and fascinating features, delivered straight to your inbox!
Grace Lindsay is currently Junior Beauty Editor at Who What Wear UK and previously was Marie Claire UK's E-Commerce Writer. With over three years of experience in the fashion and beauty industry, she covers everything from the best make-up and skincare deals to how to shop the stand out trends of the season. When she's not typing away at her laptop, Grace can be found shopping her favourite vintage markets IRL, or catching up on her never-ending list of books to read.